Gig workers are fighting for bathroom access and humane working conditions in San Francisco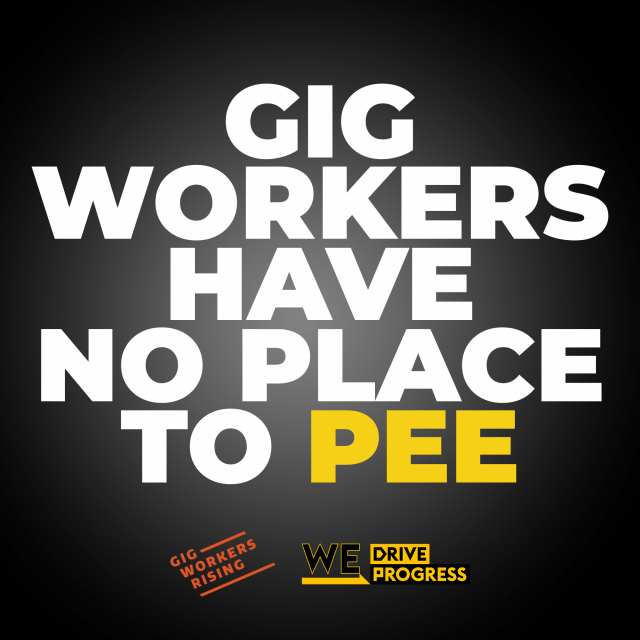 Gig workers with We Drive Progress are continuing the fight for bathroom access. The campaign over entry to permanent, sanitary, and reliable facilities with adequate toilets for gig workers is looking to take its fight to Uber, Lyft, DoorDash, Instacart, and other gig companies.
Through a Northern California survey back in December 2021, gig workers told We Drive Progress the inability to access bathrooms while working was one of their most significant issues.
"We work long hours, often with no breaks, and cover long distances," said Ryan G., a gig worker and leader with We Drive Progress. "Although we're essential workers, we don't have proper access to bathrooms to relieve ourselves with dignity."
In one of the most significant concentrations of gig workers in Northern California, San Francisco, gig workers have no place to pee in.
That's why We Drive Progress is starting a battle over bathrooms for gig workers in San Francisco and calling on the gig companies to provide:
Access to sanitary, permanent bathroom facilities in restaurants and ghost kitchens we service. This is particularly important given that we handle and transport food products.
Access to sanitary, permanent bathroom facilities at SFO with access to potable water for drinking and washing our hands. This is critical to ensuring the safety of ourselves and our passengers.
Access to sanitary, permanent bathroom facilities for all app-based drivers.
The lack of access to sanitary, permanent bathroom facilities in restaurants and ghost kitchens is a "day-to-day struggle," continued Ryan G. "When we miss out on a delivery to find a bathroom, we miss that day's pay for rent, groceries, bills, and other basic living expenses. That isn't a bug on the app; it is a feature. That is worker exploitation. We can change that, but we need gig workers and community supporters across San Francisco to get loud and push gig companies like Uber, DoorDash, Instacart, and Postmates to give workers access to bathrooms."