Fast-food workers take to Sacramento to demand passage of the FAST Recovery Act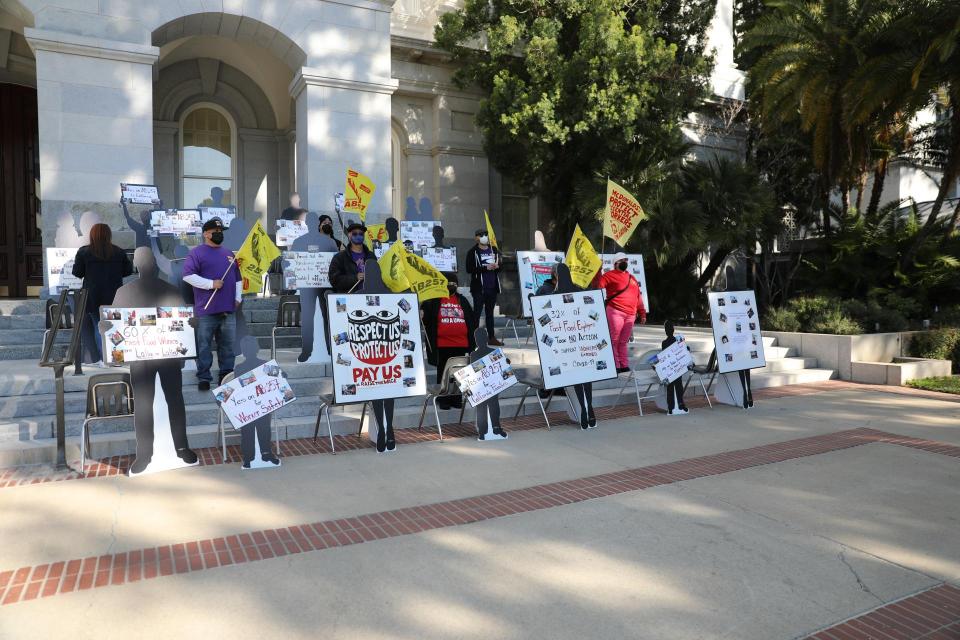 Fast-food workers and supporters gathered outside on the steps of the California state capital building in Sacramento to demand that California State Assemblymembers pass Assembly Bill 257 – the Fast Food Accountability and Standards Recovery Act, or the FAST Recovery Act.
Because the COVID-19 Omicron variant created another spike in cases, several fast-food workers who had planned to attend the event called out sick. That only further highlights the need to pass AB 257 – the FAST Recovery Act. In some of the workers' places were black silhouettes to signify the sacrifices and losses that fast-food workers have endured during the pandemic.
Imelda Arroyo, who earns $15.50 per hour at a McDonald's in Oakland and is part of the Fight for $15 and a Union movement, said, "fast-food workers like me don't have a union." AB 257 – the FAST Recovery Act would create a body called the Fast Food Sector Council, composed of representatives of franchisor brands, franchisee operators, workers, and public health and labor agencies. The council will be empowered to develop labor, safety, and health standards for the fast-food industry based on the expertise of public agencies, workers in the industry, franchisees, and franchisors. "At least we are hoping to get something like AB 257," Arroyo continued.
AB 257 – the FAST Recovery Act will be voted on the floor of the California State Assembly on Thursday, January 20, 2022.