Fast-food workers strike at McDonald's in Saratoga for better wages and working conditions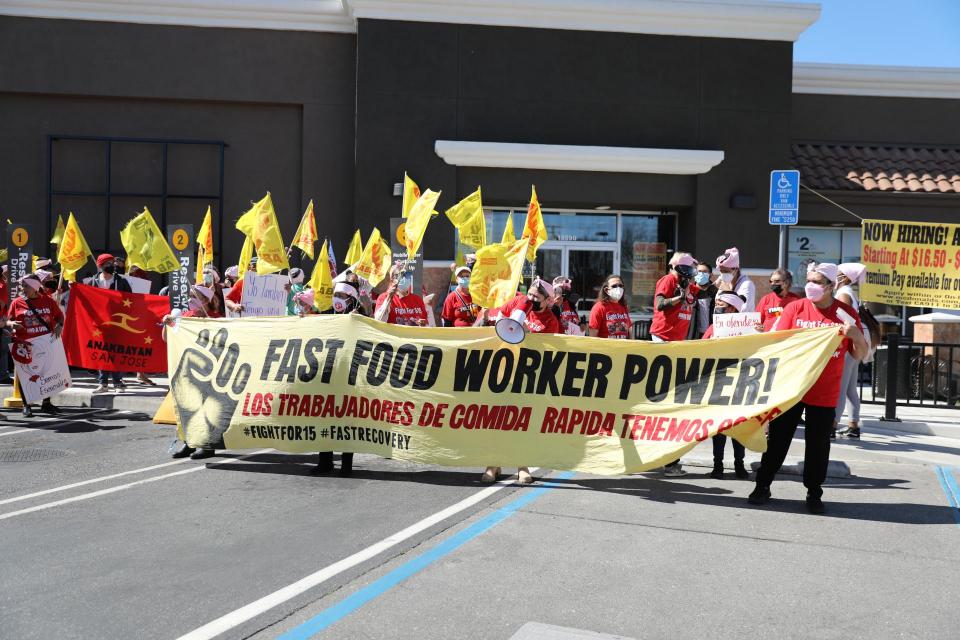 On Tuesday, March 8, 2022—also known as International Women's Day—striking workers from McDonald's on Prospect Road in Saratoga led a rally protesting the discrimination and retaliation against Seberiana Reymundo, a worker with cancer at the store. They also protested the company's failure to abide by paid sick leave laws and demanded that state legislators pass AB 257 - the FAST Recovery Act. AB 257 is transformative, statewide legislation that would give the state's half-million fast-food workers the power to help shape and improve industry-wide workplace standards.
McDonald's charity, the Ronald McDonald House, has a program to support people fighting cancer yet actions by the McDonald's corporation itself towards workers like Seberiana call the seriousness of that charitable work into question. Whether it's poverty wages, no paid sick leave, or just the plain disrespect workers get from management daily, workers are fed up with being treated like garbage. To add insult to injury, McDonald's also owes Seberiana over $4,000 in wages and penalties for wage theft.
Reymundo spoke about the harsh workplace conditions she has faced from management, "Ten years ago, while battling breast cancer. I was verbally abused and discriminated against by the store management. I wasn't brave enough to speak up then. Now it is happening again while I am battling liver cancer. I have been humiliated by my bosses and cried because of the emotional abuse. I see McDonald's donation boxes in the stores asking for support for families healing from cancer, and it hurts to think they don't do anything to support their own workers going through the same thing. Since I told them I am battling this cancer, they have changed and cut my hours. All I want is to live a normal life, but McDonald's is making it emotionally and financially impossible for me."
She continued, "Mcdonald's should be held accountable for retaliation and verbal abuse at work. We are here to encourage fast-food workers to organize and speak up about issues at their stores. We fast-food workers get up and go to work every day despite our illnesses because we want to work and provide for our families. That is why today, I am asking all of you to fight for your rights and look to me as an example that you too can speak up. Let's fight together to hold McDonald's accountable and end workplace abuse, retaliation, and discrimination for me and all fast-food workers!"