Fast-food workers rallying in Oakland and Sacramento on June 9 for the FAST Recovery Act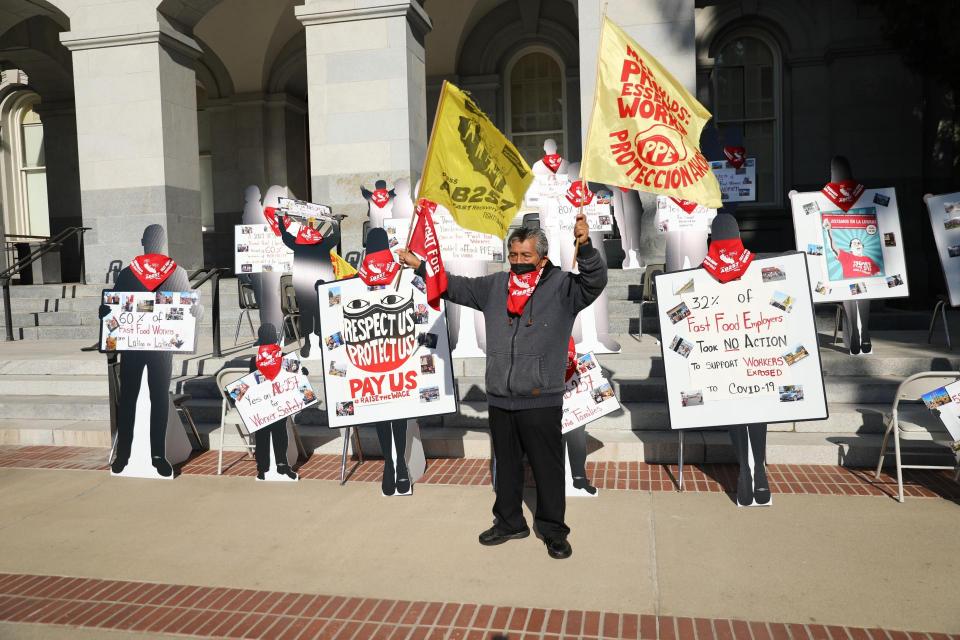 Fast-food workers are mobilizing for the first in a series of public events meant to apply pressure on California state senators and the governor to support Assembly Bill 257 - the Fast Food Accountability and Standards Recovery Act or FAST Recovery Act.
"For more than seven years, California's fast-food workers have joined together and spoke out to demand $15 an hour, union rights, and respect in the workplace. Fast-food workers have won $15 and paid sick leave statewide, but they are still fighting for a voice on the job," said Brandon Dawkins, SEIU Local 1021's Vice President of Organizing. "McDonald's and other companies have failed to take responsibility for issues like wage theft, sexual harassment, and rampant discrimination in our industry. Instead, California's taxpayers have been footing the bill for poverty wages and their failure to protect their employees. No more. Throughout the pandemic, California fast-food workers have gone on strike at over three hundred locations to make it clear that workers need a seat at the table to ensure safety for themselves and their families. California state senators and the governor need to follow the lead of the State Assembly, pass AB 257 – the FAST Recovery Act and sign it into law."
The FAST Recovery Act creates a Fast Food Sector Council, where fast-food workers will have the power to shape industry-wide workplace standards. That means workers can organize, mobilize and win higher pay and improved health and safety standards throughout the industry. The bill would also require corporate, fast-food giants like McDonald's to ensure all their restaurants have the resources they need to operate safely by law. If a fast-food restaurant franchise violates the law, the parent, the fast-food corporation, does too.
Fast-food workers, SEIU Local 1021, community organizations, and grassroots groups are planning to rally at Oscar Grant Plaza – 1 Frank H. Ogawa Plaza, Oakland, CA 94612, on Thursday, June 6, 2022, at 12 pm. At the same time, fast-food workers will also be rallying at the California State Capital building in Sacramento, on the west steps, off of 10th Street, between L and N Streets.