Fast-food workers fight against sexual harassment and for a voice on the job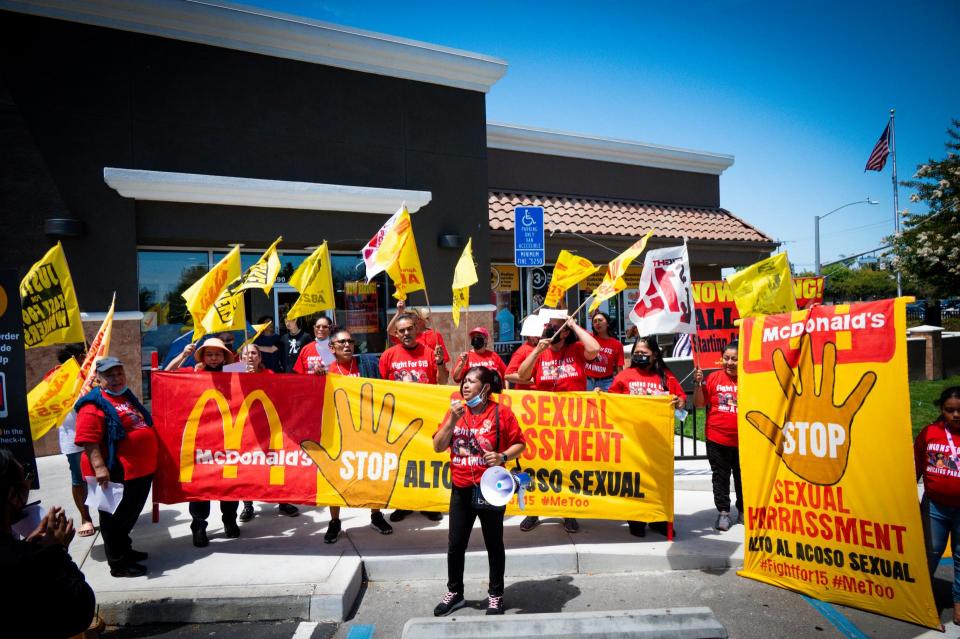 During the summer of action in the fight for a "fast recovery" for the fast-food industry, workers took action at a Saratoga McDonald's. A former employee at the Saratoga McDonald's filed a discrimination complaint against McDonald's Friday, alleging sexual harassment and wrongful termination. Around thirty members of the Fight for 15 and Union movement held a rally on Thursday, August 4, 2022. The group marched through the store with signs that read "Stop Sexual Harassment."
Workers spoke up about their experiences of sexual harassment while on the job. Fernanda Pagaza, a Fight for $15 and a Union movement leader and employee at McDonald's, spoke about how she faced sexual harassment from her manager: "This manager would follow me during breaks, she would follow me if I was doing dishes, she would see if I was outside. I reported the sexual harassment and aggressive behavior to managers. Since the moment that I reported the sexual harassment to management, they started reducing my hours, then with passing time, they started reducing the days I work."
The fight at the Saratoga McDonald's is part of a more extensive campaign to win Associations Bill 257 – the Fast Food Accountability and Standards Recovery Act or FAST Recovery Act. "McDonald's leaders, we need safe workplaces free of intimidation from higher ranking staff," said Pagaza. "California state senators: Support healthy workplaces. I'm asking you to support AB 257, so we can have a say in making sure that companies like McDonald's take sexual harassment seriously and set better policies and trainings to prevent it from happening to others."
Fast-food workers across California are speaking out against sexual harassment and other systemic issues in the industry in support of AB 257 – the FAST Recovery Act. The measure would create a statewide fast-food sector council that would include fast-food workers, government officials, and industry representatives to set minimum health, safety, and employment standards across California for the over half-million people working in the industry.
"We need changes like AB 257, where we could make sure workers get effective training on sexual harassment because right now, a lot of people don't even have a clue what it is," said Rosalia S.H., another McDonald's employee. "This is why we need a voice to hold these companies accountable when they are not following the rules- which we'll get with AB 257. We are here today because we need change in this store and in the entire fast-food industry. We will continue to fight to ensure that we have a voice in our work so that we can improve conditions and win justice."
AB 257 – the FAST Recovery Act aims to give workers and franchisees a seat at the table to help shape sector-wide workplace standards to hold corporate franchisors accountable.
The bill is scheduled to be heard on August 11 in the California State Senate Standing Committee on Appropriations before heading to a full Senate vote later in the month.