Fast-food workers celebrate as AB 257, the FAST Recovery Act, passes the State Assembly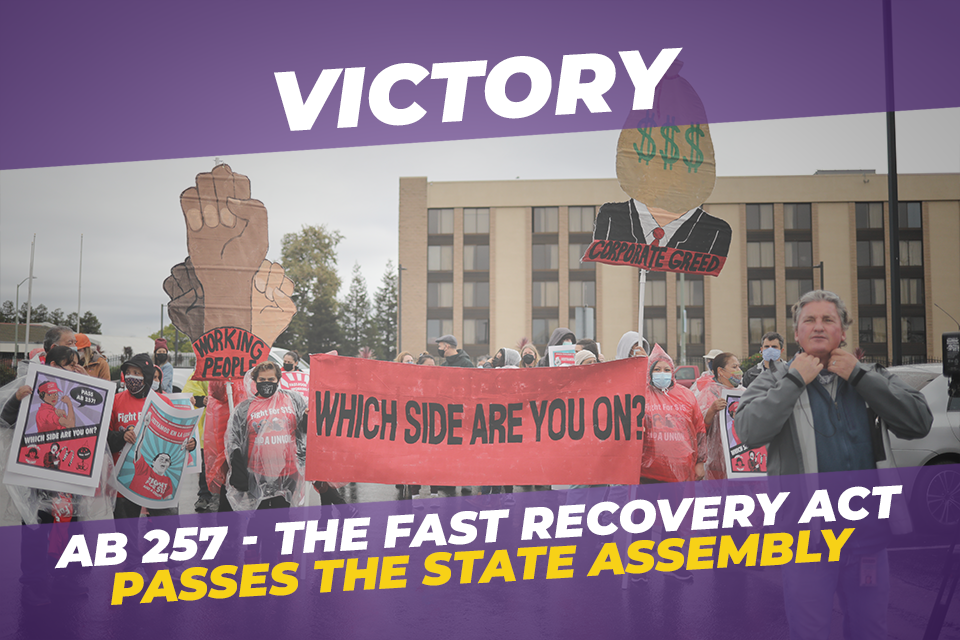 In a huge victory for fast-food workers, the California State Assembly today passed the Fast Food Accountability and Standards (FAST) Recovery Act, AB 257. This victory coming out of the lower chamber of the California State Legislature would not have been possible without the fast-food workers putting their lives and livelihoods on the line by striking over three hundred times across California during the COVID-19 pandemic.
AB 257 - the FAST Recovery Act creates a Fast Food Sector Council, through which fast-food workers can organize, mobilize, and win higher pay and improved health and safety standards throughout the industry. With more than 557,000 workers employed by over 30,000 franchise locations in the state, the legislation is a game-changer for labor law creating a clear model for the rest of the country to follow. Corporate, fast-food giants like McDonald's will be required to ensure all their restaurants have the resources they need to operate safely by law. If a fast-food restaurant franchise violates the law, the parent fast-food corporation does, as well.
Josefina Miranda, a McDonald's worker and leader in the Fight for $15 and a Union movement, said,"McDonald's has its billions: we only have our voices and our belief in our own worth, but today we prevailed. I never thought fast food work would be easy, but I didn't expect it to literally be a fight for my life, either. The COVID-19 pandemic has shown us that we can't expect corporations to put our safety ahead of their profits. We have to take the lead in protecting ourselves, our customers and our families. I'm proud that by speaking out and sharing our stories of what we face on the job, we were able to move legislators to do what's right. I'm more hopeful than ever we can change our work and our lives."
Despite threats, workplace hazards, retaliation, and profoundly exploitative work conditions, fast-food workers have emerged as leading voices across the country for dignity and respect at work. Fast-food workers have refused to be silent about the rife abuses in the industry, such as violations of COVID-19 workplace protections, wage theft, sexual harassment, and discrimination based on race, language, and immigration. In the face of a worldwide health pandemic and stagnant wages, such employees are twice as likely to drop below the federal poverty line.