Fast-food workers and community allies rally in support of the FAST Recovery Act
Last week hundreds of fast-food workers refused to show up to work for a day, went on strike, and instead took to the streets to demand public officials stand with the labor movement and vote "yes" on Assembly Bill 257.
AB 257 is landmark legislation that would create a Fast-Food Sector Council, empowering workers to shape industry-wide workplace standards. Under AB 257, the Fast Food Accountability and Standards Recovery Act, or FAST Recovery Act for short, workers can organize, mobilize, and win higher pay and improved health and safety standards throughout the industry.
To keep up the momentum from last week's historic statewide strike, fast-food workers, community allies, Jobs With Justice, SEIU leaders across California, and more came together for a virtual rally, held via Zoom, demanding politicians answer the question, "Which side are you on?"
The line is clear: if state Assemblymembers and state Senators side with fast-food workers, they will support the passage of AB 257, the FAST Recovery Act. If they fail to vote "yes," then they are on the side of supporting abusive fast-food corporations like McDonald's, Burger King, and Jack in the Box.
The virtual rally, entitled "Which side are you on?" saw nearly three-hundred-fifty people join. Speakers included Mysheka Ronquillo, a worker at Carl's Jr., Bob Schoonover, President of SEIU California, Executive Director of SEIU Local 721, Mary Kay Henry, International President of SEIU, Joseph Bryant, President of SEIU Local 1021, Erica Smiley, the Executive Director of Jobs With Justice, and Evelia Domingo Martin, a Jack in the Box Worker.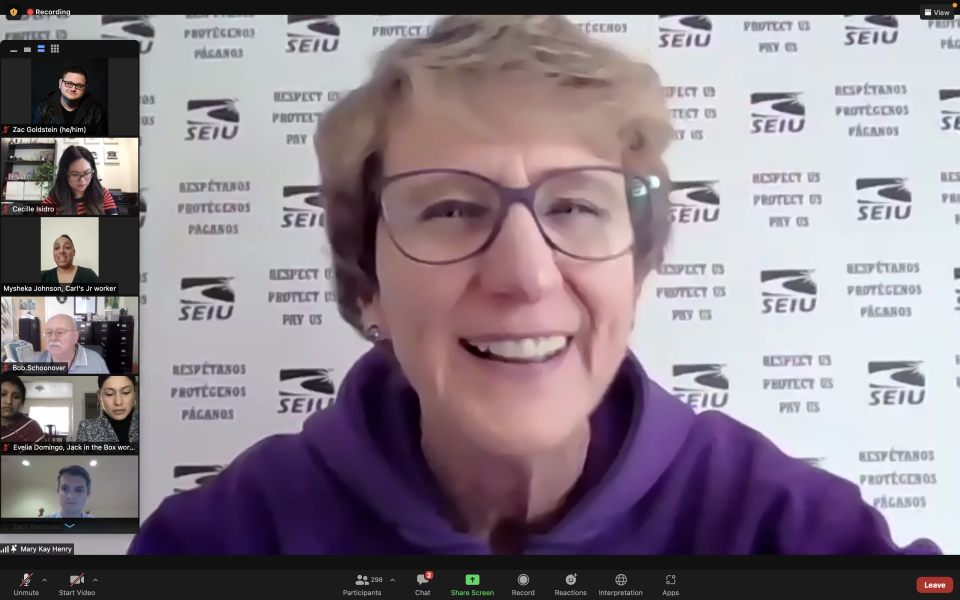 Mary Kay Henry, the International President of SEIU, spoke about specific injustices and workplace conditions that fast-food workers face daily, "You know that for years, fast-food workers have faced serious issues like wage theft, sexual harassment, health and safety issues, discrimination, and poverty wages with the most profitable corporations in the entire world. And, in the last year alone, I have heard harrowing stories. The Folsom Jack in the Box workers have reported how managers have threatened workers with calls to Immigration and Customs Enforcement (ICE) officials if they continued speaking out about wage theft. Imagine that! How ridiculous is that? And, in Oakland, a workforce made up of Latinx and immigrant workers were disrespected so badly, giving doggy diapers as their personal protective equipment at the beginning of the COVID-19 pandemic. Can you imagine that level of disrespect from these major corporations who could afford to provide masks to every worker and customer all up and down California? In Sacramento, fast-food workers who were asking to have an air conditioning unit fixed, so they didn't have to work in a one-hundred-plus degree heat were ridiculed by their store manager and told that they should stop complaining because 'it was just menopause.'"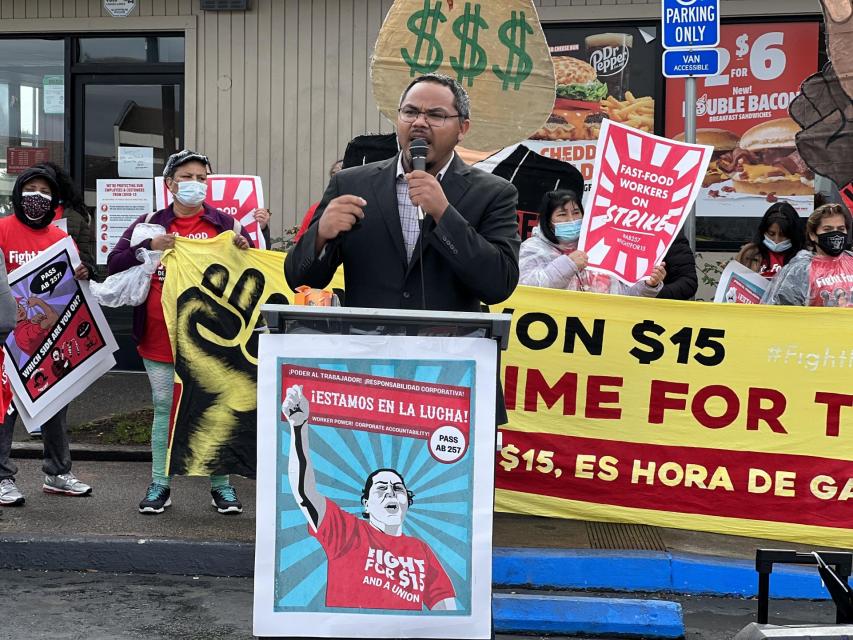 Joseph Bryant, the President of SEIU Local 1021, spoke about the power that fast-food workers have in the labor movement, saying,"This is about power. Workers power the movement. In Oakland, we shut down a Jack in the Box. There was not anything moving through that parking lot at that point in time. We have the power…everyone working in the fast-food industry is essential, deserves the most respect possible, just as any and every worker should. Now is our time. Now is our time to do the right thing. Now is the time to hold politicians accountable to do their jobs to make sure that our work is respected and does get the dignity that it deserves."