The election is on! Mullissa Willette, the First Vice President of SEIU Local 521, is the choice for public-sector workers.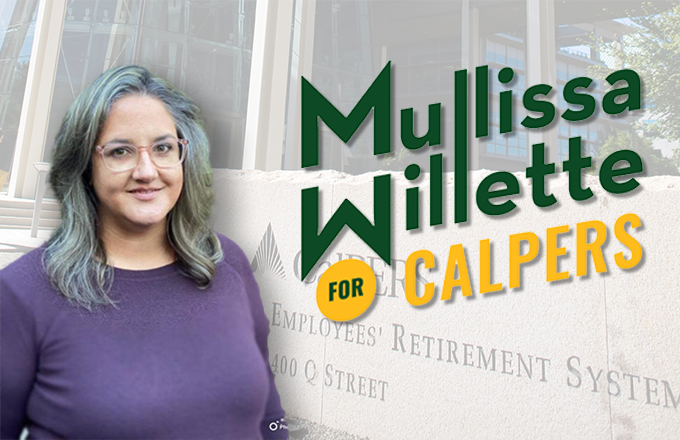 This year, workers whose retirement benefits are governed by the California Public Employees' Retirement System will have an opportunity to vote for a new member of the Board of Administration. This is a crucial election, as Board members are responsible for setting employer contribution rates, determining investment asset allocations, providing actuarial valuations, and much more. It's crucial to have as many voices on that Board who will advocate for working people, which is why SEIU 1021 is proud to support Mullissa Willette, who is a member of our sister union SEIU 521.
"SEIU California members' choice to protect our retirement and healthcare on the CalPERS Board is fellow SEIU member Mullissa Willette," said John Arantes, president of the BART Chapter for SEIU 1021. "The special election takes place from April 15 to May 16 by mail, online, and by phone. Important decisions regarding our retirement and health benefits are on the line. Public-sector SEIU members from across our local and around California know the opportunity we have to elect one of our own to represent us."
A ballot package in a bright blue envelope containing voting instructions, your ballot, a prepaid return envelope, and the Candidate Statement Voter Pamphlet will be mailed to the address CalPERS has on file for you on April 15, 2022. Voting is open from April 15 until May 16. Your vote must be received by mail, telephone, or online by 11:59 p.m. PT on May 16, 2022, to be counted.
"Since 2012, I've helped make tax determinations on billions of dollars of property tax claims for the Santa Clara County Assessor's Office. This work includes analyzing data, reviewing financial records, ensuring legal compliance and assessing property tax status.

As SEIU Local 521 First Vice-President, my duties include business administration, strategic planning, budgeting, contract negotiations and legislative advocacy. I help oversee a $30 million operating budget for my 40,000 member union.

I've learned from analyzing financial data that behind every number there are real lives that matter. As your CalPERS trustee, I'll fight to protect your hard earned pension and health care benefits," said Mullissa Willette about why she's running for CalPERS Board.
Join SEIU locals 1021, 521, and 721 for a fun-filled evening on Tuesday, April 19, as we work together to strengthen union representation on the CalPERS Board.