We fought and we won a temporary suspension of patient transfers at Laguna Honda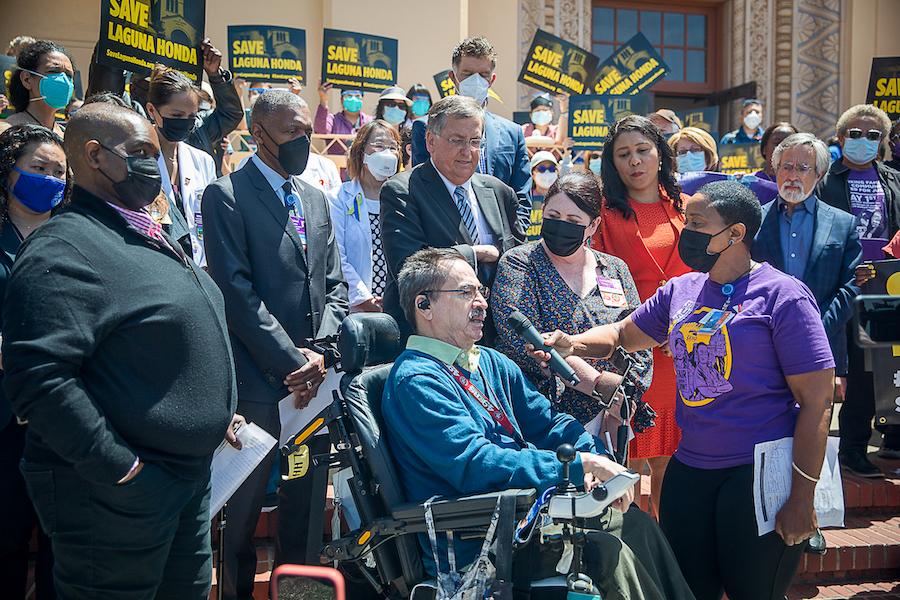 The situation regarding Laguna Honda Hospital's certification status with the Centers for Medicare and Medicaid Services (CMS) has been stressful for us all—patients, staff, and community members alike. After notice had been given that CMS was going to be terminating their Medicare and Medicaid funding, the hospital was required to begin transferring patients. If the hospital failed to begin those transfers right away, they were told their funding would be cut off immediately.
Despite how challenging the last several weeks have been, our work has paid off—we have successfully pressured CMS to temporarily stop the transfer of patients. This will save lives.
"Keeping patients at Laguna Honda, where they are provided some of the most unique and comprehensive care available in this country, is a matter of life and death for many. From day one, we have called on the Centers for Medicare and Medicaid Services (CMS) to exercise compassion for the humanity of patients in their decision-making. While a temporary pause on transfers is an important first step, we must fight for the pause on transfers to be permanent," said Theresa Rutherford, SEIU 1021 president-elect and a longtime certified nursing assistant at Laguna Honda Hospital. "Transfer trauma is a very real danger for patients, and the ones who call Laguna Honda home are often some of the most vulnerable and susceptible to the dangers. It breaks our hearts to know that four people already died as a result of the forced transfers ordered by CMS."
SEIU 1021 members have fought hard to make CMS understand just how special Laguna Honda Hospital is and why it must be a priority for us all to avoid any disruption in services for our patients. We've held rallies, sent emails, signed petitions, and lobbied our elected officials locally and in Washington, D.C. We have consistently spoken out about the potential dangers caused by patient transfers.
Many of these patients are economically-challenged people from communities of color with very complex healthcare needs; Laguna Honda is their home, and many of them have nowhere else to go. "The last thing they need is the threat of transfer or the possibility of homelessness hanging over them if they must leave Laguna Honda," said Theresa. "We must demand better of ourselves than an injustice such as this. As Gandhi said, 'A civilization is measured by how it treats its weakest members.'"
Our work isn't done. We are still fighting to:
Make this temporary pause on transfers permanent
Prepare our hospital for a successful recertification by CMS so we can continue receiving the federal funding we need to stay open
Ensure our local elected officials to come up with alternative funding sources if CMS funding is cut off before recertification
We'll be sharing more details with next steps in the coming weeks.