November 8, 2022, Endorsements
Let's elect pro-labor candidates and pass measures that help our communities!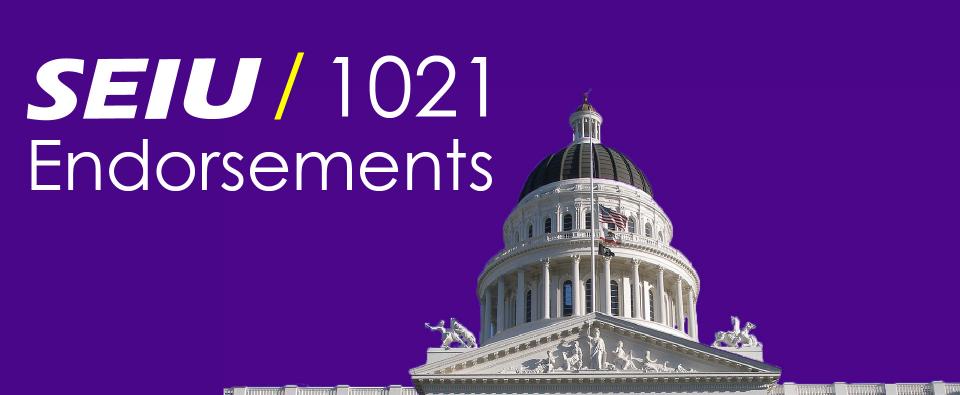 To protect our rights, improve our working conditions and quality of life, and better our communities, the candidates we elect and the ballot measures we pass–or reject–matter. That's especially true when it comes to local and state races. The 2022 statewide and midterm elections are our opportunity to showcase worker power at the ballot box. We have made significant progress over the last two years. Now, we must build upon our advancements.
We know that the fight for economic, racial, environmental, and immigrant justice is one that we cannot sit out. That is why we, as a union, actively participate in the political process. Across Northern California, we will vote for our endorsed candidates and ballot measures and mobilize our communities to vote to achieve the kind of justice we deserve.
We organize good trouble on the streets, in our workplaces, and now at the ballot box.
We urge members to participate in phone banking, canvassing, and other outreach initiatives to help us elect candidates who will fight for us and pass measures that will benefit workers across Northern California.
Click the links below to see what candidates and measures SEIU 1021 members have endorsed for the November 8, 2022 election, and see our upcoming volunteer opportunities here.
UNITED STATES SENATE
Gavin Newsom - Governor

Eleni Kounalakis - Lieutenant Governor

Shirley Weber - Secretary of State

Rob Bonta - Attorney General

Fiona Ma - State Treasurer

Malia Cohen - State Controller

Tony Thurmond - State Superintendent of Public Instruction

Ricardo Lara - Insurance Commissioner

Sally Lieber - California State Board of Equalization, District 2

Antonio Vazquez – California State Board of Equalization, District 3

David Dodson – California State Board of Equalization, District 4

Proposition 1 – Enshrines the right to abortions and contraception in the constitution – Vote YES

Proposition 26 – Expands tribal gambling – NO POSITION

Proposition 27 - Online and sports gambling – NO POSITION

Proposition 28 – Arts & Music Education – Vote YES

Proposition 29 - Dialysis - Vote YES

Proposition 30 – Zero Emission Vehicles (Lyft Measure) – NO ENDORSEMENT

Proposition 31 – Referendum on legislation to prohibit flavored tobacco – Vote YES (TO UPHOLD THE LEGISLATION)
U.S. HOUSE OF REPRESENTATIVES

STATE ASSEMBLY

district attorney – dual endorsement

PUBLIC DEFENDER

BOARD OF SUPERVISORS

board of education

CITY COLLEGE BOARD OF TRUSTEES

LOCAL BALLOT MEASURES

Proposition A: Retiree Benefits for Public Employees – Vote YES

Proposition D: Affordable Homes Now – Vote NO

Proposition E: Affordable Housing Production Act – Vote YES

Proposition F: Renewal of Library Preservation Fund - Vote YES

Proposition G: Student Success Fund – Vote YES​

Proposition H: Move City Elections to Even-Numbered Years – Vote YES

Proposition L: Sales Tax for Transportation Projects - Vote YES

Proposition M: Tax on Vacant Properties – Vote YES

Proposition N: Golden Gate Park Underground Parking Facility – Vote YES

Proposition O: Invest in City College – Vote YES
ALAMEDA COUNTY
Alameda county boards of education
ALAMEDA COUNTY CITY RACES
BERKELEY CITY COUNCIL

Berkeley rent board

Soli Alpert
Vanessa Danielle Marrero
Ida Martinac
Nathan Mizell
Negeene Mosaed

Hayward city council

OAKLAND MAYOR

OAKLAND CITY COUNCIL

union city council

BALLOT MEASURES

Measure H: Oakland Unified School District – Vote YES

Measure M: Berkeley Vacancy Tax – Vote YES

Measure O: Emeryville Transfer Tax - Vote YES

Measure Q: Oakland Social Housing – Vote YES

Measure R: Oakland Gender Neutral Language – Vote YES

Measure S: Oakland Non-Citizen Voting in School Board Races – Vote YES

Measure T: Oakland Business Tax – Vote YES

Measure U: Oakland Affordable Housing – Vote YES

Measure V: Oakland Just Cause Protections – Vote YES

Measure W: Oakland Public Financing – Vote YES

Measure Z: Union City Sales Tax – Vote YES
CONTRA COSTA COUNTY
CONTRA COSTA BOARD OF SUPERVISORS

RICHMOND MAYOR

RICHMOND CITY COUNCIL

SAN RAMON CITY COUNCIL

PITTSBURG SCHOOL BOARD

antioch city council

concord city council

EL CERRITO CITY COUNCIL
U.S. HOUSE OF REPRESENTATIVES

STATE SENATE

STATE ASSEMBLY
Butte County​
Measure H: Chico Sales Tax for Public Services - Vote YES
NAPA COUNTY
NAPA County Board of Supervisors
SACRAMENTO COUNTY
Sacramento County Board of Supervisors

Sacramento City Council

SACRAMENTO UNIFIED SCHOOL BOARD
SOLANO COUNTY
Solano County Board of Supervisors

DIXON UNIFIED SCHOOL BOARD

​Ian Arnold
Julian Cuevas
Lloyd McCabe

FAIRFIELD CITY COUNCIL

suisun city council

VACAVILLE UNIFIED SCHOOL BOARD

VALLEJO CITY COUNCIL
State Senate

State assembly
DEL NORTE COUNTY
Del Norte County Board of Supervisors

DEL NORTE COUNTY BALLOT MEASURES

​Measure U: Sales Tax Referendum – Vote NO
MARIN COUNTY
Corte Madera Town Council
Corte Madera Town Council

San Rafael City Council
novato city council

​Rachel Farac - District 2
Pat Eklund – District 4

MARIN MUNICIPAL WATER DISTRICT

​Matt Sampson - Division 1
Larry Bragman – Division 3
Jed Smith – Division 4
MENDOCINO COUNTY
MENDOCINO COUNTY BALLOT MEASURES

Measure O: Library Sales Tax – Vote YES

Ukiah Town Council

FORT BRAGG CITY COUNCIL

Willits School Board
SONOMA COUNTY
HEALDSBURG CITY COUNCIL

ROHNERT PARK CITY COUNCIL

​Samantha Rodriguez - District 1
Emily Sanborn – District 2

santa rosa city council

SANTA ROSA BALLOT MEASURES

​Measure C: School Bond – Vote YES
Measure G: School Bond – Vote YES

SONOMA TOWN COUNCIL

Thomas Deegan
Patricia Farrar-Rivas