Working People in Oakland Picket for Good Union Jobs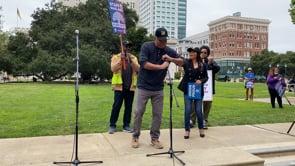 On Thursday, June 30 a coalition of working people from three unions, IBEW, IFPTE Local 21, and SEIU Local 1021, rallied and picketed outside Oakland's City Hall to call for an end to the understaffing crisis.
The unions are in the midst of contract negotiations now, and were calling attention to a long-standing pattern of austerity in Oakland that has only worsened during the challenging conditions of the pandemic. According to the City's own most recent staffing report of June 7, 2022 the City currently has more than 772 vacant full-time positions, with a vacancy rate of 16.33%, more than double the 8% they budget for. Nearly 140 of these are in Public Works alone, with another 70 in libraries and parks and rec and 52 in planning and building, hamstringing the City's ability to provide clean, safe streets, parks, and libraries.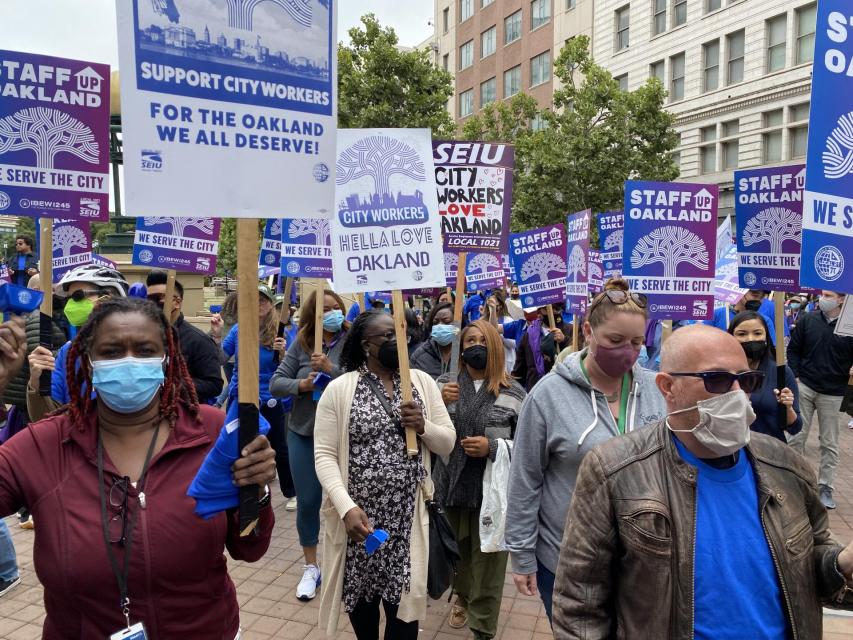 Liz Ortega, Executive Director of the Alameda Labor Council, said: "Many city workers are doing twice the work, with half the people. When understaffing is this bad, full and timely public services can't be provided. The City of Oakland needs to do the right thing: invest in city workers and improve the quality of city services for Oakland residents."
As SEIU 1021 City of Oakland chapter president Felipe Cuevas, told the crowd of hundreds of workers, "We're in the middle of bargaining. I started first doing this job six years ago, and when I got to my first Council meeting to talk about how we're doing in bargaining, I can say now the same thing I said then: Stop abusing TPTs. Help us. Fund us so we can pick up the trash off the streets. We need affordable housing, not only for our workers so they don't have to go all the way to Stockton and Sacramento and commute, but for the people who are unhoused on the streets. These are the same issues we're bringing to the table now."
The City has proposed to address the staffing issue by doing away with civil service rules, so they can ignore internal candidates and bypass internal lists of eligible workers. Union members have argued time and again that promoting from within is simpler, fairer, and more likely to improve the ability of the City to recruit new workers. As Felipe Cuevas said, "We want people to be rewarded for their merit, not passed over." Rewarding workers for their dedicated service is the right thing to do, and it also opens up new entry-level positions, which are easier to recruit for.
As Natalie Hanson, a reporter for the Courthouse News, pointed out, the unions' contracts expired on June 30:
City union workers like Local 21 are rallying today calling for a resolution to bargaining with Oakland. Their contract with the city expired today although a strike is not on yet, a staffer said. @CourthouseNews pic.twitter.com/5d0EpqTJSD

— Natalie Hanson (@nhanson_reports) June 30, 2022
Cuevas concluded his statement to the assembled throngs of people, "We may ask you to hit the streets with us, if our employer is not doing what we need them to do."