Workers at Maryland Apple Store become the first to unionize in the United States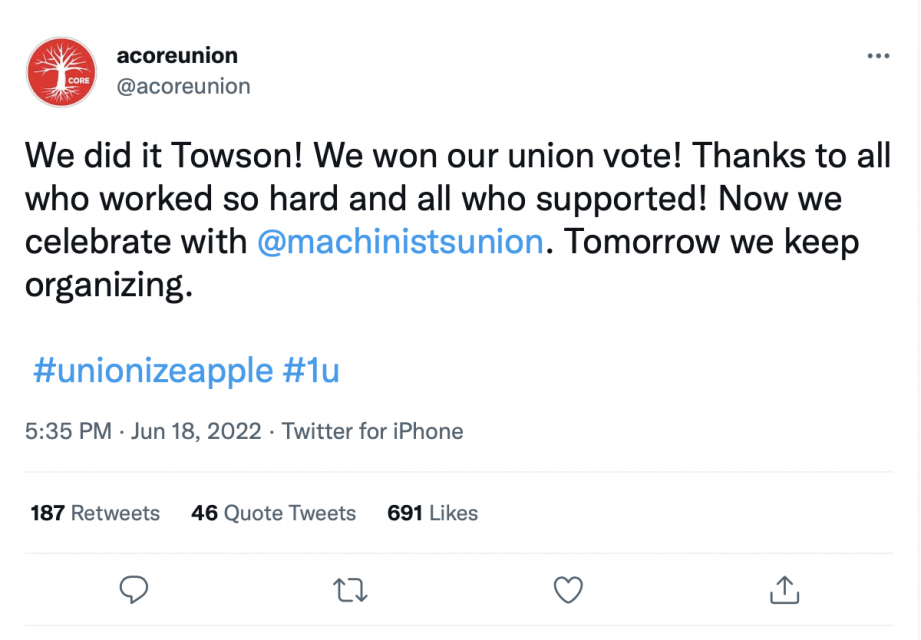 The wave of new organizing continues! Apple's retail store workers at Maryland's Towson Town Center sealed a historic win last week, becoming the only U.S. workers in the company's 46 years to gain the right to labor representation. The final vote tally showed 65 of the store's 112 eligible workers voted in favor of unionization and 33 against. The workers initially organized into a group called the Coalition of Organized Retail Employees before working with the International Association of Machinists and Aerospace Workers Union to reach victory.
"Like Starbucks and Amazon before, the victory over at Apple is a monumental game-changer for the labor movement," says SEIU 1021 Vice President of Organizing Brandon Dawkins. "With a company that made a net profit of $94.68 billion last year alone, the successful unionization effort strikes a blow at the power of billionaires and the company's executives while lifting up the people who make Apple all that profit: the workers. It is the workers who have been out on the frontlines, fighting a pandemic, inflation, and being unable to afford basic essentials like rent, food, and gas. With a union, Apple store workers can step up, speak out, and fight for better, safer workplace conditions.
"Think about what that victory means not only for other Apple employees but for workers across the country and around the world: Apple became the first publicly traded U.S. company to be valued at over $1 trillion. All that money goes to the top. Now, workers are striking back and demanding what's rightfully theirs.
"Even the fight for a union works," continues Vice President Dawkins. "In the lead-up to the vote, Apple management increased starting retail store employee pay from $20 per hour to $22 per hour. They were and still are scared. While that is something, we know full well that the $22-hour wage remains insufficient to qualify for and afford basic local housing. Those Apple Store employees know the challenges. With a union, they can bargain for a fair contract and create an environment that works for the many, not just the few."