Vote to choose your boss this November!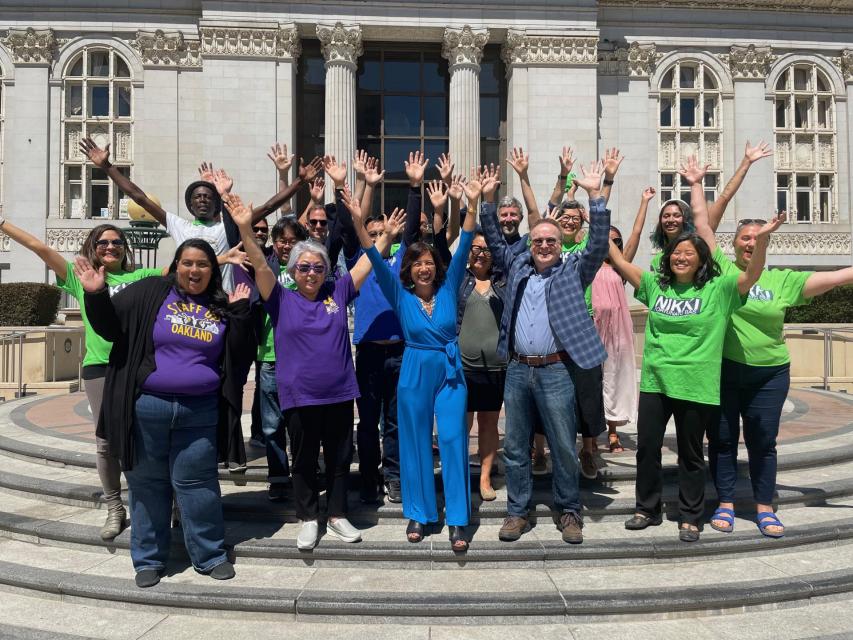 Most SEIU 1021 members are in the public sector, working for cities, counties, special districts, schools, courts, and other public entities. Since these entities are overseen by elected officials, it's our job as union members to find and support officials who will support us, our work, and our priorities across Northern California. In Oakland, one such official is City Councilmember Nikki Fortunato Bas, who is running for re-election now. SEIU Local 1021 has endorsed her, and Felipe Cuevas, the City of Oakland chapter's president, had this to say about her.
"Councilmember Bas has always put her time and energy behind city workers and our issues."
"Her long track record as an organizer has given her extensive experience and knowledge of what working people in Oakland need, and in her first term on City Council, she proved to be an important ally for city workers and a crucial leader on important issues. Councilmember Bas helped reimagine public safety with our innovative MACRO program that created good, union jobs that help respond to vulnerable people experiencing mental health crises in a non-violent way. She helped spearhead the strongest COVID-19 eviction moratorium in California to keep people in their homes, and brought improvements to parks and recreation centers from Lake Merritt's Astro Park to the Athol Tennis Courts to Wilma Chan Park in Chinatown. And with her leadership on Council, City workers in Oakland got their best contract, and highest Cost of Living Adjustments (COLAs) in years, and we got it in timely fashion."
""Nikki Fortunato Bas fights hard for City workers. The proof of that is in our recent contract gains. With her help, we can make Oakland the safe, inclusive, fair city that city workers and residents alike all want and deserve."
To get involved with this important campaign, please visit Councilmember Bas' website. Across Alameda County, you can use this page to find and support other candidates who support working people in this crucial election, and use https://www.mobilize.us/seiu1021/ and filter events by location to see everything our union is up to across California. The ability to choose the elected officials who oversee our work, and craft the budgets that pay our salaries, is an important piece of what it means to be a union member, so sign up and do your part!