Victory for SF City workers: Budget-draining legislation neutralized by amendment requiring new funding
The Safer Smarter SF Coalition turned out again on Monday, Nov. 6, and pushed the Rules Committee to pass the amended version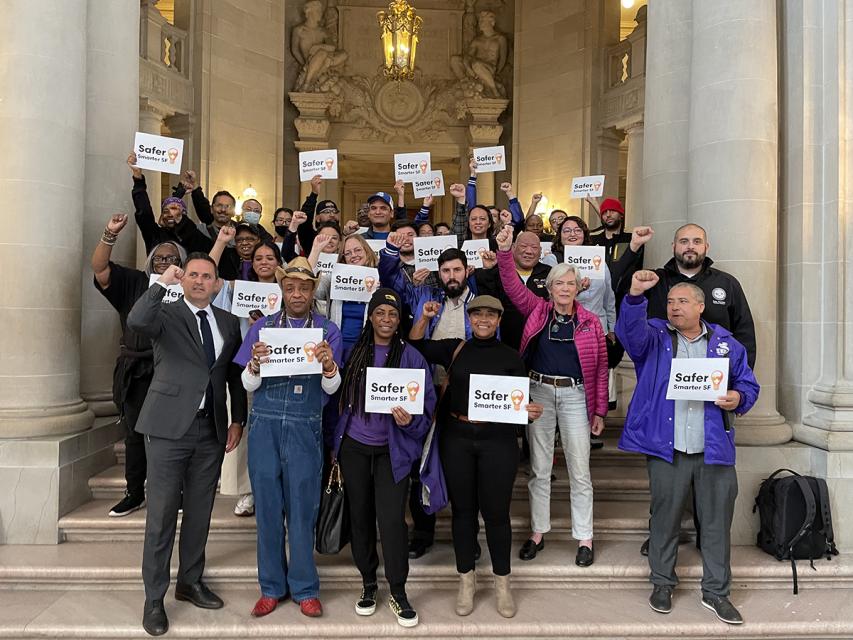 Yesterday, Monday, November 6, San Francisco City and County workers and supporters once again packed the SF Board of Supervisors Rule Committee. This time, their goal was to push the committee to pass the version of the charter amendment introduced two weeks ago by Sup. Matt Dorsey containing Sup. Ahsha Safaí's amendment to the full Board of Supervisors. And they won an important early victory: The amended version of the legislation passed 2-1, with only Sup. Dorsey voting against his own bill.
The amendment added in last week's rules committee meeting is crucial. The original legislation would have required the City to set aside up to $300 million from the general fund to pay for additional police recruitment and staffing, despite the fact that SFPD is already fully funded and has been unable to fill its police academies.
This is the same pot of money that funds the nearly 18,000 City positions in the SEIU 1021 bargaining unit as well as countless other City positions, many of which are just as critical to public safety as the police, if not more so. 911 dispatchers, homeless outreach workers, mental health service providers, social workers, paramedics, firefighters, public works, and more.
"I'm here to strongly support Sup. Safaí's amended proposal, which no longer mandates a set-aside taking money out of the general fund, which funds all the services we provide as public county servants," said SEIU 1021 Vice President of San Francisco Kristin Hardy during public comment. "The original proposal limited flexibility in budget allocation, which is not something SEIU 1021 could support. Public safety requires more than just police.The original set-aside would have drained $200 million over 5 years, reducing essential services such as firefighters, nurses, 911 dispatchers, mental health and homeless services, and addiction services.
"We need new funding streams for public safety set-asides, aligning with the City's official policy. Rather than playing politics, let's find ways to invest in our city and deliver for residents without shrinking vital public services."
Sup. Safaí's amendment makes the supplemental police funding dependent on identifying new revenue sources or reorganizing existing revenue sources. It is already SF City policy to require new funding when introducing new spending mandates.
After hearing testimony from numerous speakers, including many SEIU 1021 and SEIU 2015 members, IFTPE Local 21 members, Building Trades members, and community members, supporting the amended version of the bill, Supervisors Safaí and Shamann Walton voted to pass the amended bill. Sup. Dorsey voted against it. The bill will now head to the full Board of Supervisors. If passed by the full board, it will appear on the ballot in the March 5 primary election.
Removing the general fund set-aside from the proposed charter amendment is an important first step in protecting the incredibly important public services SEIU 1021 members and so many others provide in San Francisco. But as the City is looking at a $500 million projected deficit as we head into contract negotiations in 2024, it will be critical that members continue to pay attention, show up, and speak out.
Follow the Safer Smarter SF Coalition on Facebook, Twitter, and Instagram to stay up-to-date!