Union Starbucks workers in Berkeley strike for fair staffing and safe working conditions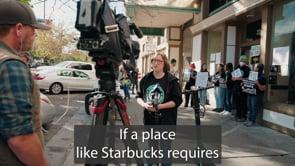 On Friday, October 13, workers at the 2224 Shattuck Starbucks store in Berkeley went on strike to demand that Starbucks management:
Return to previous dress code enforcement, as directed by national labor law

Ensure functioning lights in the storage room

Establish the standard that if any part of the store reaches 77 degrees, partners can close the store for safety and will be paid in full for their scheduled shifts

Ensure any and all schedules reflect the preferred hours of all workers at the Shattuck cafe as stated in their availability, until they are given the opportunity to bargain over working conditions and a contract is signed
The location's air conditioning has been broken and often inoperative for months. Amanda Cameli, a barista and supervisor, described one hot day for KTVU: "I myself was feeling dizzy," she said. "People on the floor were feeling ill from the heat. One of our coworkers in fact was hospitalized."
The store's workers voted to form a union with Starbucks Workers United, now affiliated with SEIU Local 1021, in August of 2022.
Staicy Robles, a shift supervisor at the store who has been there a year, said, "Working at Starbucks has required me to be a barista shift supervisor and manager all at once. We do not have support or adequate materials to maintain this store and it is on the baristas and shifts to figure it all out. Labor cuts leave us suffering on the floor and busy school schedules on top of that only create more stress.
"This is unfair. We cannot and should not be expected to perform manager tasks as baristas or shift supervisors. It's time for Starbucks to listen to our demands, because as a multibillion dollar corporation, THEY NEED TO BE DOING BETTER!"
Jack Miller, a shift supervisor and six-year partner, said, "Starbucks has continuously disregarded our concerns about safety. Enough is enough. We deserve safe working conditions, and we will not stop fighting until we get them."
He told the Daily Cal, "The things that we are asking for are incredibly basic. The fact that management has not been able to or unwilling to meet these demands is an indictment of how bad that union-busting campaign has been."
The striking workers found plenty of support from SEIU 1021. As SEIU 1021 Vice President for Organizing Brandon Dawkins told the Daily Cal newspaper, "These workers are resistant and resilient. They fight back because they want better for themselves. They want better for each other and they want the very best for the customers."
Andrea Mullarkey, a City of Berkeley chapter officer and library worker, also spent some time on the strike line Friday. She said, "I was so proud to be on the strike line with Starbucks workers. Workers showed up in force to demand better for each other from a company that has the means but not the will to treat workers right.
"Starbucks is a hugely profitable company, but workers at this newly unionized store have suffered months of broken air conditioning, misgendering, unsafe understaffing violations of national labor law when workers wear symbols of their union, and violations of national labor law when workers wear symbols of their union.
"It's shameful the way Starbucks is acting. We know this isn't about their so-called progressive values. It's about greed, pure and simple. If they think they can stop a worker movement through this immoral and illegal behavior, the workers showed up to prove them wrong. "
Read more from Berkeleyside.