Theresa Rutherford officially assumes her duties as president of SEIU 1021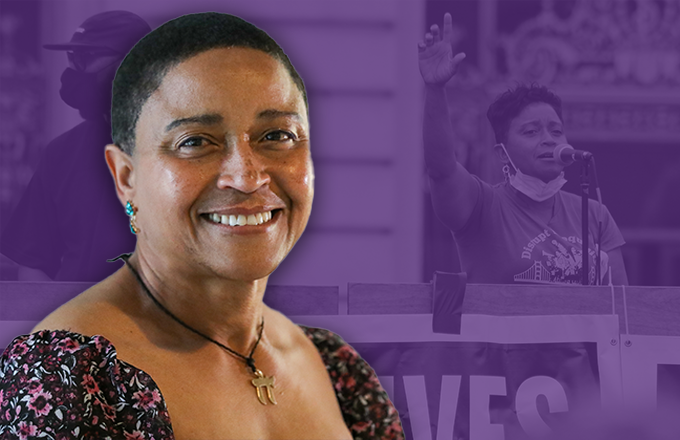 This weekend, Theresa Rutherford formally assumed her duties as the new president of SEIU Local 1021. Theresa was appointed to this role by a supermajority vote by the SEIU 1021 Executive Board at their July meeting upon news that previous President Joseph Bryant would be moving on to become executive vice president of SEIU at the international union level.
"I'm excited to continue SEIU 1021's good work building power and organizing to see workers empowered, growing, and having opportunities," said Theresa when the announcement was made back in July. "More than anything else, I'm just excited to engage more workers and to support and educate them to know that the power we have lies in our collectively working together and strengthening ourselves as union members and working as a collective group."
Theresa Rutherford is a name that is likely familiar for many SEIU 1021 members already, as she has served in local-wide office since 2016. Before being becoming president of SEIU 1021, Theresa served our union most recently as vice president of San Francisco and as vice president of representation before that. Theresa would tell you that the fighting spirit that has prepared her so thoroughly for this new responsibility has been with her for her entire life.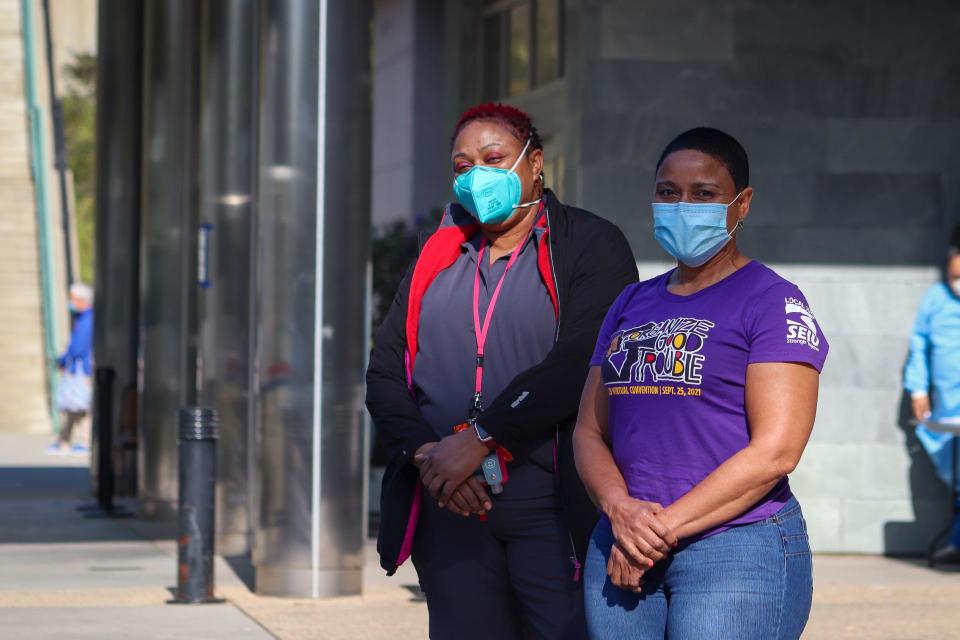 Theresa was born in Jamaica, where she grew up with plenty of strong, female role models in her life. "I come from a family of hardworking women—especially my grandmother and mother, who have always been my guiding light through life," said Theresa. "My mother worked hard in a factory. My grandmother was a domestic worker and also a local community leader who was active in politics. I grew up seeing these strong women making sure people participated in local elections, advocating for funding and resources to be steered to those who need them, and fighting to make life a little better for everyone."
Theresa moved to the United States with her family, including her two sons, in 1998. She worked as an insurance agent as she finished a bachelor's degree in business administration before completing a master's degree. She decided to apply for a job with the City and County of San Francisco, hoping to find a job that would allow her more time to be at home with her children. Eventually, she was hired as a nurse assistant at Laguna Honda Hospital.
It was at Laguna Honda that Theresa first became an activist in our union.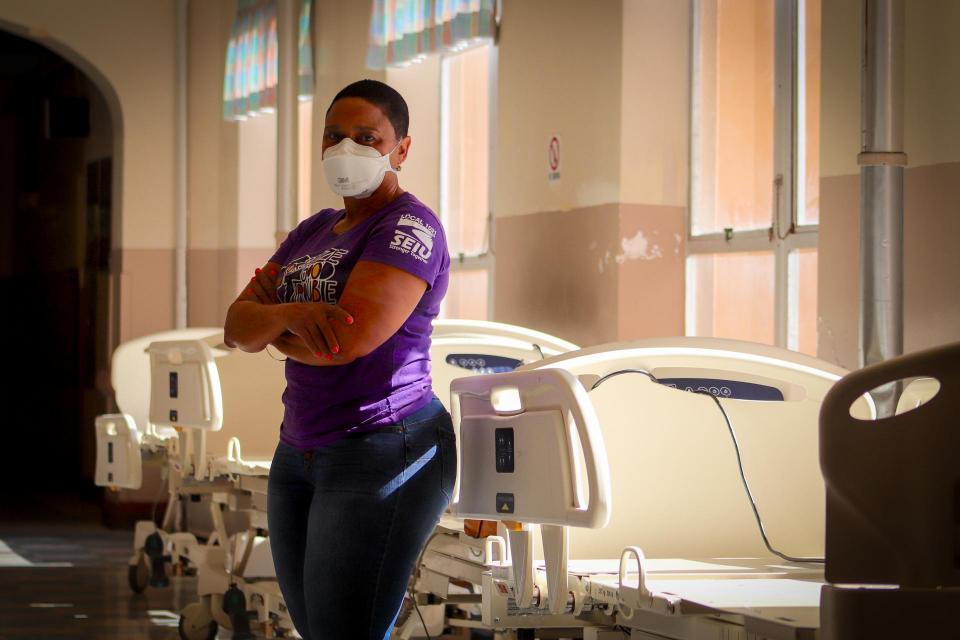 She recalls one incident in particular. A patient with dementia, who was confused about what was happening, lashed out and attacked her while she was at work. With a bruised face and swollen eyes, Theresa went to the nurse manager — who put the blame on her, asking what she could have done differently to avoid being attacked.
"I was shocked and angry at that response. I felt disrespected and was appalled by the lack of empathy this manager had for me, especially from someone working in healthcare," Theresa recalled. "I told her in very strong terms that it was not right for her to react in that way. I later hand-wrote a note, which I gave to her, saying that I wouldn't be speaking with her until she was prepared to apologize for the way she treated me."
Eventually, the manager did apologize–but there was no going back for Theresa, as more and more of her coworkers began to see her as a strong voice who was willing to stand up to management. A growing number of colleagues began approaching Theresa for help with problems of their own, and Theresa became a fierce advocate for not just herself but for her colleagues as well.
"After that moment, I never stopped. Whenever a coworker was in trouble, I'd speak up with them and challenge bad behavior from management," said Theresa. These experiences shaped and prepared her for a larger leadership role in our union, and soon she was elected chapter secretary and later chapter president at Laguna Honda before ultimately being encouraged to run for local-wide office.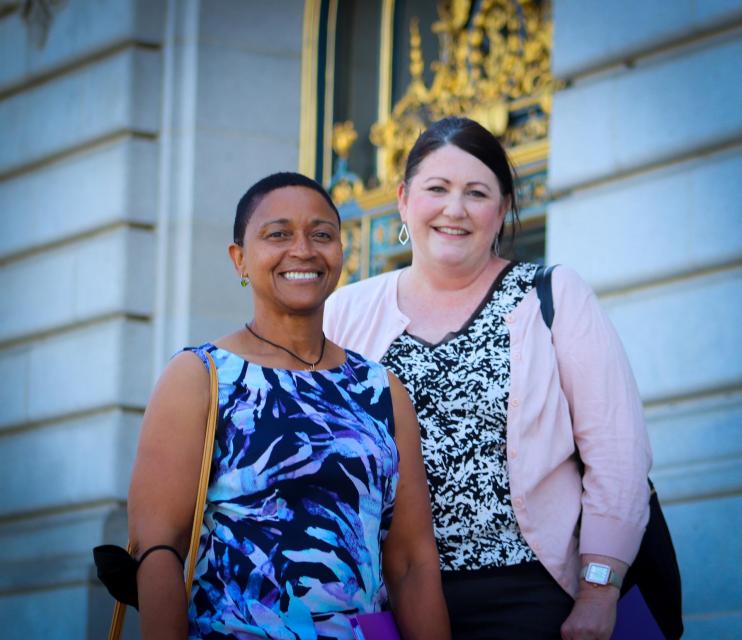 Theresa cites a lifetime of seeing people work hard but not have nearly enough to show for it as a strong motivation for her union activism: low pay, racism and sexism at work, no retirement security, a lack of respect, and more. Witnessing all of these injustices not only encouraged Theresa's activism but shapes her vision for our union in the years to come.
"Being in this union has meant everything to me—it's about the ability to not just survive, but to thrive and to see the same for those around me. Through our collective leadership and action, we can help build a better life for us all. I want to see a world in which all workers are well paid, able to retire with dignity and be treated with respect at work. I want to dismantle systems that hold back women and people of color and that prioritize one group of people over another because of who they are, where they come from, or who they love," said Theresa.
Theresa continued to lay out her vision for our local by saying, "I am passionate about seeing our union build pathways for our members to grow and advance in their careers through training, education, and workforce development. I'm also passionate about bringing more workers into our movement, including fast food, gig, and nonunion clinic workers. We must lift these people up, not just to improve their lives, but to also protect and expand the standards that our members have worked so hard to set around Northern California."
Theresa ended with perhaps the most important point of all: "We have a lot of work to do as a union, in our communities, and as a country. If there's one thing I've learned, it's that in order to build the world we all want to live in, we each must roll up our sleeves and get to work together."