Support Tenderloin Housing Clinic workers heading out on strike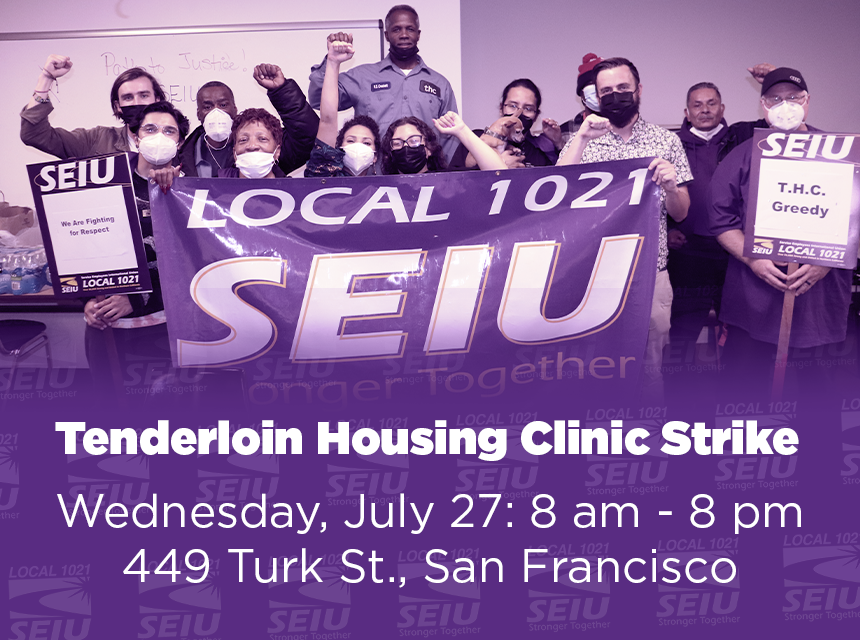 Tenderloin Housing Clinic workers are crucial to keeping San Francisco's homelessness and supportive housing system functioning. Around 300 people there work as desk clerks, janitors, case workers, maintenance staff, and more at 24 of the city's single-room occupancy hotels (SROs).
These SEIU 1021 members are doing incredibly challenging and necessary work to support city residents who are formerly homeless and often require help with mental illness, chronic health conditions, histories of trauma, and more. It's hard work, but members take pride in knowing that they're making a difference in people's lives. Yet many THC workers are shamefully only a few missed checks away from needing many of the services they provide themselves.
That dedication to the job doesn't mean that staff should be taken advantage of at work. That's why, as management dragged their feet at the bargaining table, THC workers voted overwhelmingly by over 99% to authorize their bargaining team to call for a strike earlier this year. Now, workers have announced that beginning at 8am on Wednesday, July 27, they will stage a 24-hour strike.
"We're disappointed that it's come to this point, but we have seen a lack of urgency from management to address the causes of burnout and turnover, which is well within their power. At the same time, we're still awaiting clarity from the City and County and Department of Homelessness and Supportive Housing around proposed funding for badly-needed wage increases," said Evan Oravec, a community organizer at Tenderloin Housing Clinic and the chapter president.
"A budget is a moral document, and how San Francisco allocates its resources tells us a lot about the priorities of our elected leaders. Improving our homelessness and supportive housing system starts with investing in the people delivering those services at every level—not only the case managers, but the desk clerks, janitors, and beyond."
SUPPORT TENDERLOIN HOUSING CLINIC WORKERS BY VISITING THEIR PICKET LINE
Community supporters are encouraged to attend a THC strike rally at 11 am on Wednesday, July 27 at 449 Turk St in San Francisco. After the rally, we will march to City Hall at noon. If you're unable to attend the rally, the picket line will otherwise be up from 8 am – 8 pm on July 27 at 449 Turk.
Read about the impending strike in the San Francisco Chronicle here.