Strike Update: SCUSD Shows Up to Bargaining with SEIU 1021 Unprepared; Refuses to Negotiate with SEIU and SCTA at Same Table
SEIU 1021 will be waiting for the District to come back to the table with counterproposals to reach a deal after its meeting with SCTA this afternoon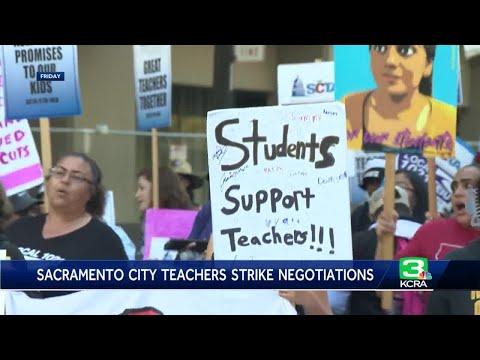 **FOR IMMEDIATE RELEASE**
Sunday, March 27, 2022
Contact: Jennie Smith-Camejo, (510) 710-0201, jennie.smith-camejo@seiu1021.org
This morning, the SEIU 1021 bargaining team–representing classified staff such as instructional aides, nutrition service workers, school bus drivers, clerical staff, custodians, and maintenance–came to the negotiations table with SCUSD management at 10am. The team expected to see the District's counterproposals to those that the SEIU 1021 team submitted yesterday as the District promised it would do. However, they got a series of "clarifying questions" from the District's chief negotiator instead of counterproposals.
"We explained our counterproposals to them once again, as we did yesterday, even though they are clear, and this is an experienced negotiator who understands very well what they mean," said SEIU 1021 Chapter President Karla Faucett. "We are frustrated that the District is still stalling despite the urgency of the situation. We asked if they could have responses to yesterday's proposals for us by 11:30am, and they said they would not."
SEIU 1021 was joined at the bargaining table by Sacramento City Teachers Association (SCTA) representatives. The District had publicly claimed to have bargaining sessions scheduled with them, but SCTA had not received any notice of this. The SEIU bargaining team pushed the District to schedule a meeting with SCTA for 1:30pm.
SEIU 1021 and SCTA also requested that the District convene both groups at one bargaining table and negotiate the contracts together, to reach an agreement quickly that will address the District's severe staffing crisis and get staff and educators back on the job tomorrow. The District has refused to meet with both groups at the same table.
The SEIU 1021 bargaining team will be present during the District's meeting with SCTA at 1:30pm today, and expects District management to come back to the SEIU 1021 bargaining table later this afternoon following their meeting with SCTA.
"We will be here waiting for them, as we have been for weeks now, anxious to negotiate and reach an agreement that respects and values classified staff and takes serious steps toward filling the 400 classified vacancies that are currently making it impossible to do our jobs and provide Sac City students the education and support services they need and deserve," said Faucett. "The ball is in their court. They can keep stalling and trying to turn the public against the hardworking folks who have dedicated decades to taking care of this city's most valuable asset–our future. Or they can decide to stop playing games with Sac City Unified kids, families, and workers, come back to the table today ready to do their job, and work with us to get to a real plan to secure the staffing our students need.
"We are here doing our part. We want to go back to taking care of kids. It's their turn to show that this is what they want as well."
###
SEIU Local 1021 represents nearly 60,000 employees in local governments, non-profit agencies, health care programs, and schools throughout Northern California, including seven private colleges and numerous community colleges. SEIU Local 1021 is a diverse, member-driven organization with members who work to make our cities, schools, colleges, counties, and special districts safe and healthy places to live and raise our families.