Strike Update: Sac City Unified District Continues to Disrespect Lowest-Paid Workers as Their Hardships Mount and Schools Stay Closed
The only proposal the District offered classified staff today was the exact same one they presented Saturday, with a new date on it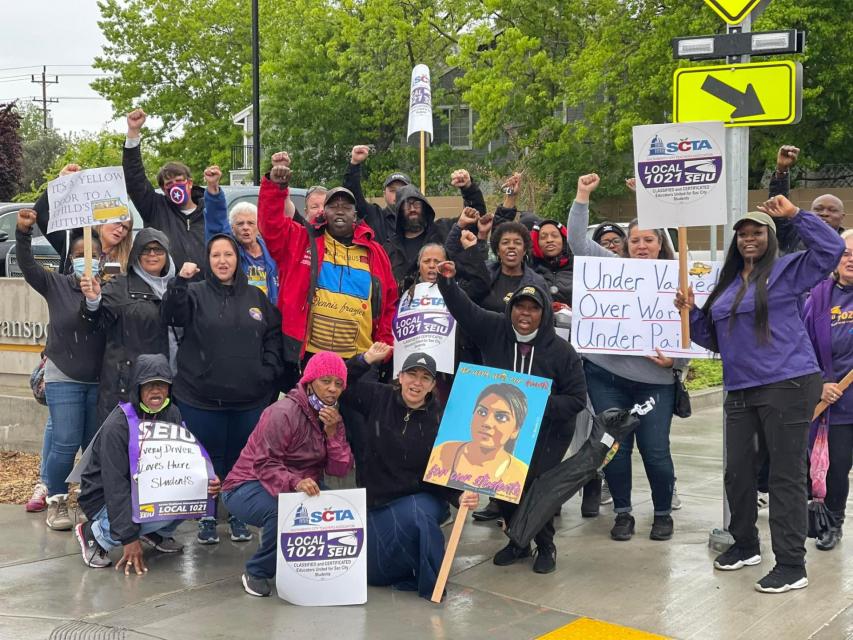 **FOR IMMEDIATE RELEASE**
March 28, 2022
Contact: Jennie Smith-Camejo, (510) 710-0201, jennie.smith-camejo@seiu1021.org
Today, as the strike of Sacramento Unified School District classified staff and educators stretched into its second week, hopes of being able to reach a fair, equitable agreement with District management were dashed when SCUSD's bargaining team showed up to negotiations with no new counterproposals.
"Instead of bringing new counterproposals that would show a good-faith effort to reach an agreement to get kids back in their desks tomorrow, the District chose to show up with the same counterproposal they gave us on Saturday, with nothing but the date changed," said SEIU 1021 Chapter President Karla Faucett.
The proposal they brought today, offering a mere two percent raise after six years of no cost-of-living adjustments at all and after they acknowledged this weekend that SCUSD classified staff are severely underpaid, was nothing short of disrespectful to the women and men who have given years and even decades to taking care of the District's kids. The District has a record $123 million in reserves and brings in over $20,000 per student per year. Many classified staff, from nutrition service workers to instructional aides who provide individualized assistance to special needs students, earn minimum wage. Adding insult to injury, the District is laying off full-time nutrition service workers and replacing them with part-time workers who get only three hours a day so that they cannot qualify for benefits.
"I've had members pull me aside on the picket lines asking where they could get vouchers for food or help paying their rent," said SEIU 1021 SCUSD Chapter Vice President Dan Schallock. "This is a big sacrifice for them. They're still out here because they understand that if they don't keep fighting, nothing will ever change–staff will keep leaving for jobs where they can earn better pay and get more respect. The ones who are left will find themselves having to do more and more with less and less. And students will keep paying the price when they can't get to school on time because there are no bus drivers, are crammed in gyms instead of classrooms because there are no teachers or subs, and sit in dirty buildings because there are no custodians."
The situation is so serious for these low-wage workers that a friend has created a GoFundMe strike fund for the striking classified staff, which has raised over $10,500 over the past two days–but with about 1,800 members living paycheck to paycheck, it won't be nearly enough to fill the gap for many.
SEIU 1021, which represents classified staff such as instructional aides, nutrition service workers, school bus drivers, clerical staff, custodians, and maintenance workers, has requested that the District offer equity with adjustments the educators represented by SCTA receive. A neutral third party fact-finder requested by the District after they reached impasse with SCTA said that the District should offer the same cost-of-living adjustment the school board gave the superintendent–5.6%.
Superintendent Aguilar's contract, which the school board voted in December to extend, guarantees annual cost-of-living adjustments equal to consumer price index or the COLA negotiated by SCUSD unions, as well as expensive perks and yearly "longevity bonuses" totaling almost $80,000 over the next four years. (View his contract here.) For context, July 1 will mark the beginning of Aguilar's fifth year as superintendent. Transportation workers who have been driving the District's kids safely to and from school for thirty years earn barely over $20 an hour–and as inflation skyrockets, some can barely afford the gas it takes them to get to work and back every day.
"I work two jobs to pay the bills. It's dark when I leave home and dark when I get home every day. I love what I do, but to hear the school board say they can afford to give Superintendent Aguilar yearly longevity bonuses in the tens of thousands of dollars but they can't afford more than two percent for us, even when 25 percent of our department has left within the last six months–that's just a slap in the face," said Casondra Wills, a school bus driver who has been transporting SCUSD students for over 25 years. "No wonder bus drivers are choosing to go pick up trash instead of picking up kids. You can earn a living and get more respect. It's sad."
SEIU 1021 is calling on the school board to convene an emergency meeting to give direction to the superintendent and his management team to offer serious proposals that show respect to the District's employees. That would move the process forward so that schools can reopen and staff and educators can go back to doing what they love: working with Sac City students.
###
SEIU Local 1021 represents nearly 60,000 employees in local governments, non-profit agencies, health care programs, and schools throughout Northern California, including seven private colleges and numerous community colleges. SEIU Local 1021 is a diverse, member-driven organization with members who work to make our cities, schools, colleges, counties, and special districts safe and healthy places to live and raise our families.