The Starbucks organizing momentum reaches the Bay Area amid national strike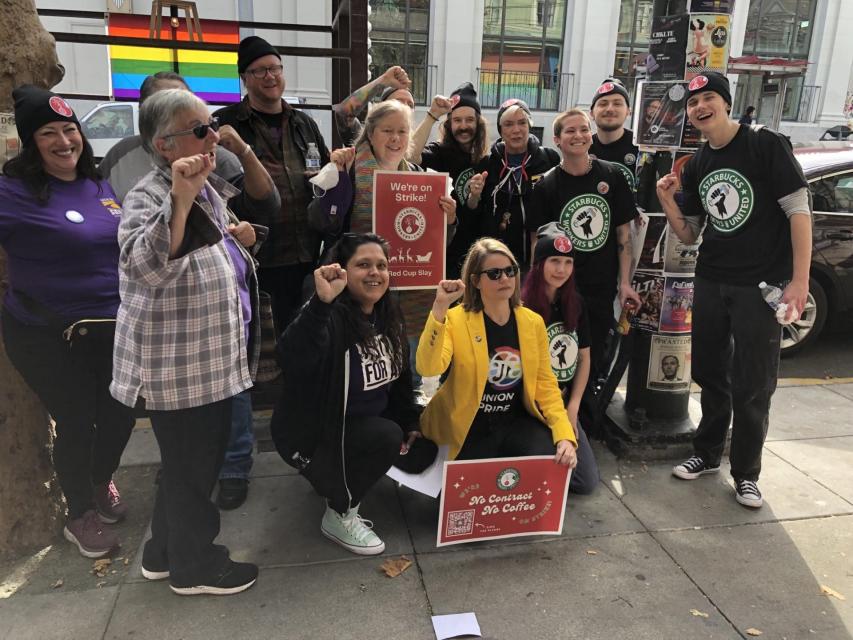 What began as one unionizing effort at a Starbucks coffeehouse in Buffalo, New York, has spread across the United States to over six thousand five hundred workers at over two-hundred-fifty corporate-owned Starbucks stores in under one year.
At the first Starbucks in San Francisco to unionize, located in the Castro District, workers spoke out about the need to push Starbucks management to negotiate with the newly-formed unions. "We're looking for stuff like better staffing," said James Kreiss, a Starbucks shift supervisor. "We're looking for more predictable schedules. We are looking for livable wages."
Earlier this month, Starbucks workers around the United States held a three-day strike, from Friday, December 16, 2022, to Sunday, December 18, 2022. According to Starbucks Workers United, the labor group organizing the effort which is an affiliate of SEIU, more than one thousand baristas at one-hundred stores walked out. The strike was the longest in the year-old unionization campaign.
The December strike is the second significant worker-led action by Starbucks workers in about a month. On November 17, workers at one hundred ten Starbucks stores held a one-day walkout. That effort coincided with Starbucks' annual Red Cup Day when the company gave reusable cups to customers who ordered a holiday drink.
Kreiss said that Starbucks management is continuing its union-busting tactics. "We wanted to ramp up," continued Kreiss. "We are trying to put some pressure on the company to meet with us in good faith. Even the stores that have started bargaining their team of lawyers will show up for about five minutes, and then they'll dip, so we really just want the respect that we deserve."
"I think everyone deserves a union, and everyone should be taken care of," said Starbucks employee Kyle Trainer. Trainer has been working as a barista in San Francisco for the past five years. "I think there's a stigma surrounding jobs like this, and you know it's like an entry-level job," Trainer went on. "I think just because something is an entry-level job like this, I think they're a billion-dollar company. I think they can kick in a little more to take care of people than they do."
Speaking on the specific nature of the Castro District Starbucks location, Kreiss emphasized a need for more bargaining in good faith from management. "We are striking basically to get Starbucks to negotiate with us in good faith. We're trying to put some pressure on them because at the moment, at least at my store, we've been certified with our union after we won our election in August, and we still haven't received a date to start negotiations."
On the three-day picket line, workers educated would-be customers that they could support organizing by baristas by not purchasing Starbucks Gift Cards this year for the holiday season as part of the "#NoContractNoGiftCards" campaign.
The National Labor Relations Board (NLRB) has now issued over forty-five official complaints encompassing over nine hundred alleged violations of federal labor law, making Starbucks one of the worst violators of federal labor law in modern U.S. history.
Starbucks workers have formed more new unions with SEIU's Workers United in a twelve-month period than any U.S. company in the last twenty years.