Staff at Mills College at Northeastern unanimously ratify first contract
Mills adjunct faculty also unanimously ratify new contract with Northeastern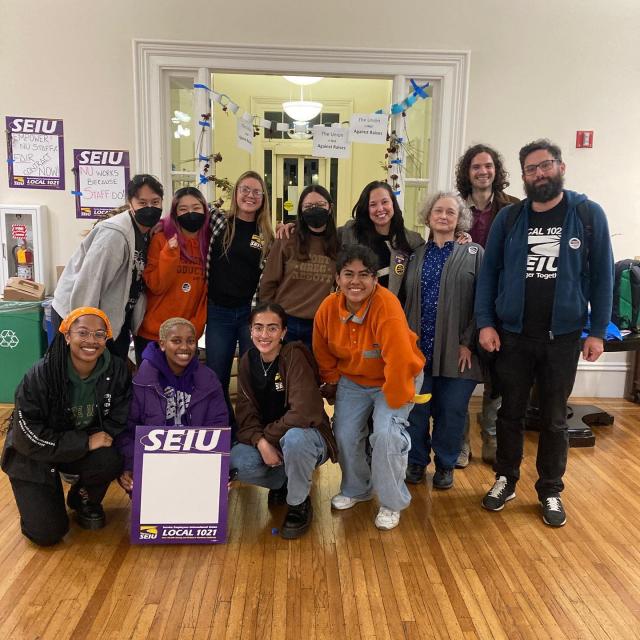 Over two and a half years after voting by 95% to form their union with SEIU 1021, Mills College staff have voted unanimously to ratify their first union contract. In line with their priorities in negotiations, the agreement will provide meaningful improvements for the lowest-paid employees, including bumping the part-time minimum wage from $15 to $17 an hour and establishing a minimum wage of $23.15 an hour for full-time employees — for whom there has not been a minimum wage up until now.
It has been a long road. Beyond the typical challenges of negotiating a first contract with an administration unaccustomed to sharing power, Mills staff faced an additional major hurdle: the acquisition of Mills College by Northeastern University. The "merger" created further delays in negotiations, as the outgoing Mills administration claimed inability to make an agreement the incoming administration might not be willing to abide by. Northeastern University came in resistant to bargaining a fair contract with the staff union and adjunct faculty, who have been members of SEIU 1021 since unionizing through our Faculty Forward campaign in 2014.
Reaching agreements with the Mills staff and adjunct unions required many months of organizing, staging rallies and other actions with the support and involvement of students and alumnae, and hard work by the bargaining teams. Mills staff were preparing for an unfair labor practice strike when their bargaining team finally reached a tentative agreement with Northeastern on November 8.
Both the staff and adjunct chapters voted unanimously to ratify the tentative agreements before the Thanksgiving break.
Some highlights of the staff union's first contract include:
15% raises for lowest-paid workers

New minimum wage for future part-employees will be increased from $15 to $17

New minimum wage for full-time employees will be $23.15 (there is currently no minimum wage for full-time employees)

5% raises for anyone making under $70k, 2% raises for anyone making $70-$80k, and 1% raises for anyone making above $80k

Year 2 cost of living adjustment (COLA) of at least 2.5%, pending the results of a comprehensive compensation study, and year 3 COLA of 2.5%

Just cause for discipline and termination

A grievance procedure with binding arbitration

Preference for current staff in internal transfers and job bidding

Staff who work 20 hours a week, and are therefore not eligible for health benefits at Northeastern, will be given the option to increase their hours to 24 hours per week in order to become benefit-eligible.
Some highlights of the adjunct union's new contract include:
Minimum per-credit rate will be increased on January 1, 2023, to $2,250.

January 1, 2024, and January 1, 2025, it will increase by 3% each year.

If a course that has already been assigned to a bargaining unit faculty member (letter of appointment) is canceled, the member will receive a cancellation fee of 75%.

If a course becomes available, it will go to bargaining unit faculty based on departmental seniority.

Northeastern will post internally for all available courses so bargaining unit faculty can submit to teach courses for which they are qualified.

If Northeastern takes a class away from someone who has taught it historically, they will be paid a 25% cancellation fee.