Solano County workers win strong new agreement to staff up county services and invest in workers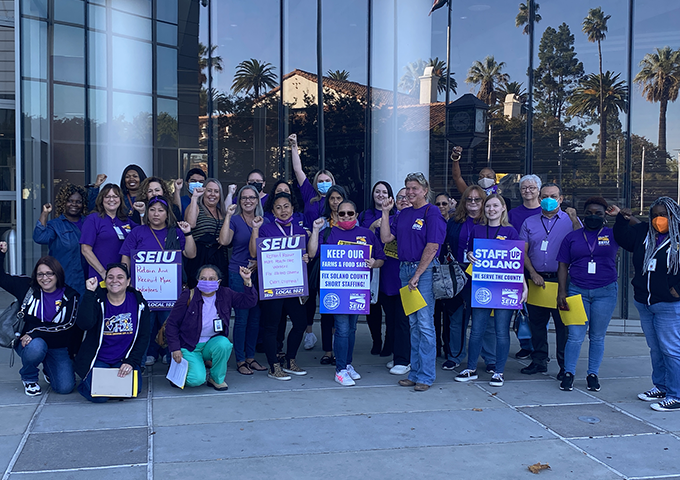 On Wednesday, October 19, hundreds of Solano County workers rallied outside the Solano County Government Center to denounce the county administration's mismanagement of services, highlighting the need for improvements. It was the latest in a series of escalating actions by County workers, who gave speeches on how understaffing of vital worksites on the last day of their contract. Solano County workers have demanded all along that county management show that they value workers' contributions to this community's well-being, safety, and future.
These displays of unity resulted in a strong tentative agreement with Solano County management. Shortly after, workers reached a tentative agreement with management, which was then quickly ratified by the members after a record turnout of voters, who overwhelmingly approved the deal by 94%.
The continued unified front and solidarity of SEIU 1021 Solano County workers have been inspiring—workers have routinely rallied outside workplaces, spoken up during public comment to the Board of Supervisors, share their stories with reporters to get the word out about workplace issues, and even went so far as to hold a "strike school" to educate members about the drastic step of a work stoppage.
"We are asking this County to do better. The competition for qualified staff is real, and we cannot fall further behind. We know the County is in a strong financial position and can afford to do better. Now is the time to make real investments to help solve the staffing crisis. The solution starts with competitive pay and benefits. It begins by ensuring that your workers can afford to stay here," said Elizabeth Harrison, an SEIU Local 1021 and social worker working for the Solano County Health and Social Services Department.
Highlights of the new agreement include:
12% in wage increases over the next three years.
A signing bonus for workers earning below a certain threshold
Studies to examine what other equity adjustments are needed on the compensation of certain classifications
New reimbursements for uniforms
Much more