Solano County workers demand Board of Supervisors "Staff Up" vital resources and services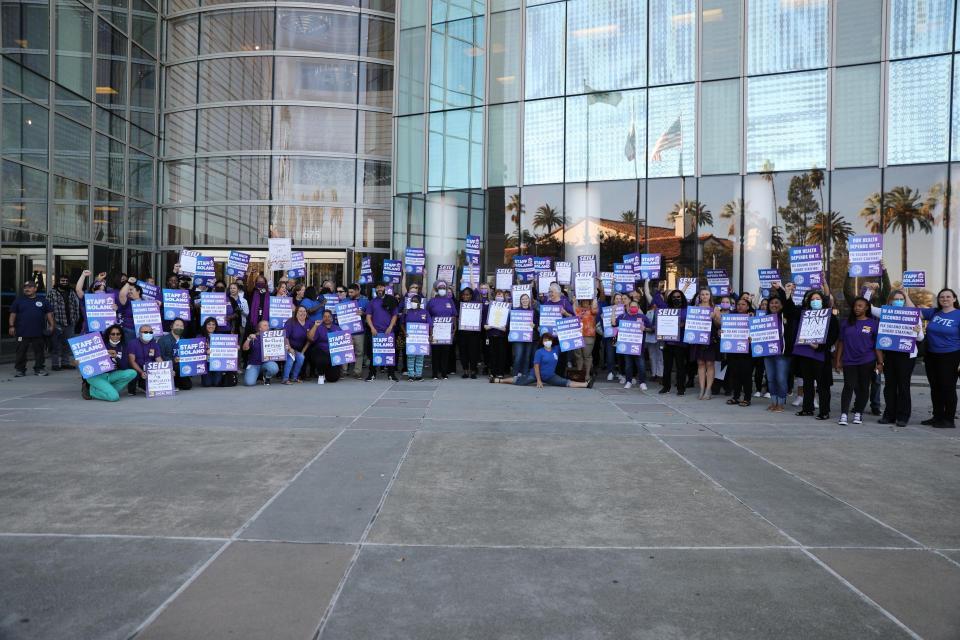 Throughout the most recent string of Solano County Board of Supervisors meetings, Solano County workers have confronted the governing body to condemn the mismanagement of services and care that harm the county's tax-paying residents. Along with the International Federation of Professional and Technical Engineers (IFPTE) Local 21, the SEIU Local 1021 Solano County chapter made public comments during the past several Board of Supervisors meetings, highlighting the vital need to improve county services and care.
The action resonated with the community we provide services and care. The Reporter newspaper in Vacaville covered the campaign to combat the severe understaffing crisis Solano County workers face.
"Our coworkers are telling me how retention and recruitment are suffering across Solano County departments," said Elizabeth Harrison, SEIU Local 1021 member leader and social worker working for the Solano County Health and Social Services Department, Older and Disabled Adult Services, in the In-Home Supportive Services program. "Surrounding counties and private industries are out-performing Solano with wages, benefits, and working conditions. The pool of applicants is drastically reduced, and good workers are leaving."
"We're showing up every day for this community," SEIU Local 1021 Vice President of Region A (North Central) Akbar Bibb asserted to the board of supervisors. "You're not listening to the community."
Four hundred eighty job positions remain unfilled, forcing Solano County workers to do more with less. When understaffing is that severe, complete and timely services cannot be provided. In order to fully staff public services and provide high-quality care that county tax-paying residents expect, the Solano County Board of Supervisors must attract and retain qualified staff with fair and competitive wages.
Solano County workers are demanding county management show that they value workers' contributions to the community's well-being, safety, and future by fairly settling our contract that expires next month.
Both SEIU Local 1021 and IFPTE Local 21 members shared actual data and honest testimonies and showed that workers are serious about their demands. The coalition of labor unions made waves in the local news, and to take full advantage of this momentum, SEIU Local 1021 and IFPTE Local 21 members rare preparing for their next significant action: Strike School on Thursday, October 6, 2022.
As essential workers in Solano County, they continue to keep vital services running despite worsening short staffing. As the contracts expire, set for October 21, 2022, Solano County workers are fighting back against attacks on public services and plan to win significant investments in our community.