Solano County members continue to build momentum with strike school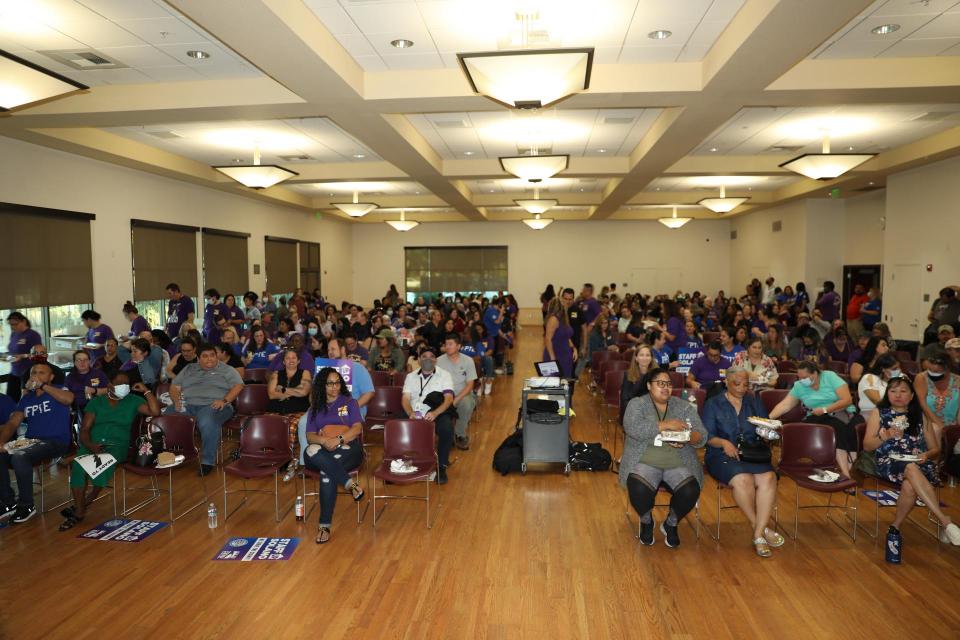 Four hundred union members, including SEIU 1021, IFTPE Local 21 and now IOUE Stationary Engineers Local 39, came together last Thursday evening at the Joseph Nelson Community Center in Suisun City for strike school.
Last month, County workers rallied to pressure the Board of Supervisors to address the number of vacancies in the county ranks and to settle contracts that expire on October 21. In Solano County, more than 480 job positions are unfilled, forcing county workers to do more with less in the Public Health Department, County Sheriff's Office, County Health & Social Services, Child Welfare Services, Employment & Eligibility Division, Older and Disabled Adult Services, County Library, County Probation Department, and Solano County Public Works.
At last week's strike school, union members discussed what it means to go on strike, the strategies to win, and the laws protecting our right to strike.
"We need staffing. We need shifts to be filled," said Sheri Speakman, an SEIU 1021 member leader and emergency dispatch at the Solano County Sheriff's Office. "We've had numerous people leave to go to other agencies or move out of state for better working conditions. When we are understaffed and overworked, the quality of service to people in emergencies may be compromised."
Make no mistake. The campaign to "Staff Up Solano" is growing and raising awareness.
Katreena Dotson, an SEIU 1021 member leader who has worked for the county for about a year and is a single mother who is not sure how she will be able to afford her health insurance when it is scheduled to increase, is fully expecting to go on strike. She said she is hopeful a fair contract can be worked out, but "if needed, I'm willing to strike."
"Solano County management has shifted so much of the health care costs onto us that we now pay the highest health care costs of the entire Bay Area public sector and three times more than Yolo County workers. That is unacceptable."
"In 2017, after receiving a devastating cancer diagnosis, my family started the fight of our lives, and that continues to this day," said Alicia Jones, an IFPTE Local 21 member leader and county worker at the Employment and Eligibility Division of the Solano County Health and Social Services Department. "Last month, I was notified that my health care premiums are increasing 17.74% in the new year. Solano County employees pay significantly more for healthcare than our counterparts in neighboring counties. For 24 years, I have dedicated my life to fighting and advocating for families in the county I both live and work in. Now, all I ask is for the help I need to continue fighting for my own."
"The county is hemorrhaging great talent," said Elizabeth Harrison, Solano County Area Representative on the SEIU Local 1021 Executive Board and social worker working for the Solano County Health and Social Services Department, Older and Disabled Adult Services, in the In-Home Supportive Services (IHSS) program. "We're talking about people who are at entry-level positions, all the way up to high-level management, people are vacating the county in droves. The benefits, the work environment, all those things are not enough to keep people here."
Even when the county hires new employees, Harrison said they seem to exit at a faster rate. "They come in the front door, they go right out the back in numbers faster than what Solano can keep up with," she said. "The biggest issue with that is having a comprehensive package that will not only recruit the best talent but also retain them. That's really what we've been dealing with for quite a while now."
Solano County workers will not stop until they solve the severe understaffing crisis and win a fair and just contract for all.