Solano County kicks off "Staff Up Solano" campaign with a strong silent action at the latest negotiations meeting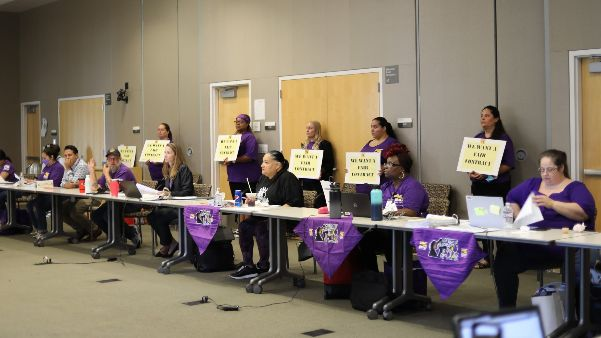 Public-sector workers across Northern California are facing staffing and retention issues, which in turn are impacting the important services they provide. Now, in partnership with IFPTE 21, our members in Solano County are calling attention to the ways that understaffing hurts us all, and in particular the most vulnerable members of our communities.
That's why Solano County members took action last week to show management's bargaining team that we're serious about winning a fair contract. When the SEIU 1021 Solano County bargaining team met with management for their latest bargaining session on Sept. 7, members of the Contract Action Team (CAT) filed in and stood behind them silently holding signs that read, "Fair Contract Now!"
"Our coworkers are telling me how retention and recruitment are suffering across Solano County departments. Surrounding counties and private industries are out-performing Solano with wages, benefits, and working conditions. The pool of applicants is drastically reduced, and good workers are leaving," said Elizabeth Harrison, Social Worker in ODAS, IHSS program, SEIU 1021 Area Rep and Steward
Even though the severe heat advisory forced workers to cancel their unity breaks, Solano County workers still managed to show management that they are turning up the heat by showing the growth of support among their coworkers for this contract. After the silent action concluded, Solano County members continued offering proposals and receiving counterproposals.
Like many of us, Solano County workers are feeling overworked and underappreciated. They are often forced to do the work of two or more people. In the coming days, the Solano County bargaining team and the CAT Team plan to address these issues with management and the Solano County Board of Supervisors.