SFUSD classified staff speak out about broken payroll system
Retirement payments, insurance, overtime, and more continue to be impacted by a faulty system and short-staffing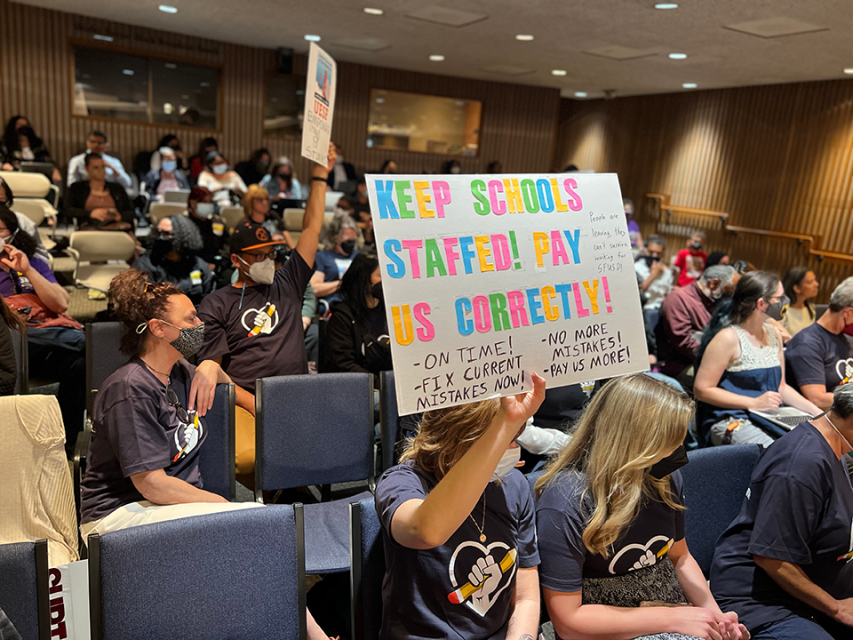 Pension funds not being deposited into employees' accounts, forcing some to delay retirement. 401(k) contributions being deducted from paychecks but not deposited into 401(k) accounts. Insurance premiums being deducted from paychecks but not paid to the insurance companies, so that policies are being canceled or are refusing to accept claims without payment. Approved leave not being paid. Overtime not being paid. New hires not receiving their benefits when they reach the date they should. Teachers not getting paid for months.
These are just a few of the issues that San Francisco Unified School District (SFUSD) employees called out at last week's Board of Trustees meeting. Staff have been working harder than ever to make sure students get the education they deserve in a safe, clean environment — but are finding they can't take care of themselves and their own families the way they should be able to. At last Tuesday's SFUSD Board of Education meeting, classified staff belonging to SEIU 1021 and educators from United Educators of San Francisco (UESF) turned out in force. Workers called on the school board and superintendent to take immediate action to make employees whole and prevent similar problems in the new school year.
Since it was rolled out at the beginning of the new year, SFUSD's new payroll system, EmpowerSF — which the district sank millions of dollars into — has been at the root of countless major problems. And severe short-staffing in the payroll department means that for far too many, these issues from last semester have still not been remedied – even as a new school year begins.
"I went out on a leave. I did everything properly to take that leave for my son," said SFUSD custodian Jessica McPeters during public comment. "The Empower system somehow wiped out the dates of my leave. I was not paid after I was donated hours from a supervisor. I was told that everything was my fault. It's just overwhelming to be a great worker and try to be the best you can be for the department you work in, and it's just like a kick in the face to not be treated, not answered, putting in numerous tickets that go unanswered."
SFUSD's staffing crisis extends well beyond just the payroll department. SEIU 1021 SFUSD Chapter President Rafael Picazo, who has worked for the district for 38 years, says that the asbestos abatement department used to have 15 workers. By the time the pandemic was in full swing, they were down to just three. Now, he's on his own to inspect all the school sites for asbestos and lead, test water quality, and handle other environmental hazards and hazardous materials for the whole district. Fewer and fewer employees are responsible for more and more work, even as positions have been added to the top-heavy administration. The problems caused by Empower are just the cherry on top.
"I've never seen morale this low," he said. "Our pay is 18% behind the City and County of San Francisco. People start with SFUSD to get their foot in the door. As soon as there's an opening on the city side, they put in for a transfer."
SFUSD health worker and SEIU 1021 member Suzanne Taviansky said as much during her public comment last Tuesday. "I've been with the district for a while. In addition to working full-time for SFUSD, I have to take 2 additional part-time jobs just to pay my basic bills. You know, I sit here and hear all these problems with Empower, but I don't hear about the people making six figures and up having these problems. SFUSD needs to show they care about the working class population that works for the district. It's unacceptable that when there is so much money, people can't even pay their basic bills. They can't even afford the gas to get here to actually work. When are you going to make some changes to show you care about the working class that work for the district?"
Contract negotiations will be underway soon for SFUSD classified staff, and SEIU 1021 members will be fighting tooth and nail to make sure that the district makes things right at every level so that the district's workers can finally focus on the students they serve – without worrying how they'll feed their own kids.