SF nonprofit workers are making waves across the city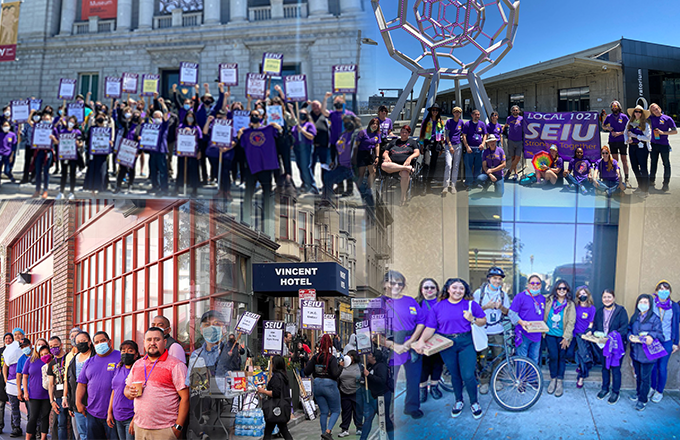 SEIU 1021 members working in San Francisco's nonprofits provide a range of important services. They work for social services organizations, supportive housing nonprofits, museums, and more. They help feed, educate, heal, and house people. They are there for some of our city's most vulnerable residents at their most difficult moments—and this year, they've shown how belonging to SEIU 1021 allows them to do this life-changing work without being taken advantage of by their employers.
In the last few months, over half a dozen of these nonprofit Chapters have ratified new agreements that will improve the lives of members both at home and on the job. This includes workers at the Tenderloin Housing Clinic, Institute on Aging, Tides Network, HomeRise, The Exploratorium, Asian Art Museum, and more. Several more Chapters are either preparing to ratify tentative agreements or still actively bargaining.
"I am so proud of our members across San Francisco's nonprofits—not only for the incredible work they do, but for how they have been fighting to protect and raise working standards across our city," said Kristin Hardy, our local's new Vice President of San Francisco. "Just because someone loves what they do or because they work with underserved communities does not mean they deserve to be treated unfairly or not paid enough to make ends meet. We've seen that principle embodied as workers sign petitions to support their bargaining teams, picket or march on their bosses to demand fair treatment, talk to reporters about their experiences, and even go on strike like 300 workers at Tenderloin Housing Clinic in July. SEIU 1021 is a fighting union, and we won't ever stop advocating for our members or our communities."
Some employers, however, have been more interested in attacking the rights of members rather than working collaboratively to address workplace issues. This attitude helped precipitate a number of informational pickets and eventually the strike at Tenderloin Housing Clinic. Ultimately, those escalating tactics put enough pressure on the city to provide additional funding and management to settle the contract.
Workers at Project Open Hand have reported that management is more interested in attacking their rights rather than negotiating to settle their next contract. As a result, they have begun taking unity breaks together to show management that they're standing together and won't be divided.
At the Felton Institute, workers have engaged in lunchtime breaks and rallies to call attention not just to management's unwillingness to negotiate a fair contract with existing members but also to intimidate other staff who want to join SEIU 1021. "I've been working at Felton Institute for 15 years. I think we deserve better workers' rights and pay. We're here today to stand up for the right to negotiate for ourselves like other unionized educators," said Priscilla, a Felton employee, at a lunchtime rally earlier this summer.
Keep your eyes peeled for opportunities to stand with Felton and Project Open Hand workers in the coming weeks and months!