SEIU 1021 stands with community members fighting to save Oakland schools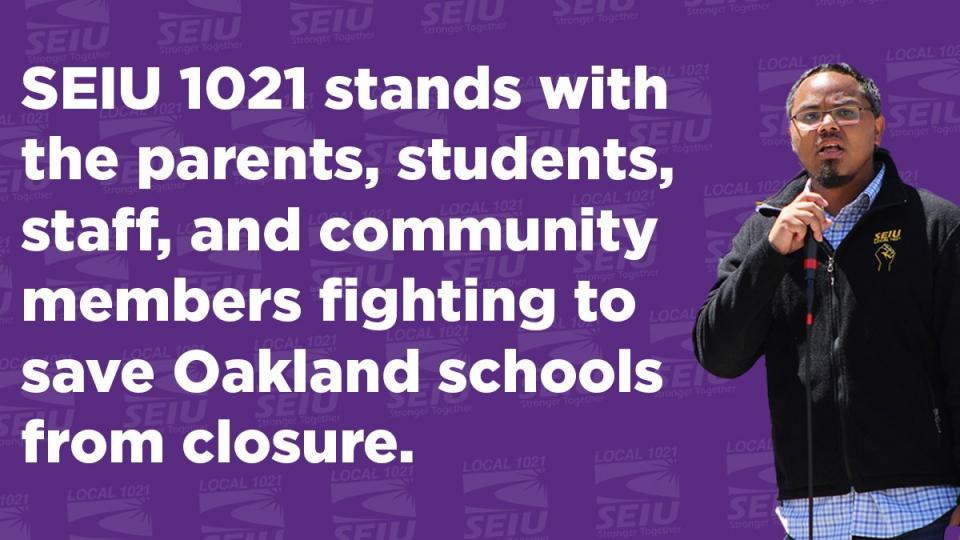 For more than two months, a coalition of parents, students, and community members have been engaged in a nonviolent sit-in occupation to save Oakland's Parker Elementary. On Thursday, the Oakland Unified School District deployed a private security team to forcefully and violently remove the protestors. As a result, many of the nonviolent protestors sustained injuries at the hands of the District's private security guards.
In addition to hundreds of other school support staff, SEIU 1021 also represents Culture and Climate Ambassadors across OUSD whose job is to ensure safe campuses and learning environments for students. The private security personnel who forcefully removed community members from Parker Elementary are not represented by SEIU 1021, and our union was quick to condemn the violence they used against protestors.
"Our union represents hundreds of school support staff across the District who are dedicated to ensuring Oakland students receive the top-notch education they deserve…our union does not and would not consent to having our members deployed against our community in such a shameful fashion," said SEIU 1021 President Joseph Bryant. "We are shocked to see these extreme tactics deployed against members of our community. SEIU 1021 stands in solidarity with the parents, students, educators, support staff, and community members who have been bravely fighting to save Oakland schools from closure. Access to quality public education is a matter of social, economic, and racial justice." You can read Joseph's full statement here.
Parker's scheduled closure is part of a larger plan to merge some schools while closing others across the District. For community activists, the fight is as much about keeping public schools open and accessible for neighborhood students as it is fighting back against the slow creep of charter schools in Oakland.
A lawsuit filed by the ACLU of Northern California points out that four out of the seven schools that have been marked for closure serve predominantly Black families even though Black children make up a small portion of the District's overall student population.