SEIU 1021, other SF unions speak out against proposed charter amendment that would decimate City budget
Union members flooded the Board of Supervisors Rules Committee meeting to make their voices heard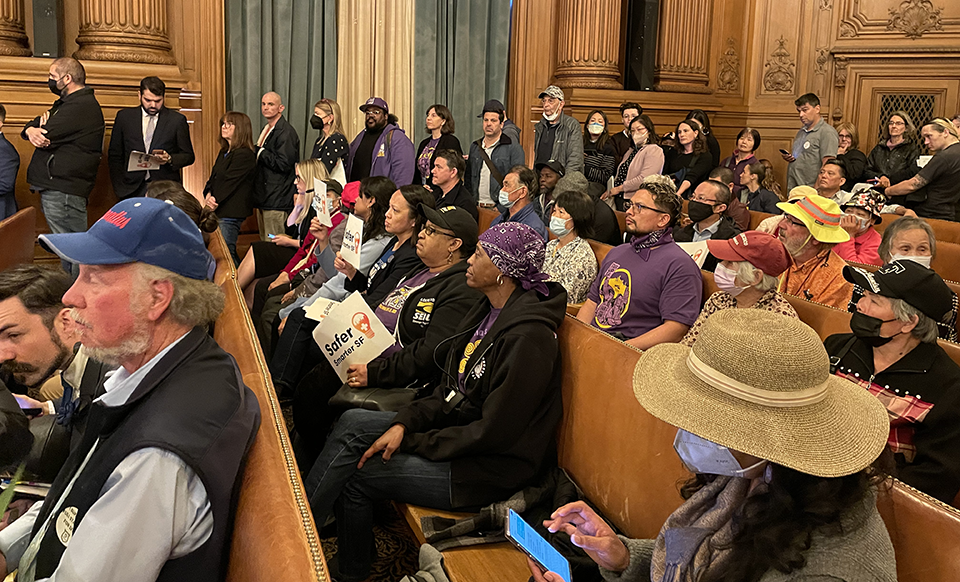 Monday, October 30, dozens of members of SEIU 1021, IFTPE Local 21, and San Francisco building trades unions filled the SF Board of Supervisors Rules Committee chambers to overflowing. One by one, they gave public comment protesting a charter amendment proposed by Supervisor Matt Dorsey that would decimate the City's budget.
The proposed charter amendment would create a $300 million "set-aside" from the general fund over five years to increase police staffing. The unfunded mandate could not come at a worse time: San Francisco is already facing projected budget deficits. If such a large chunk of funds were earmarked for the police, it would hamstring the Board of Supervisors' ability to fund other desperately-needed parts of the public safety net, including 911 dispatch, mental health and substance abuse treatment services, paramedics, firefighters, and more.
"We have a 40% staffing shortage right now. Every weekend, there's mandatory overtime, mandating 17-18 dispatchers to stay, making 12-16 hour-day workweeks," said Burt Wilson, a 911 dispatcher in San Francisco for over 15 years and president of the 911 dispatch chapter who spoke to the staffing crisis in a CBS interview last week. "It's a public safety ecosystem, and we need to be funded just as much as SFPD."
"I value the police. My family has police officers in it. I have professionally collaborated with police to defuse situations. We don't need to pit us versus them, which is what this charter amendment does," said Leslie Kupper, a senior behavioral health clinician with the SF Department of Public Health. "I work with the intensive case management program. I know there's been concern about the waitlist for folks doing mental health in the city and for residents receiving mental health services. The last thing we need is to take money away from those of us providing those services. I used to work for the Department of Homelessness and Supportive Housing. Overdoses are not going to be solved by police."
On the table Monday was an amendment to Sup. Dorsey's proposed legislation. Supervisor Ahsha Safaí introduced an amendment that would require the charter amendment to rely on new or modified funding streams, which is the current City policy, and which union members endorsed.
Sup. Safaí's amendment was unanimously approved by the three-member Rules Committee when Sup. Dorsey mistakenly voted in favor of it.
San Francisco's public sector unions head into contract negotiations in January. This year's bargaining is sure to be difficult and heated, given the projected budget shortfalls and the "doom loop" narrative that corporations and the ultra-rich are using to push for still more tax cuts.
Departments across the City face dire staffing shortages, including some of those dealing with San Francisco's biggest challenges affecting public safety, like mental health and substance abuse services, homelessness, and public hospitals and clinics. Setting aside millions of dollars for police recruitment during tight budget years would trigger layoffs and cuts to vacant positions–positions that need to be filled for the current workforce to be able to do its job effectively.
Furthermore, setting aside multiple millions for police recruitment would not necessarily solve SFPD's short staffing. The department is currently fully funded but has about 400 vacant positions that it has not been able to fill despite the $25 million supplemental funds it received last year to address the shortage.
"I've been with the City and County for 15 years. I need a collaborative team of services to be able to take care of the people that I care for," said Aaron Cramer, a registered nurse at Zuckerberg San Francisco General Hospital. "Being at the hospital through the covid crisis, you can throw as much money as you want at a nurse, they're not going to stay. We've had chronic short staffing throughout the years I've worked here. I don't think throwing this money at the police is going to solve their staffing problems.
"The crisis in public safety issues are not going to be solved by them alone."
SEIU 1021 Vice President of Organizing Brandon Dawkins, who works for the Department of Public Health, said, "I can speak from experience as a former San Francisco resident and now an Antioch resident. Pushing more funds to add police to the department does not keep SF safe. Providing mental health services, wraparound services, to get people off the street, that's what keeps people safe. Let's think smarter about how we're pushing these funds and how we can keep SF safe. I can speak from experience living in the city of Antioch, that just because they added a $30,000 bonus to add police officers, it still isn't keeping Antioch safe, because it's still dangerous as hell. It's supporting other services that keeps us safe."
San Francisco City and County workers will need to continue organizing and mobilizing to make sure that the critical services they provide that keep the city running are fully funded.
You can watch the hearing, including public comment from SEIU 1021 members, online here.