SEIU 1021 members welcome new Sacramento City Unified School District board members
The school board meeting on Dec. 15 was packed wall-to-wall with supportive union members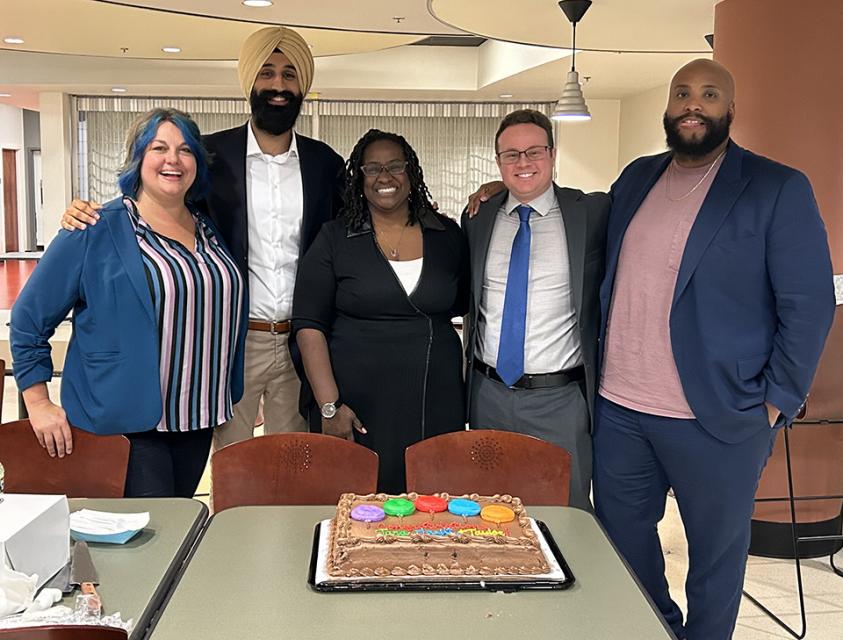 While packed school board meetings usually signal trouble brewing, the mood at the packed Sacramento City Unified School District Board of Education meeting last week was festive. SCUSD classified staff — SEIU 1021 members — and educators represented by Sacramento City Teachers Association (SCTA) filled the room to overflowing to celebrate the induction of three new board members they had knocked on thousands of doors to get elected.
With new union-endorsed members Tara Jeane (Area 1), Jasjit Singh (Area 2), and Taylor Kayatta (Area 6) joining labor allies Chinua Rhodes (Area 5) and Lavinia Grace Phillips (Area 7) on the SCUSD Board, union members now enjoy the support of a solid majority of the board. It is quite a shift from the old board, which refused to hold Superintendent Jorge Aguilar accountable for settling a fair contract to address the district's staffing crisis, even as a joint SEIU 1021-SCTA strike kept kids shut down Sacramento schools for twelve days.
Jeane, Singh, and Kayatta replace former members Leticia Garcia, Lisa Murawski, and Darrell Woo. Chinua Rhodes now serves as president of the SCUSD Board of Education, replacing former president Christina Pritchett, whose current school board term runs through 2024.
"It was exciting to see the school board meeting packed wall to wall with SEIU 1021 and SCTA members to welcome the three incoming school board members we endorsed and knocked on doors for in the November 8 election. We're also thrilled to see our friend Chinua Rhodes elevated to president of the board," said SEIU 1021 SCUSD Chapter President Karla Faucett.
"SCUSD suffered from very poor leadership for years under the old board. We are beyond thrilled to see three new leaders who understand and respect the work we do every day for Sacramento's kids joining our existing allies on the board – Rhodes and Phillips – and replacing three of those board members who failed us. We look forward to working closely with them in the months and years to come to improve our working conditions, which are our students' learning conditions."
Tara Jeane, who replaces Lisa Murawski on the board, is a 17-year teacher and education advocate. Jasjit Singh, replacing Leticia Garcia, is a former high school teacher. And Taylor Kayatta, replacing Darrell Woo, is an attorney and former state auditor. All three new members showed up regularly to the picket lines during the strike to voice their support for SCUSD staff and teachers.
"Five of the seven members of the new school board have shown they understand that, to provide the education our kids deserve, the district must provide sustainable working conditions and living wages for its employees," said Faucett. "This is truly a turning point for our district."