SEIU 1021 members turn out to support Oakland's creative budget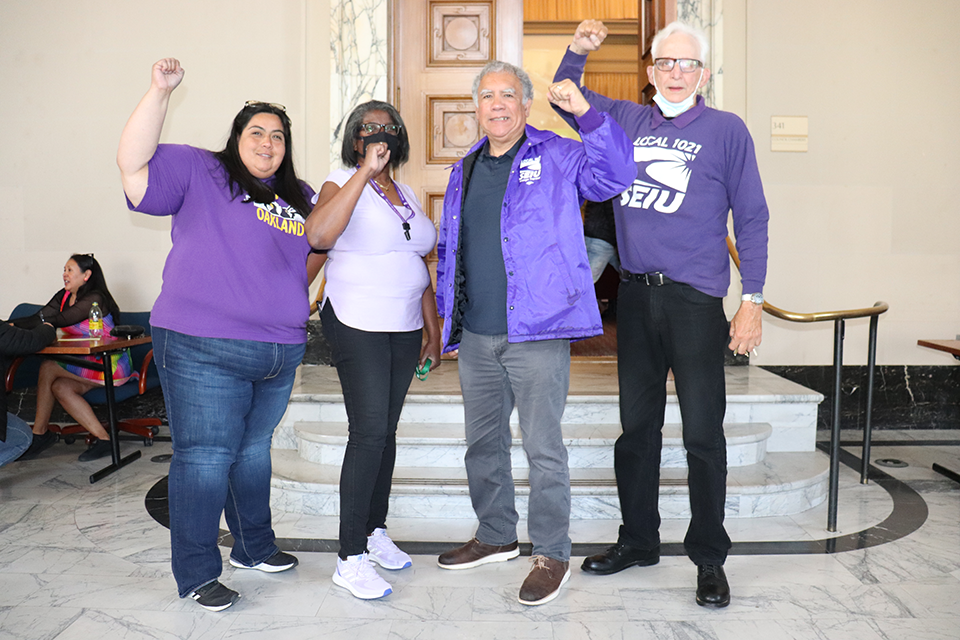 Just after 11 p.m., Monday, June 26, Oakland City Council passed its two-year budget. Oakland is facing a huge budget deficit over that time, but SEIU 1021 and other labor and community partners worked tirelessly with Mayor Sheng Thao and the progressive councilmembers, including Council President Nikki Fortunato Bas, Carroll Fife, and Rebecca Kaplan, to ensure that the budget passed puts Oaklanders first, with significant investments in affordable housing, parks, roads, and public safety.
SEIU 1021 members showed up time and again to make sure Oakland's elected officials didn't take the easy way out and balance the budget by cutting services, laying off workers, or imposing furloughs, all of which have been common approaches in the past.
This time, with members continuing to hold their political representatives accountable and with a progressive, pro-worker mayor and majority of councilmembers, Oakland's budget reflects a creative approach to maintaining core services for residents.
Felipe Cuevas, a heavy equipment mechanic who serves as the City of Oakland chapter president, said, "The importance of the work our members do is what brings me here today, to deliver a simple message: Thank you Mayor Sheng Thao, and thank you to the City's staffers, for this historic budget.
"Even in the face of a challenging revenue shortfall, the Mayor's budget prioritizes important city services our members are proud to provide. The budget values our workers, and doesn't impose cruel cuts that hurt Oakland residents and put our members out of work. This budget and this budget process have been a welcome change, and I hope we can move forward with City workers and City officials continuing to work together in an inclusive, collaborative way so we can all do the best we can for all of Oakland's residents."