SEIU 1021 members show up for the Big Oil Resistance Tour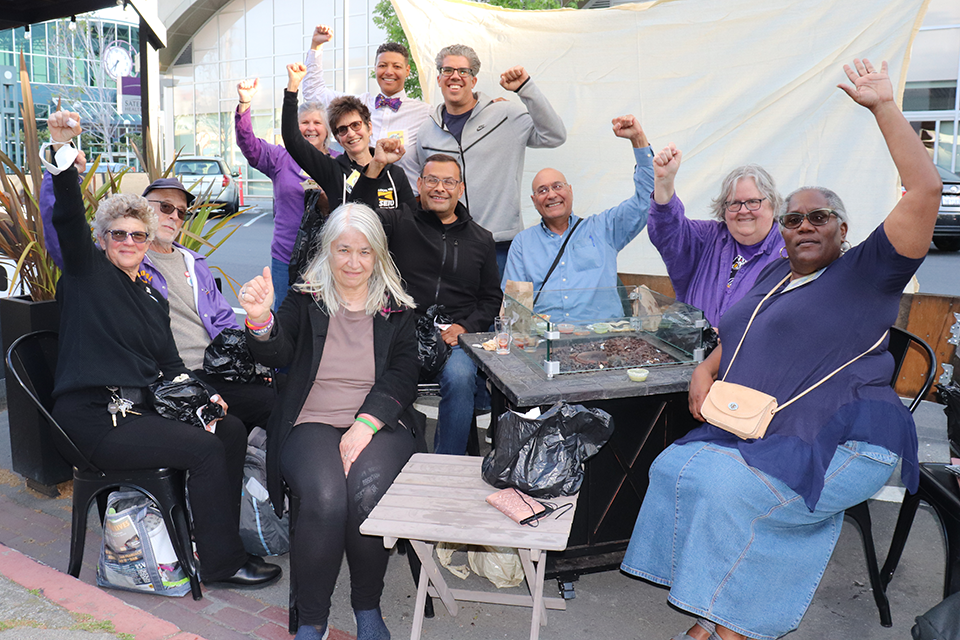 On May 12, 2023, SEIU 1021 members joined the Oakland stop of the Big Oil Resistance Tour presented by the 900 organizations comprising the Last Chance Alliance. The tour began in San Diego, held events in 8 cities including Los Angeles, Ventura, Bakersfield, Oakland, and concluded on May 13 in Sacramento with 1021 members there too!
In Oakland, SEIU 1021 member and former SEIU 1021 Vice President Jennifer Esteen RN, delivered opening remarks. She spoke to the need for union members and community allies to address environmental racism, to protect the health of all people living near oil wells, and to confront the climate crisis we all experience.
Jennifer emphasized, "We demand that our electeds pass AB 421 to get big oil money out of the referendum process! When we vote as a majority to pass legislation, we expect it to become law, but these polluting corporations use their hoarded wealth to undo our will. They're corrupting the will of the people. AB 421 will put an end to money being more powerful than our votes. I'm proud that SEIU California is acting on our behalf for this priority bill!"
Cesar Aguirre, the Oil and Gas Director of Central California Environmental Justice Network, who has been on most of the eight stops, said, "I want people to be involved in the fight for climate justice because we need to protect working people on the front lines. Employers in this industry cut corners and it puts workers at risk. The bosses there are people with ties who have never set foot in an oil field, trying to tell us what's best. Workers shouldn't have to lose their health. Families should never have to worry about losing their loved ones when they're at work. Everybody needs to understand that it doesn't matter what rules and regulations are in place: if they aren't enforced, none of us are safe."
Other speakers included Chirag Bhakta (Food & Water Watch), Isabella Zizi (Idle No More SF-Bay) and longtime activist, author, and co-founder of organizations like 350.org and Third Act, Bill McKibben.
SEIU 1021 became a member of the Last Chance Alliance in 2019, calling for a rapid transition away from fossil fuel extraction and for buffer zones to separate homes, schools and health institutions from the pollution emitted from oil and gas wells.
A bill to create these buffer zones passed the California legislature last year and was signed by Governor Newsom. Within days, corporate interests launched a petition campaign to stop implementation of the bill, and placed a referendum coming before voters in 2024. So far, big oil has spent $20 million fund this crooked attempt to thwart the will of the voters, and it doesn't stop there: they spent $9.4 million on lobbying in just in the first quarter of this year to keep polluting California and ripping us off at the pump. Corporate interests have also opposed SB 257, a bill to ensure rights of organizing to fast food workers.
However, there is good news. SEIU CA and allies in the fight for environmental justice have launched AB 421 to reform the referendum process in yet another effort to stop big oil from polluting our politics like they pollute our air and water. SEIU CA joined with Greenpeace in a Sacramento Bee op-ed to support the crucial buffer zones and rights for fast food workers, targeting the very UN-democratic nature of referendums which grant corporations easy access to overturning the will of the people.
Of course, there is also a bit of bad news, which is that Governor Newsom's appointees continue to grant oil and gas drilling permits, 900 of which are located within the buffer zones specified by the very legislation he signed last year!
The effort to stop NEW drilling is gaining strength and WE the members of SEIU 1021 can have an impact. We can convince our friends, neighbors, co workers and all SEIU locals to tell our governor: Decrease GG emissions, make California a leader to halt the disastrous impacts of global warming, and rein in the corruption and profiteering of the fossil fuel robber barons which cost our health and our lives.
Sign this petition to speak up against big oil and tell Governor Newsom to do the right thing: https://actionnetwork.org/petitions/join-the-big-oil-resistance/.