SEIU 1021 members at SFUSD vote by 99.5% to authorize strike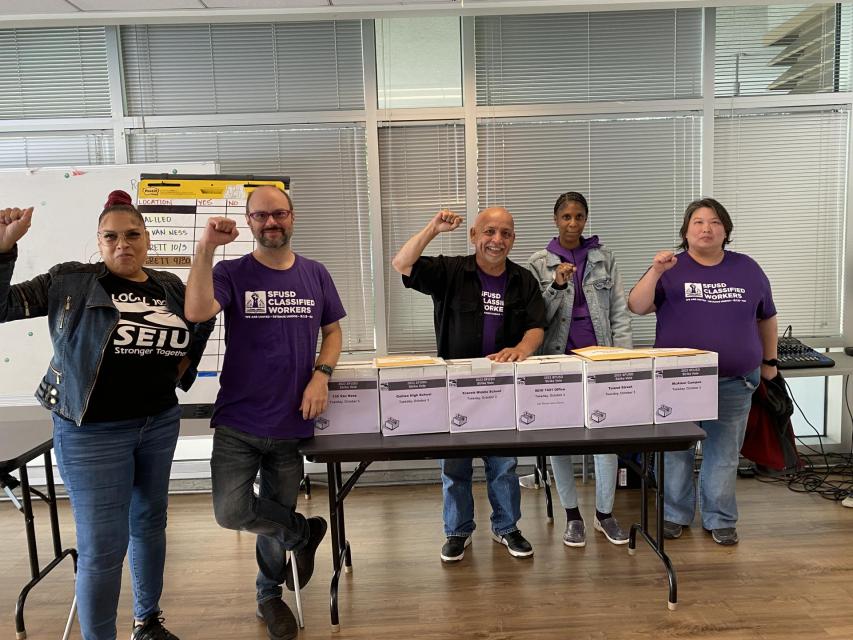 On Saturday, Sept. 30, and Tuesday, October 3, SEIU 1021 members working for San Francisco Unified School District voted to authorize their bargaining team to call a strike. A resounding 99.5% voted yes.
Currently, SFUSD classified employees make roughly 16% to 25% less than their counterparts employed by the City. Understaffing and burnout have plagued the district for years. A revolving door of workers transferring to work for the City of San Francisco, where they can do the exact same job for much higher wages, leaves more work and stress for those who remain on the job. They are committed to keeping schools safe, clean, and running smoothly for San Francisco students, but mounting frustration at a district that has proven itself unable even to issue correct paychecks for nearly two years and that continues to commit unfair labor practices in negotiations has pushed them to take more drastic action.
"The cost of living in San Francisco is so high, it has displaced our members, many of whom are also SFUSD parents, out of the City. Our members are the lowest-paid employees of the district. Most of our members come from Black, brown, and Asian communities, and we all stand in solidarity in our fight for a fair contract and a living wage," said SEIU 1021 SFUSD Chapter President Rafael Picazo, who has worked for the district for 40 years.
"We don't want to go on strike. But the district is forcing us to fight for our members, families, and ultimately our students."
After four years without a raise and facing a district that seems to feel no urgency about settling a fair contract to improve their working conditions and students' learning conditions, they are ready to show the district they are not backing down from this fight.
"I work in the school district as a custodian. I take care of the kids. Every day in my mind, I always remind myself that I have to keep the school environment safe and clean for the kids," SEIU member Helen Huang told the district's negotiations team during the September 20 bargaining session. "We are so dedicated, so devoted in our daily work, because this is our priority, to serve the kids. I'd like at least recognition and mutual respect. We give up so much for our daily work."