SEIU 1021 members say "NO!" to big business trying to buy elections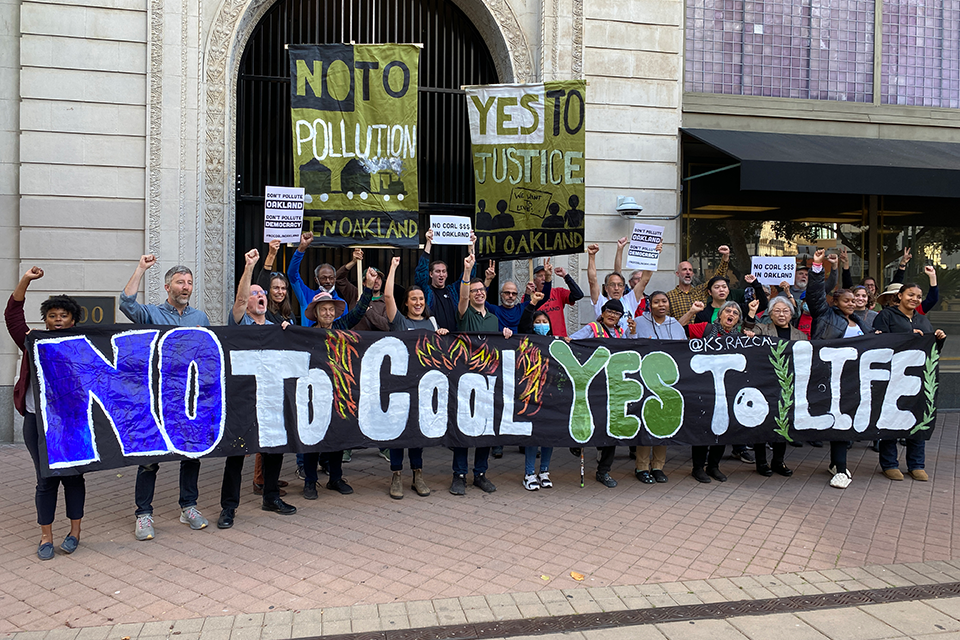 In Oakland's mayoral election, voters face a stark set of choices. Unfortunately, big businesses, especially coal businesses, are trying to make those choices less clear by putting huge amounts of money into the election. As the Mercury News reported, former City Councilmember Ignacio de la Fuente received more than half a million dollars from a single source:
"De La Fuente's most significant source of outside spending is a committee – named 'Californians for Safer Streets' – primarily backed by Jonathan Brooks of the Los Angeles-based investment firm, JMB Capital, which would operate the coal terminal. Brooks has contributed $550,000 to the committee, almost all of it in the past week alone."
In response, community, environmental, and labor groups from all across Oakland came together to reject coal money in Oakland elections, just like they reject coal in Oakland. Seeing more than half a million dollars invested by one single out-of-town polluter drew speakers and allies to the Rotunda at City Hall in downtown Oakland last Thursday, to denounce the coal developer's financial dumping in Oakland politics.
Among the speakers was SEIU 1021 VP for the East Bay Yeon Park, who said, "I'm really proud to say that I'm part of the No Coal in Oakland Coalition. I'm here today because my union is committed to environmental justice and social justice. Environmental justice is a vital part of social justice, and you can't talk about racial justice or economic justice without addressing environmental justice. We all know all the toxins and environmental hazards are getting dumped into communities with low-income families, and people of color, predominantly Black and brown. This will really impact our communities and our children."
"This will be a real disaster for our community, and especially our future, in our children. Coal polluters are pouring money into this election. This dirty money is being accepted by politicians who have no interest in protecting our city, our citizens, and especially our community. We are saying "No!" to this polluting money."
"We can't have dirty coal money polluting our politics any more than we can have coal polluting our environment."
To help Oakland get a mayor who will stand up for working people, visit https://www.mobilize.us/seiu1021/ and get involved with electing Sheng Thao as Oakland's next mayor!