SEIU 1021 members at San Francisco Unified School District tell the district's bargaining team they are ready to strike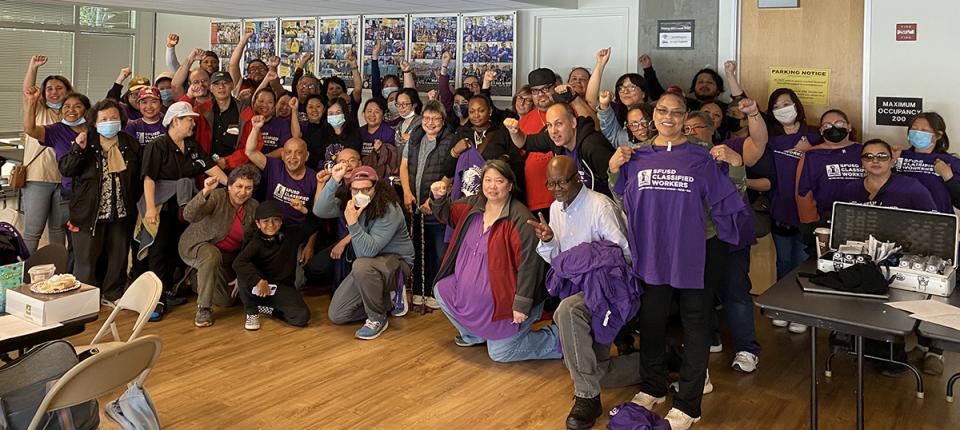 Nearly 50 SEIU 1021 San Francisco Unified School District chapter members showed up to an afternoon bargaining session on Wednesday, September 20, to share with the district their stories of how four years without a raise as the cost of living skyrockets has impacted them.
Bargaining began nearly a year ago in October of 2022. In that time, while some tentative agreements have been made, most of the members' most crucial issues have been ignored and evaded by district representatives. They earn roughly 20% less than San Francisco City and County workers doing the same types of work. This leads to a revolving door of classified staff leaving for better-paid jobs with the City–leaving more work for those who remain with the district. They are fed up.
Rasheedah Grant, a senior clerk at Leola Havard Early Education School, told the district's bargaining team, "I have worked for the district since 2020. Leola Havard was one of the first schools in the district to open up. We were never paid hazard pay. We came two to three times a week to prepare the school for the students to come back. We were the school that other schools model. We were never compensated for that. I live 27 miles from work. In order to survive, I have to stay 27 miles from work, because I can't afford to live in San Francisco near my job. And I work two jobs. I leave at 6:45 every morning and get home at 10:00 p.m. every night so I can pay my bills. I never miss work unless I am sick and even then, if I can walk, I come in. It's disrespectful to not be paid or appreciated. We aren't asking for anything extra, we are just asking for what we earned."
These core issues mean the difference between members working multiple jobs to make ends meet or, in some cases, looking for a new job, despite loving what they do.
"I work in the school district as a custodian. I take care of the kids. Every day in my mind, I always remind myself that I have to keep the school environment safe and clean for the kids," said Helen Huang. "We are so dedicated, so devoted in our daily work, because this is our priority, to serve the kids. I'd like at least recognition and mutual respect. We give up so much for our daily work. We feel we're discriminated against, because we do the same work as the people working in the airport, but our wages have no comparison. I hope management will treat us as an asset to our organization and make us feel safe and have peace of mind whenever we're at work, and that we earn enough wages to support our basic lives."
One after the other, members pleaded the district's team to understand how hard they work, how hard it is to make ends meet on wages that have not risen in four years — and that they are prepared to take more drastic action to force a change.
Jeffrey Branner, who works at Lowell High School, directed his comments to his union siblings in the room rather than the district's team–because, as he said, "everyone in this room knows what the right thing to do is."
"I'm going to take this time to encourage my brothers and sisters to get on board with striking," said Branner. "Let's show the power that we have. Obviously we've been disrespected to the point that they see that gas is getting higher, the cost of living is getting higher, groceries are getting higher, and we're still on the pay wages from four years ago. Meanwhile, the whole world is evolving and getting more expensive and we have to live on a four-years-ago wage. I want everyone in here to call someone and tell them get ready. Save a little extra if you can. We need to show them that we are the ones who make everything go. It starts with us. Don't be afraid because there will be better times. Let's do this. Strike '23."
SEIU 1021 members at SFUSD will be voting on strike authorization this Saturday, September 30, and next Tuesday, October 3.
Check out coverage of the upcoming strike vote on Mission Local here and on CBS 5 news here.
Are you a member at SFUSD? RSVP for strike school and the strike vote kickoff this Saturday, Sept. 30, from 11 a.m. to 2 p.m. at Everett Middle School here.