SEIU 1021 members join massive protest against APEC Summit in San Francisco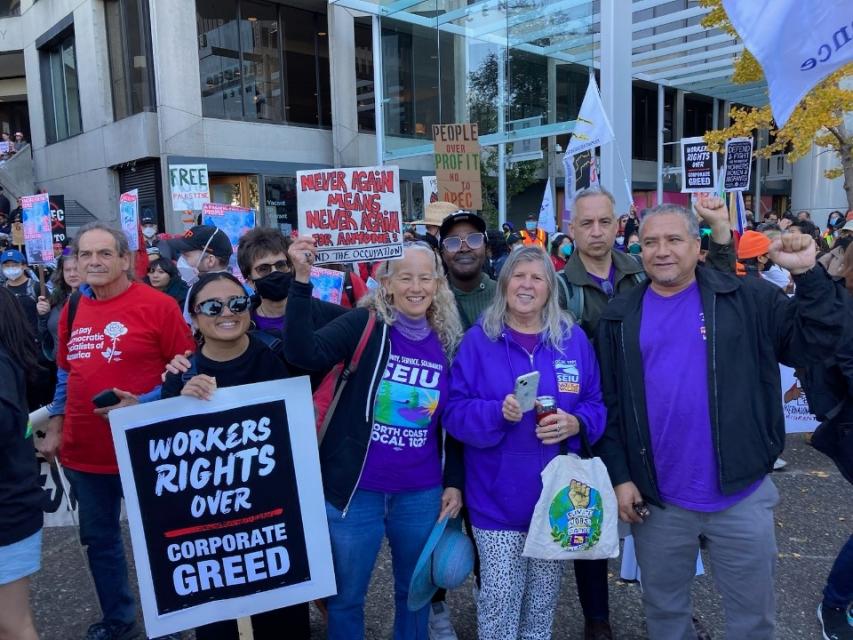 Thousands of protesters filled Embarcadero Plaza in San Francisco last Sunday, November 12, in a massive demonstration against the Asian-Pacific Economic Cooperation Summit. Among them were numerous SEIU 1021 members and staff.
The summit, which officially began Saturday, November 11, is bringing together heads of state from 21 countries in Asia and the Pacific Rim and 1200 CEOs of some of the largest multinational corporations. They are crafting free-trade economic policies that will have devastating impacts on some of the world's most vulnerable workers, as well as on the environment.
Among the SEIU 1021 members at Sunday's protest was Ruben Juarez, a circulation supervisor for San Francisco Public Library, COPE officer, and San Francisco Citywide bargaining team member. "I was so encouraged and inspired by the broad coalitions of people who came out to contest APEC," he said. "I didn't expect the size of it all. It blew me away. The coalitions of workers, activists, and leaders was galvanizing and skewed young, which is hopeful."
For Ruben, participating in the demonstration was the logical outgrowth of a growing sense of international worker solidarity that took root this past spring.
"My involvement all came about because of the May 15 action in front of SF City Hall to raise the wage for frontline workers," Ruben explained. "Our local spread the word about the event, and it was there that I heard the speech from an organizer from the SF Committee for Human Rights in the Philippines. Subsequently, a labor leader from the Philippines spoke at the Main Library on September 6. This really was the galvanizing action for me.
"I was at the rally on Sunday to show solidarity with other workers and to protest the marginalization, brutalization, and exploitation of workers in the name of profit and 'national interests' or the 'economy.'
"More broadly, I was there because workers need to show solidarity not only across classifications and departments in our city, but nationally and internationally, to show that wherever there's someone being exploited or treated unfairly, we'll be there. We'll be there to challenge, contest, rally, and put our resources behind upsetting the status quo, not letting self-aggrandizing multinational corporations, CEOs, human right abusers, corporate elites, and their running dogs hold sway without being challenged.
"I would encourage others to come out tomorrow, Wednesday, November 15, because it was so powerful to participate in a rally where so many people showed up and exercised their right to protest. Remember, we have the right to do this where others cannot.
"It was all so moving. Being with other like-minded people—the breadth and depth of which was overwhelming–who spent there Sunday afternoon actively engaged in letting our leaders know that APEC doesn't speak for us, our values, was a profound experience."
There will be a huge labor rally against APEC starting at Union Square in San Francisco at 4:00 p.m. tomorrow, Wednesday, November 15. Join the protest! RSVP here.