SEIU 1021 members at John George Psychiatric Hospital say: "NOT ONE MORE ASSAULT"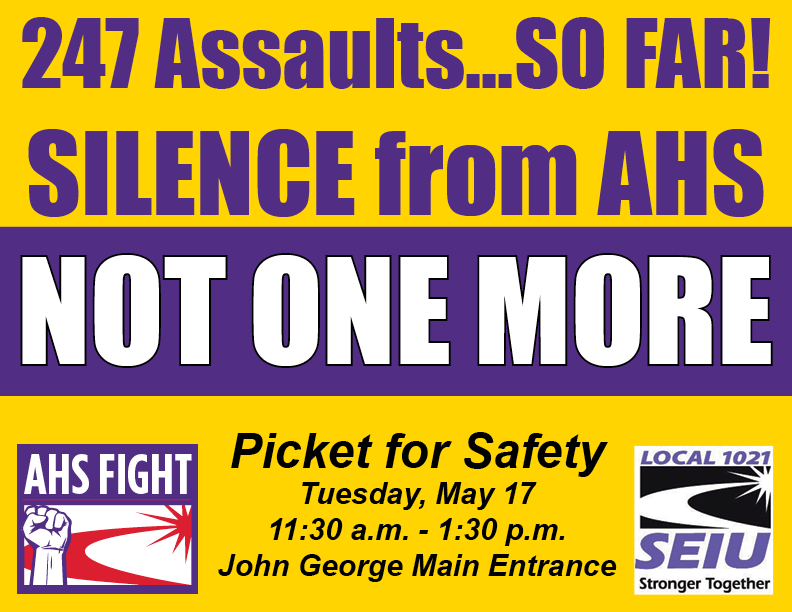 John George Psychiatric Hospital is Alameda County's only emergency mental health care facility, where patients experiencing mental health issues can be treated. Unfortunately, understaffing and mismanagement have put John George in a crisis situation, in which nearly 250 assaults have taken place recently, with patients and workers alike the victims of violence.
To stop the assaults, members there have undertaken a series of actions: wearing stickers to call attention to the issue, turning out more than 20 members to speak at a board of trustees meeting, and joining together for an informational picket on Tuesday, May 17. The members are demanding immediate action, including increased staffing to keep patients and workers safe.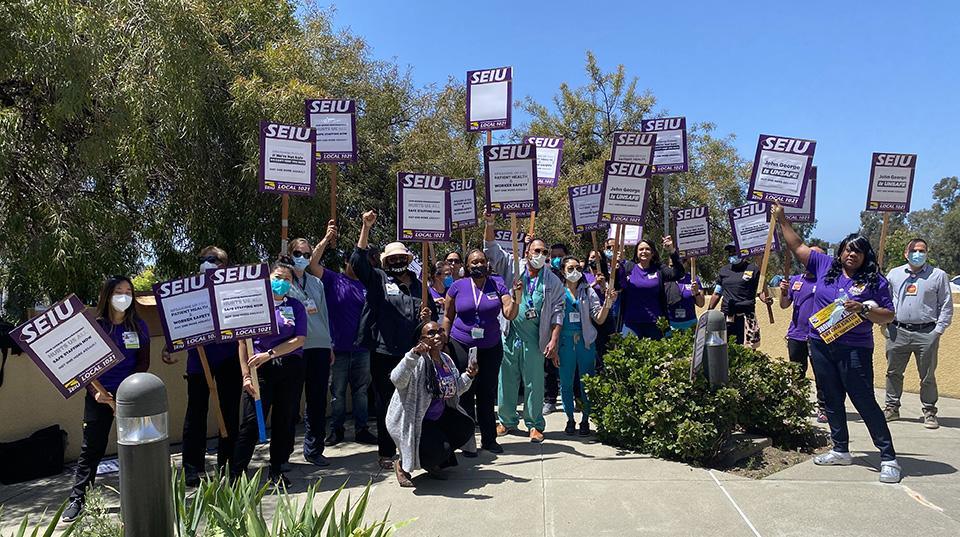 Keidaw Kobbah is an RN care manager at John George and has been with Alameda Health System for eleven years. She serves as the SEIU 1021 COPE representative for John George.
She spoke at the AHS Board of Trustees to call for immediate leadership and support in addressing the assault crisis there now.
"I worked on the floor at John George for years, and I have seen things get progressively worse in terms of assaults. I've worked in prisons and was never as frightened working in a prison as I was working on the floor at John George," said Kobbah.
"Management claims to care about patients, but we're taught in nursing school that your first patient is your coworker. Management doesn't act like this is true, which tells me that not only do they not care about us as workers, they don't care about the patients either. They're making the staff feel guilty for wanting to be safe and wanting to keep the patients safe."
"As a healthcare worker, this is the first time in my career that we've been putting our lives on the line, first with COVID, and now with the assaults. John George's response to COVID was completely inadequate and unacceptable. They brought COVID patients in whom we would not be able to care for if they were to deteriorate rapidly, which they tend to do. I know this firsthand, because it's how my own father passed away."
"It was very triggering and traumatic for me. I tried to tell the board of trustees about this back in January, from West Virginia, where I was actually putting his affairs to rest. Since then, things have only gotten worse."
Whether she's talking to coworkers, patients, community members, or fellow union members, her message is always the same: "We stand with them in the struggle. We are all part of this this together. We all advocate for each other, and we advocate for our patients. We are one!"