SEIU 1021 members get inspired and energized at the Education Industry Summit
Attendees heard from SEIU 1021 President Theresa Rutherford, State Superintendent Tony Thurmond, CA Labor Federation Chief Officer Lorena Gonzalez, and others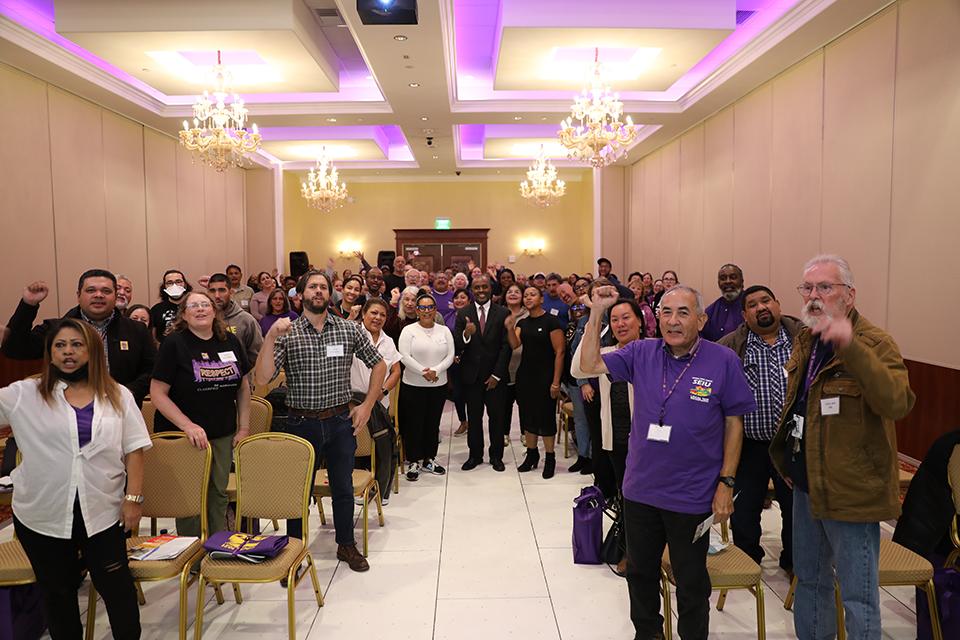 Inspiring speeches from State Superintendent of Public Instruction Tony Thurmond and California Labor Federation Executive Secretary-Treasurer Lorena Gonzalez Fletcher were just a couple of the highlights of this year's SEIU 1021 Education Industry Summit held this past Saturday, October 29, in Vacaville.
Participants, classified staff representing numerous K-12 and community college districts around Northern California from Sonoma County to Sacramento and everywhere in between, convened at the Sunrise Event Center in Vacaville to get the latest on what's happening in public education in the state, learn new skills and information, find out how SEIU 1021 member in other school districts are scoring wins, network, and have fun.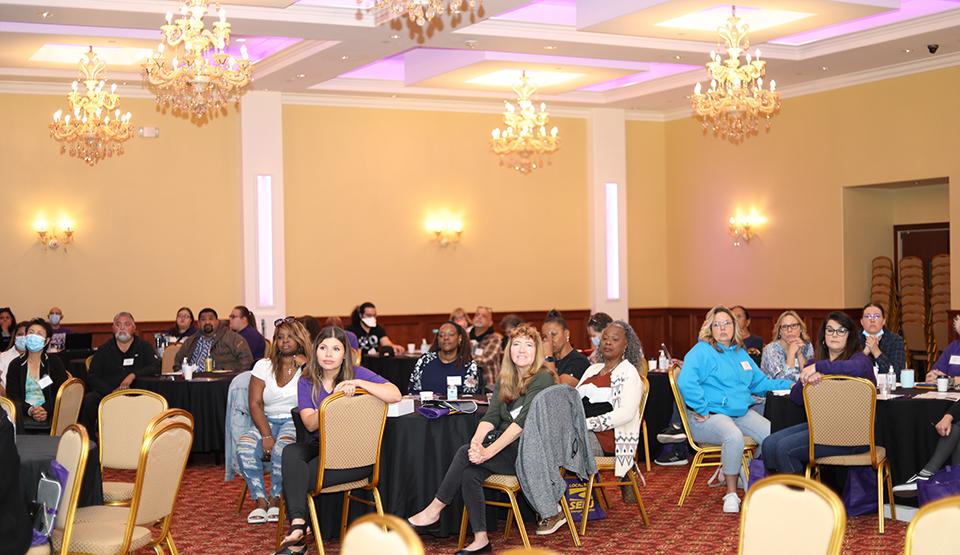 "This event was our first in-person summit since February 2020, right before the world shut down," said SEIU 1021 Education Industry Chair Maria Salazar-Colón. "So much has happened in public education since then. Our members working in schools and community colleges were on the front lines of the pandemic, facing incredible uncertainty and huge risks. We've also dealt with short staffing that is making our jobs harder and harming our students' education ever since. I'm so glad that we were finally able to come together again, face to face, and talk about those challenges and how we can most effectively confront them head-on and win for our members and our students."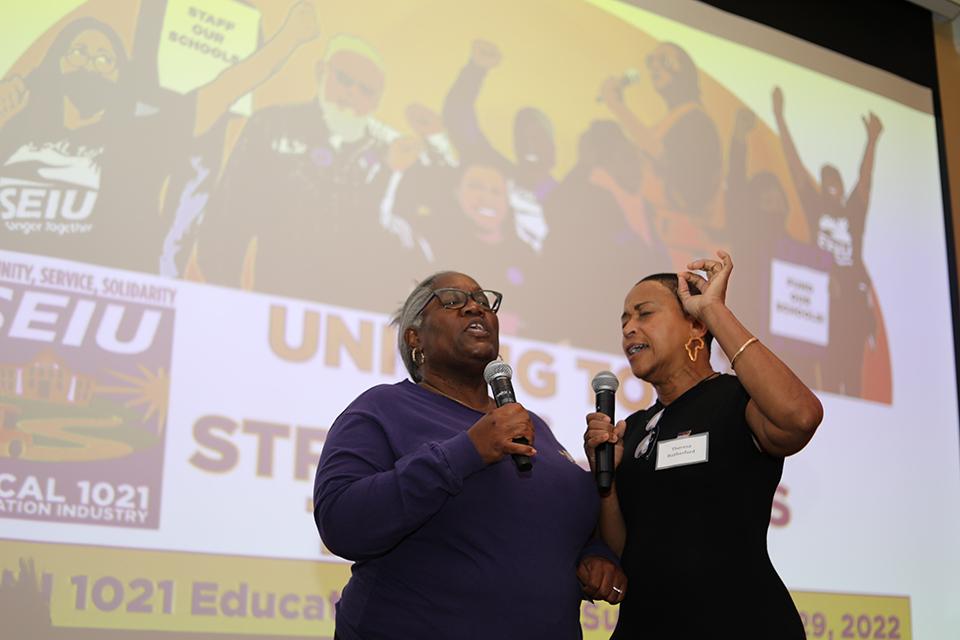 The summit kicked off with breakfast, followed by rousing speeches from new SEIU 1021 President Theresa Rutherford, Executive Director David Canham, and Lorena Gonzalez Fletcher, a former state assemblymember who championed legislation to advance workers' rights during her time in office, including AB 257, the fast-food workers' rights bill that was signed by Gov. Newsom in September. She is currently the executive secretary-treasurer of the California Labor Federation, the first woman and first person of color to serve as its chief officer. She shared some of her personal history as the daughter of hardworking immigrants with attendees, explaining how she got into politics to make a difference in the lives of working people, which she always held as her north star while in office. But, she told the crowd, nothing politicians could do through legislation compared to a strong collective bargaining agreement–inspiring her to return to her first love, labor, in July of this year. She spoke to the importance of organizing and fighting in the workplace, in the streets, and at the ballot box to make protect the future of public education and workers' rights.
During the two blocks of workshops, summit attendees chose from workshops where they learned about advancing racial justice in schools; using state and federal funding initiatives to fight for climate justice in their school districts; overcoming division in the workplace to present a united front to the employer; running more effective union meetings; and the basics of SEIU 1021 and all the ways members can participate in their union.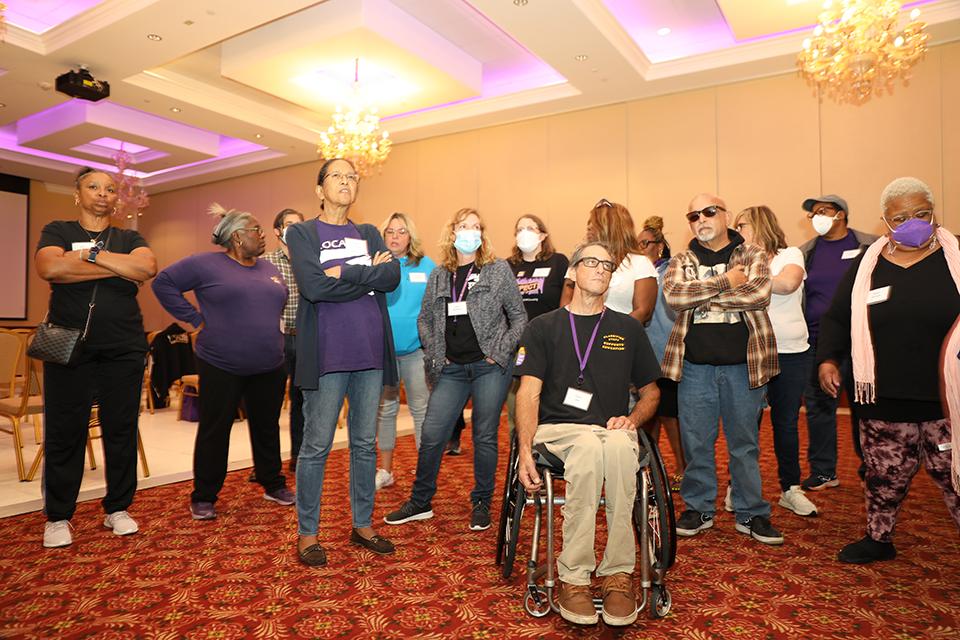 In the afternoon, State Superintendent Tony Thurmond came in person to address attendees about the importance of the election coming up in just a week and the consequences it can have for public school students, staff, and union members. He also used his own experience growing up relying on public programs to reinforce the importance of these programs–which include public education–to fight poverty and promote equity. And of course, he showed our classified staff members a lot of love and gratitude.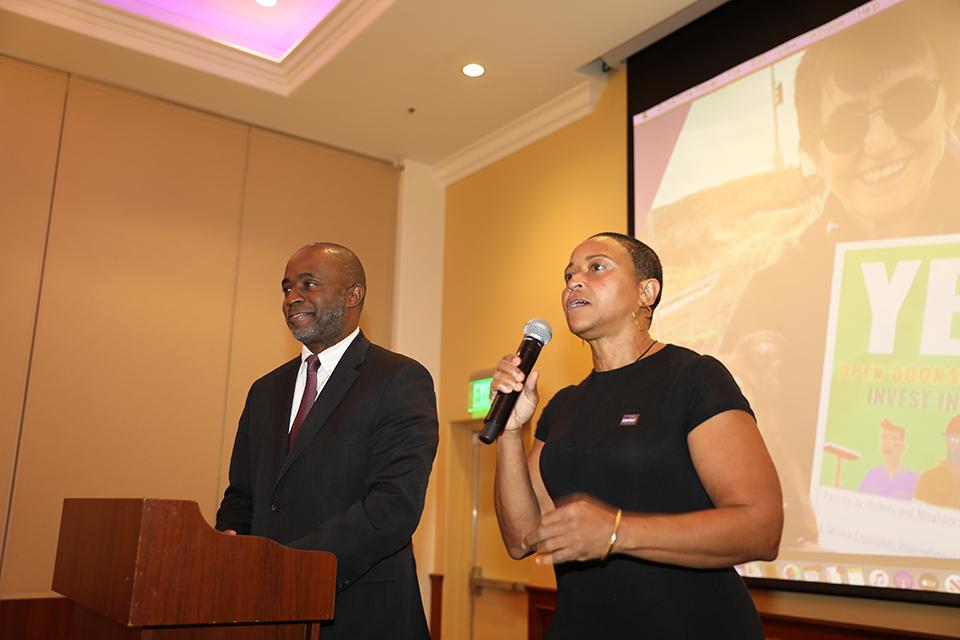 "You are the backbone of our schools. You're incredible educators. You can't have class without classified staff. When I first announced I was running for SSPI, and no one knew I was going to announce it, it was to classified staff of the state of California. It felt so good. You all have my back and I have your back. I am so grateful for all the sacrifices you made," said SSPI Thurmond.
Members in attendance were enthralled and energized by SSPI Thurmond's speech and lined up to ask questions and share their own experiences with him.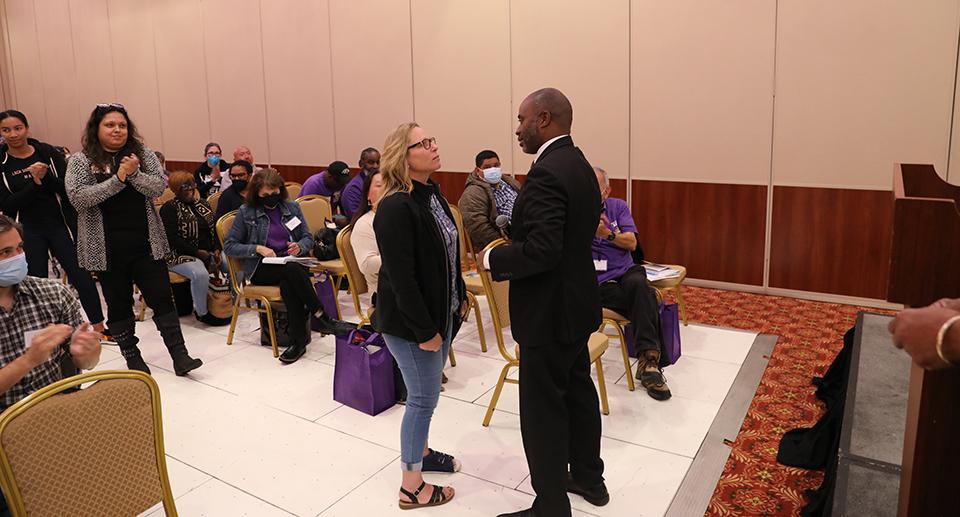 Attendees then heard from SEIU 1021 Vice President of Politics Ramsés Teón-Nichols and Political Director James Chiong about the importance of getting out the vote for candidates who will stand up for public education and working people and showed attendees how to use SEIU 1021's Mobilize page to find canvassing and phone banking opportunities near them. Attendees who signed up for the SEIU 1021 Committee on Political Education (COPE) or increased their monthly contribution also scored limited-edition jackets.
The summit closed off hearing from a panel of leaders of the Sacramento City Unified School District strike that went on for 12 long days this spring. The panel, which included bargaining team members and rank-and-file activists, discussed how they built support among their coworkers, with the teachers, and with the public to win. Then the floor was cleared and the DJ played some tunes to get members dancing!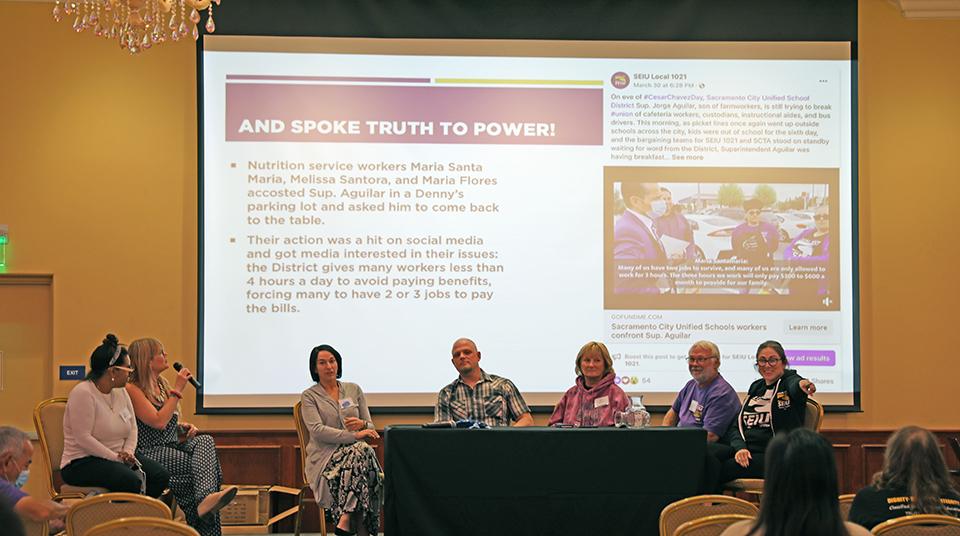 "I want to thank all of our presenters and the planning team that made this summit a success. And I'd like to thank everyone who came out Saturday to join these important conversations and build community and power with our other education industry members," said Maria Salazar-Colón. "I'm already looking forward to next year's summit–and to working hard with all of you until then to make sure that we are as strong as we possibly can be and winning great contracts in every school district where we have SEIU 1021 members. Because when we win, our union wins, our schools win, and our students win."