SEIU 1021 members at BrightSpring celebrate successful ratification of statewide contract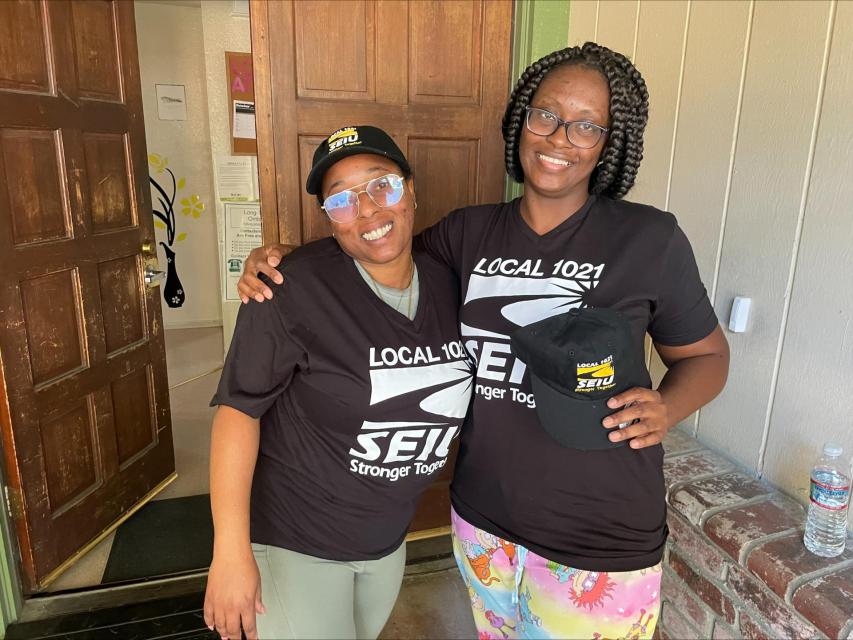 In a remarkable show of unity, SEIU 1021 members at BrightSpring Health Services unanimously ratified their statewide contract.
BrightSpring Residential Care Facilities is a national residential care nonprofit that provides 24/7 services to mentally and physically disabled clients. Clients live in residential facilities with round-the-clock care from direct support professionals (DSPs), nurses, and other trained professionals who assist with their day-to-day care. DSPs assist with meals, changing their clothes, showering, and sometimes providing medications, physical and emotional therapy.
Because of short-staffing, due in large part to low wages, they often find themselves pulling double shifts to make ends meet.
Megan Ojeda, an SEIU 1021 member leader at BrightSpring, remarked, "This overwhelming 'yes' vote is a testament to the strength, unity, and commitment of our SEIU 1021 family at Bright Springs. Together, we've secured a contract that not only protects our rights but also propels us forward. This victory is a reminder that when we stand together, we can achieve great things. Our members are the heart and soul of this union, and I'm incredibly proud of the solidarity we've demonstrated. Let's continue to work together and build a brighter future for all."
Highlights of the new contract include:
Wage increases of $0.19 – $0.40 cents per hour depending on the job class and seniority in addition to the $0.50 per hour minimum wage increase from January 2023.

The full contract is guaranteed for 3 years, but there will be opportunity for future wage increases after each year of the term.

A $200 ratification bonus after the agreement has been ratified.
A $100 "no call out" incentive if workers don't "call out" during the year.
Grievance and arbitration: The contract has a clear grievance procedure to resolve disputes over rights. If issues are not resolved through the chain of command, there is a right to arbitration where a neutral professional hears the dispute and issues a binding ruling.
Discipline and investigations: The contract requires the company to use progressive discipline. There are also procedures for handling investigations.
What's even more impressive is that the ratification drive didn't end with the vote count. Thirty-three workers signed membership cards and several new shop stewards were identified, empowering our local units to protect our members' rights.
This victory is a testament to the hard work and creativity of our members.