SEIU 1021: It's time to get out the vote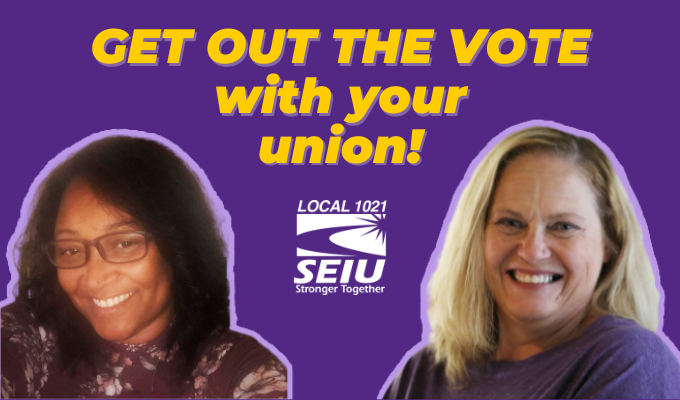 Over the last several years, we have seen attacks on workers' rights across the country. The victories we secure on the streets and at the bargaining table are directly linked to the ballot box. The gains we make are under siege by management teams, often elected public officials, trying to use our country's economic and public health crises as reasons to take away our hard-earned wages and benefits.
As a labor union covering over sixty-thousand public-sector jobs from San Francisco to Del Norte County, we understand that what happens at the ballot box directly affects us at the bargaining table and worksites. That is why union members must participate in the political process by contributing to and becoming active on the Committee on Political Education (COPE), our political arm of SEIU Local 1021. Our union's voluntary bi-partisan Political Action Committee examines our political and legislative activities. We hold politicians accountable at every level of government and we help our union build the political power to win favorable contracts and better benefits, and pass laws to protect our jobs. Politics has real-world consequences.
"I think it's important to look out, not just for myself, but for the betterment of our whole community," said Chinse Daniels, the chair of the Committee on Political Education for the SEIU 1021 San Joaquin County chapter. "And I want to see my grandkids be in safe environments that they're not threatened by either their skin color, and their gender."
COPE makes up SEIU Local 1021 members, staff, and retirees who contribute monthly to ensure that we have the political power to protect our hard-earned political and legislative victories that improve public services and the lives of working families.
The purpose of COPE is to engage in political education, facilitate member-to-member communications about political issues and elections, endorse political candidates, and contribute to candidate campaigns.
"If we're not involved in holding these people accountable for what they're saying and what they're going to do, we're going to have less money in our school districts," Daniels continued. "We're going to have less money to upkeep in our parks. We will have higher taxes, and our water sources will be polluted. These things affect us every day."
We know whom we elect and what they do when they are in public office determines much in our everyday lives: from our rights on the job to our health and safety. We know that when we speak with one voice about what working people need, our elected officials listen.
"We live in these communities where we vote and canvass," added Taffie Walter, the president of the SEIU 1021 San Joaquin County chapter and vice president of Region E (San Joaquin County, Calaveras County, and Amador county) on the SEIU 1021 Executive Board. "We see the real-world applications of policymaking. We eat, shop, work, play, and travel in these communities. So, why would it not be essential for me that my children have a good school district, valuable teachers, clean water, and safe neighborhoods? Why would it not be vital to see that taxes I pay out of each paycheck go to, instead of inflating the bosses' salaries, workers who make our communities run, who are living paycheck-to-paycheck? What about when we see discrimination happen in our communities and at our places of work?"
COPE allows us to dedicate resources to labor-friendly candidates and help get them elected to city councils, boards of supervisors, and more. COPE money is used not only for candidates' contributions but also for voter registration, lobbying, and get-out-the-vote efforts. Funds are also used to introduce and pass legislation that protects SEIU 1021 members and our families.
"I look at the big picture here," Walter continued about the importance of building a politically influential union. "We, SEIU, are the second largest labor union in the country. Just here in Northern California, we are over sixty-thousand union siblings strong. So, when you think about the political power we have when we come together, we will not let some discrimination happen. We will protect and improve the quality of life for our communities. Our power comes from our membership. In the San Joaquin County chapter alone, we have over three-thousand members. That can make or break an election in San Joaquin County."
We know that the fight for economic, racial, environmental, and immigrant justice is one that we cannot sit out. That is why we, as a union, actively participate in the political process. Across Northern California, we will vote for our endorsed candidates and ballot measures and mobilize our communities to vote to achieve the kind of justice we deserve.
We organize good trouble on the streets, in our workplaces, and now at the ballot box.
We urge members to participate in phone banking, canvassing, and other outreach initiatives to help us elect candidates who will fight for us and pass measures that will benefit workers across Northern California.
See what candidates and measures SEIU 1021 members have endorsed for the November 8, 2022 election, and see our upcoming volunteer opportunities here.