SEIU 1021 honored with an Equity Award at the 20th annual human rights banquet from Human Agenda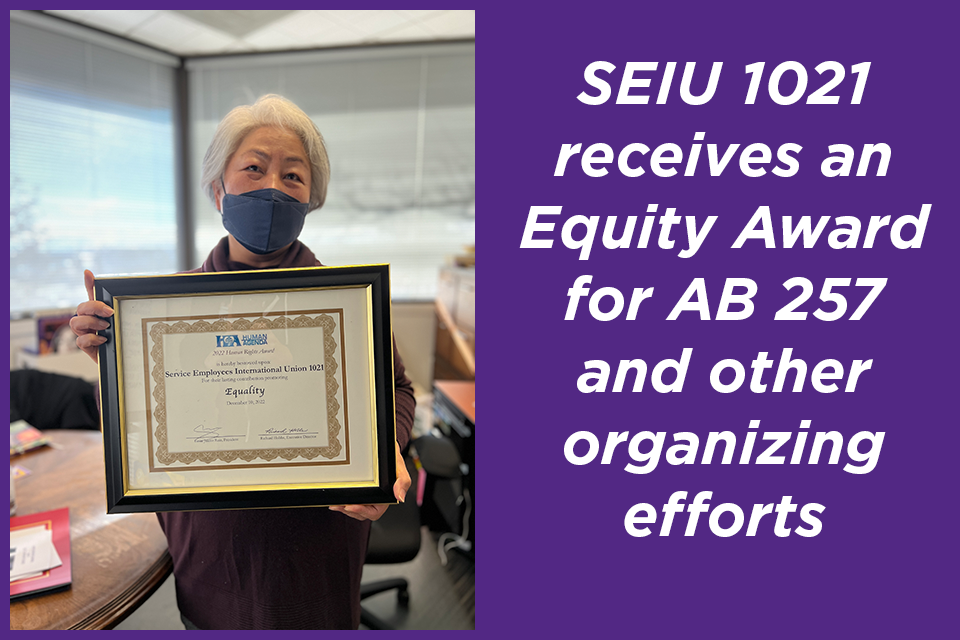 On Saturday, December 10, SEIU Local 1021 was honored at the 20th Anniversary Human Rights Awards, receiving a 2022 Human Rights Award from the non-profit Human Agenda organization, which seeks to envision a world in which everyone's needs are met, to create local institutions that are democratic, cooperative, egalitarian, sustainable, and kind, and to take individual responsibility for embodying the changes we want to see.
The award was specifically for SEIU 1021's support for and leadership on AB 257 and the Starbucks union organizing campaign, which Human Agenda described as "culminations of workers unifying together and organizing against industries where the labor movement has not been present before." The award "highlight[ed] the workers of Starbucks and fast food restaurants who have organized across hundreds of coffee shops and restaurants around the country."
The local also received recognition from state senator Dave Cortese for "outstanding service in advocating for equity in employees in local governments, non-profit agencies, health care programs, and schools in our community," and congratulations from state assembly members Alex Lee and Ash Kalra, for our "unwavering commitment to empowering workers and their families to exercise their voice[s]" and our "vigorous advocacy."
Present and accepting the awards on behalf of SEIU Local 1021 were San Francisco non-profit worker and Vice President for Organizing Ramsés Teon-Nichols and Alameda County worker and Vice President for the East Bay Region Yeon Park. Park said, "It was such an honor for the union to be recognized in the community, especially for organizing for human rights and a better society. It's a very special moment for us, because we fight so hard for human rights like social justice, equity, and equality for all. It's a powerful reminder that the work we do as a union really makes a difference in our community, a difference that gets noticed."
The event occurred on the 74th anniversary of International Human Rights day and featured labor icon Dolores Huerta among other luminaries.