SEIU 1021 Executive Board Votes by Supermajority to Appoint Theresa Rutherford as President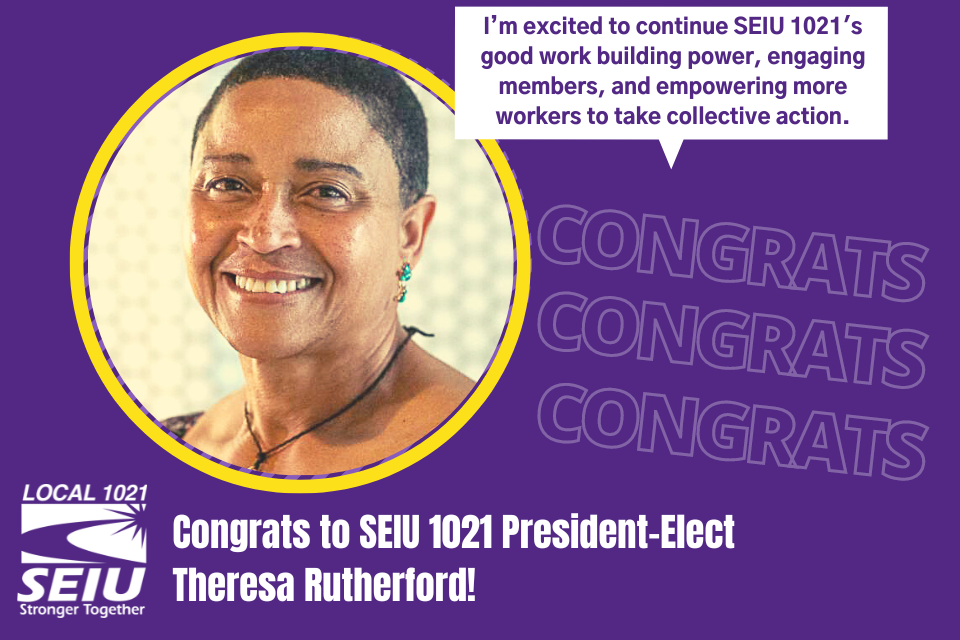 August 22, 2022, SEIU 1021 will welcome our new president, Theresa Rutherford. At the executive board meeting last Saturday, July 23, the board voted by a landslide to appoint the current San Francisco regional vice president to replace the local's current president, Joseph Bryant, who was elected executive vice president of the SEIU international union last month.
"I'm excited to continue SEIU 1021's good work building power and organizing to see workers empowered, growing, and having opportunities," said President-Elect Theresa Rutherford. "More than anything else, I'm just excited to engage more workers and to support and educate them to know that the power we have lies in our collectively working together and strengthening ourselves as union members and working as a collective group."
Theresa has held elected office at SEIU 1021 since 2016, first as the vice president of representation and currently as the San Francisco regional vice president. She has been a member since 2002, however, and says that her experiences over the past two decades have shaped her understanding of the power of collective action.
"I've come to learn the power of union — how unions really protect workers and make the difference in our communities. It's the last bastion for working people; they have so much power to change the landscape for workers in the U.S.," explained President-Elect Rutherford. "As I've gotten involved and engaged as a worker myself; as I've watched workers being abused and having to step in to support my fellow workers – I've learned the value of collective action and how it empowers workers. That experience has been my motivation to organize my coworkers. I always remind them they have a voice and that the change has to start with them, because that's how I learned. I couldn't stand by and watch; I had to initiate the change I wanted to see. I learned as I worked day to day with my coworkers that the only time we make change is when we do it intentionally — and when we intentionally support one another."
Outgoing President Joseph Bryant wants SEIU 1021 members to know that, even as he moves on to represent us at the SEIU international union, the local remains in good hands. "Theresa is the right choice because she brings the passion and the compassion; she's experienced in many roles in this organization and will be able to hit the ground running to make sure we continue doing the good work we've been doing over the last few years. We'll continue to fight for strong contracts, represent our members' rights to the fullest, continue the great work we're doing in politics, organizing, and building worksite power."
The SEIU 1021 bylaws specify that in the event that an officer leaves their position before the end of their term, the executive board may choose to appoint their successor or to hold a special election. Outgoing president Joseph Bryant and the team of officers nominated Theresa, and a supermajority of the executive board voted to approve her appointment to president effective August 22.
Congratulations President-Elect Theresa Rutherford! Stay tuned for more information to follow in the coming month.