SEIU 1021 celebrates Oakland Pride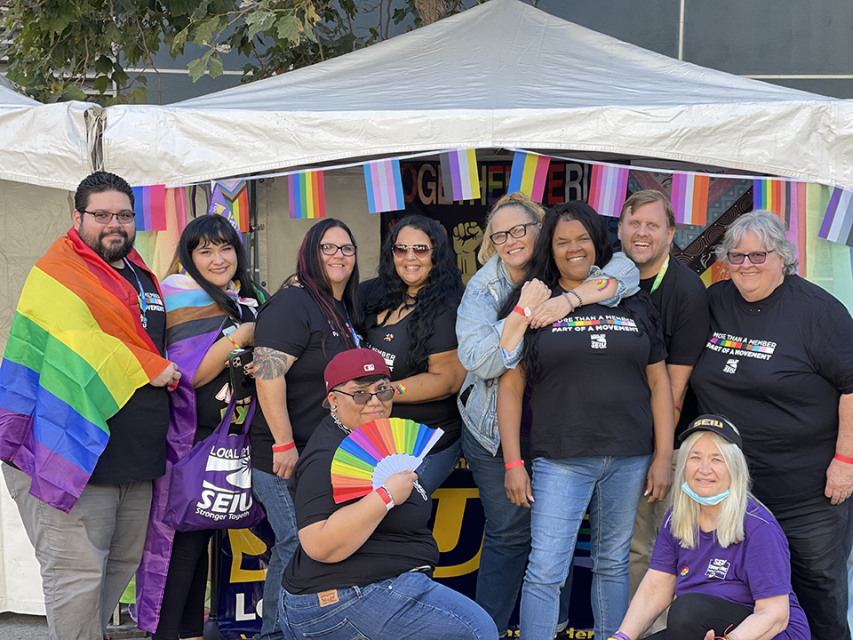 Last weekend, members of the Social and Economic Justice (SEJ) Committee and the Lavender Caucus showed up and out for Oakland Pride. The SEIU 1021 contingent marched down Broadway in the Pride Parade from Oakland City Hall to 20th Street. Another group of members held down the very popular SEIU 1021 Pride Booth, which drew hundreds of visitors.
Executive Board Member Monique Baca helped organize the SEIU 1021 Pride Booth. She works at San Joaquin County Behavioral Health Services as an office supervisor. She recruited her wife and seven of her coworkers to greet Oakland Pride attendees with Pride flags, rainbow face painting, and a chance to spin the wheel of surprises at the 1021 booth.
Baca thought it was important that SEIU 1021 was visible at Oakland Pride. She said, "It was important for me to be out here to represent, not only as parents of kids who identify as part of the community, but as a member of the community myself. We're out here to show that labor unions also fight for people in all marginalized communities, particularly the LGBTQIA+ community. And we wanted to be out here to help increase visibility; to let the LGBTQIA+ community know that they have a home at SEIU 1021. We care about their families, we are going to be there for them, and support them to live their best and most authentic lives."
The Oakland Pride festivities featured three stages of live entertainment, starring Grammy Award Winner Deborah Cox, RuPaul's Drag Race Mexico superstar Regina Voce, and more.
Taffie Walter, vice president of Region E representing SEIU 1021 members in San Joaquin, Calaveras and Amador counties, helped staff the Pride Booth. She said, "I'm a huge ally of the LGBTQIA+ community and find it incredibly fulfilling being here today representing SEIU 1021. As a labor organization, it's important to be out here supporting the LGBTQIA+ community. I love to see people that just want to be free from discrimination and live unapologetically."
Nicole Christian, chair of the Social and Economic Justice (SEJ) Committee of SEIU 1021 member at the San Francisco MTA, marched in the Oakland Pride parade with the SEIU 1021 contingent. She said, "It is important to me personally to be here because I love our members and I love our Lavender Committee. I want them to feel empowered and supported. The Social and Economic Justice Committee is about solidarity, regardless of race, regardless of religion, sexuality, it is about upholding the thoughts and the strengths of everyone. Regardless of who you love, we love you."