San Francisco Unified Schools classified staff bring heat to negotiations
Recent bargaining sessions have been packed with members eager to share their stories--and make demands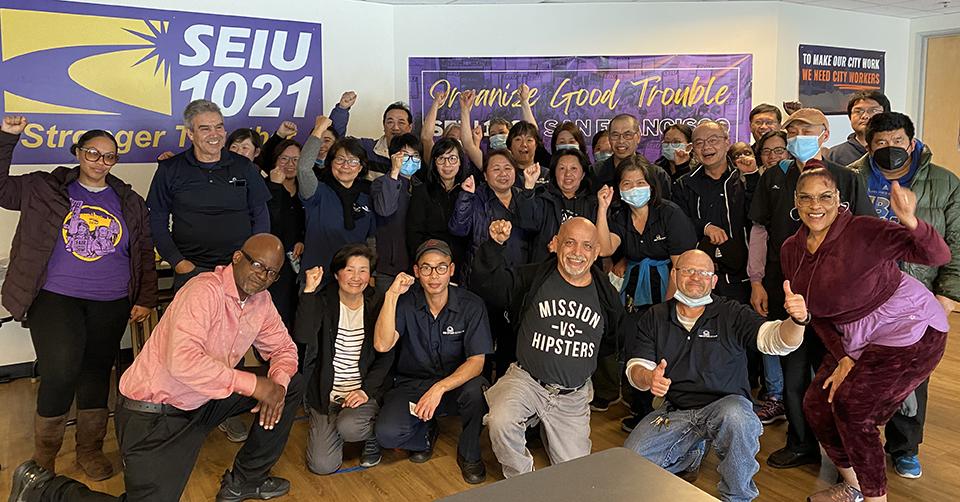 Last Thursday, May 18, when San Francisco Unified School District's management contract negotiations team came to the table, they got a little more than they'd bargained for. Over 85 rank and file SEIU 1021 SFUSD members, including custodians, nutrition service workers, and clerical staff, showed up and gave them an earful about how the poverty wages the district pays its classified employees, combined with ongoing payroll problems and staffing shortages that make workloads unsustainable, are damaging the district's schools and students.
"At beginning of every school year, the superintendent gives a speech to the clerks. He says we're the backbone of the district. So why do they talk about respect, but they do not show us that respect?" said Visitacion Valley Middle School clerk Adriana Pereira to the district's bargaining team. "City employees with the same jobs and qualifications make 16% more money. Not only do we get paid less, we are asked to do more. We watch our colleagues leave the district because they feel disrespected and mistreated. Add in the low pay, and it's even harder to stay."
"During the pandemic, I came to work every single day, with all the other custodians, while everyone else was at home working from home. We put our lives at risk," said custodian Michelle Smith. "There's a shortage of custodians; it's been that way for years. I'm stretched thin. We definitely need the 16% [to achieve parity with SF City and County workers]. I'm working a second job. I shouldn't be working a second job. How would you feel if you were honestly getting paid the same type of salary as we are? Could you survive here in San Francisco, in the Bay Area?"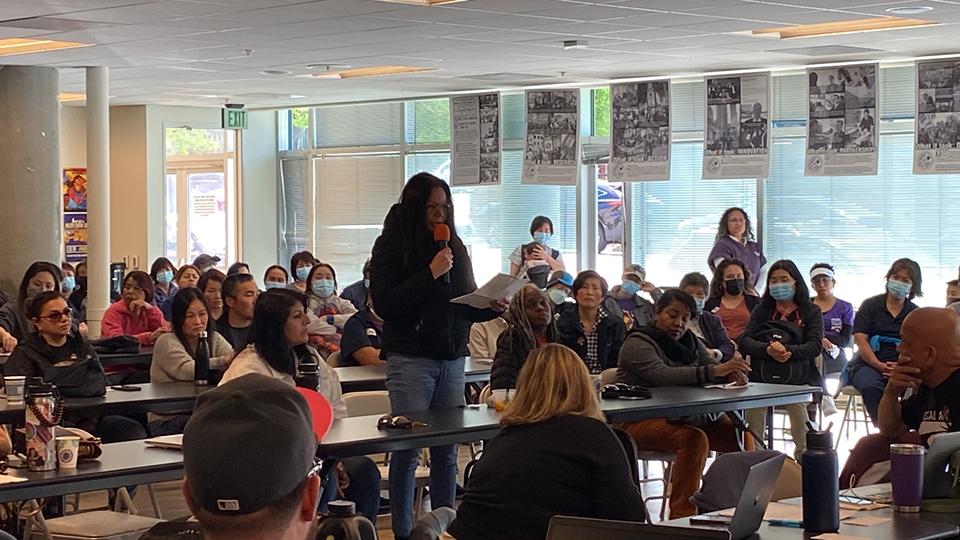 " I haven't received a complete paycheck since March," said Beatriz Hernandez, a senior administrative analyst. "A colleague left the district weeks ago and is owed $9,000. Another colleague left just last week because she too was not receiving her full pay. Another left because she was expected to cover the work of those who had left. I was volunteered out to the command center and I'm still expected to go back to the budget office and do clerical work. We're all fed up with the district. Even new employees are fed up, experiencing payroll issues since day one. As employees leave, those left behind are expected to carry the weight. The district can't afford to lose its employees. The district cannot afford not to offer a 16% raise. Don't make us go on strike, because we will if we have to."
This was not the first time the district bargaining team heard from SFUSD classified staff about the need for parity with SF City and County workers. The week before, on May 4, about 50 members showed up to the table in solidarity with their bargaining team and to share their stories with management.
"Today we're short two people and there's no help. No substitutes are coming," said lead student nutrition services worker Ming Yu. "My friend who works at SF General Hospital earns 20% more than me. They cook for the patients; we cook for the kids. What's the difference? At SFUSD, we make $18 an hour. At the City, it's $22 an hour. How are you going to hire people for the school district? We don't have enough staff. I have to finish the job by myself. The kids have food, but it's not fair. Everybody wants to leave. I like my job, but I don't want to work at a job like that. I want to feed the kids and have food to eat."
"The pay is not enough. It's so stressful as a single mother," said Jacqueline Rosas Ibarras, a custodian at Lowell High School. "I have two kids. I don't think it's fair for them to be stressing out that I don't make enough money to pay the bills. They want to get a job, but they just need to worry about getting out of school. One of them started beauty school. She's only 15. This morning she said, 'Mom, I want to get a job.' It's not fair for them to worry about me not making enough money. I have to work overtime to make my mortgage payment. And still not even buying them shoes, or something extra for them, and they're thinking about getting a job. If we don't get the raise that we need, I'm ready to go on strike. Even if it's going to be hard on strike, I'm ready to go."