San Francisco Starbucks workers win landslide union election
The store on 9th & Irving is San Francisco's second Starbucks to unionize in recent months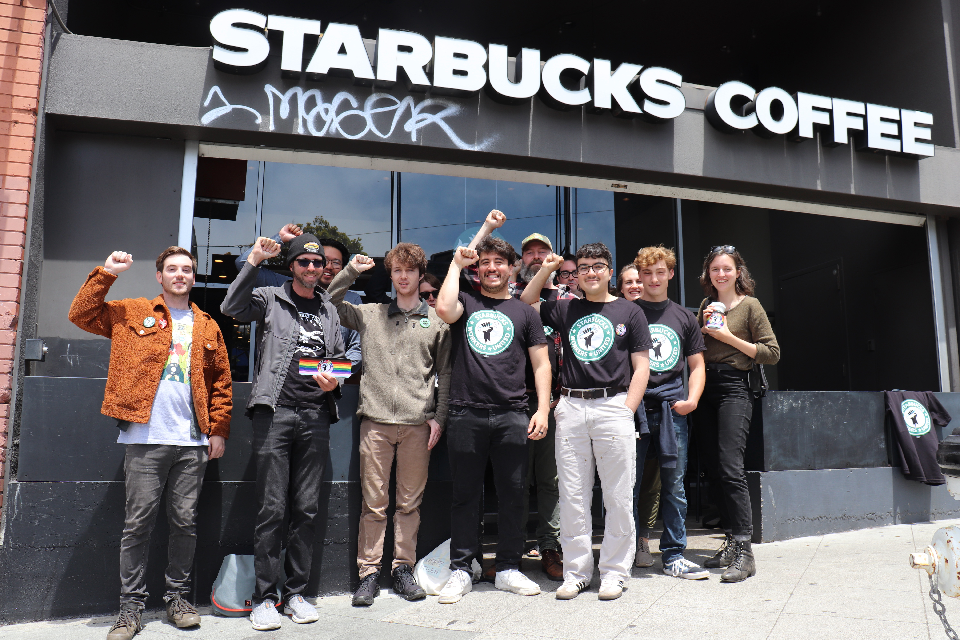 Last week, Starbucks workers at the 9th and Irving store in San Francisco, California, won their election for union representation by a landslide. They voted YES for their union by a count of 13 to 5. This is the second San Francisco Starbucks to win a union election, after the Castro Starbucks location, which voted to form a union a year ago.
Now that these workers have resoundingly spoken up for their union, it's time for Starbucks to negotiate fairly with them to address their issues around safe working conditions; fair, predictable scheduling; and adequate wages and benefits. As SEIU 1021 Vice President of Organizing Brandon Dawkins said at an action in Antioch last week, "One of our demands is for Starbucks to come to the table and negotiate fairly. They'll show up, they'll stay for two or three minutes, and then they'll get up and leave. We want Starbucks corporate to come to the table and negotiate fairly for the workers."
The 9th and Irving workers are joining the Castro store in a nationwide movement of over 8,500 baristas organizing for better working conditions, fair wages, and consistent schedules.
The store's organizing committee, composed of partners at the store who spearheaded the union effort, said, "A few weeks ago, during a sip-in, a manager asked one of our partners if the union was strong. Today, the partners answered back. The answer is 'Yes!' The union really is strong."
Starbucks organizing is the union drive that has taken the labor movement by storm. Since December 2021, over 350 Starbucks stores in 41 states and the District of Columbia have successfully unionized — more than any company in the 21st century.
This vibrant movement has met significant resistance from management. Starbucks has launched a ruthless union-busting campaign that includes threatening workers' access to benefits, firing over 230 union leaders across the country, and closing union stores. The National Labor Relations Board (NLRB) has issued over 100 official complaints against the company, encompassing over 1,600 violations of federal labor law. On July 31, 2023, NLRB Administrative Law Judge Gerald Michael Etchington issued a decision against Starbucks regarding their pre-election misconduct at the Castro store.
The judge's remedy included an order directing Starbucks to cease and desist from interrogating workers, threatening them with stricter enforcement of policies, and refusing to promote union leaders. The judge also ordered Starbucks to backdate a union leader's promotion to July 2022 and provide back pay for unearned promotion wages.
"This decision is an important step in holding Starbucks accountable for their illegal conduct," said Kyle Trainer, a barista at the 18th and Castro store. "Despite Starbucks' efforts to intimidate unionizing workers, our union continues to grow, as we saw with Friday's election victory at another San Francisco Starbucks store – the 351st store in the nation to win our union."