San Francisco Starbucks workers file for their union election
On Wednesday, July 5, Starbucks workers at the 8th and Irving store in San Francisco filed a petition for a union election with the National Labor Relations Board.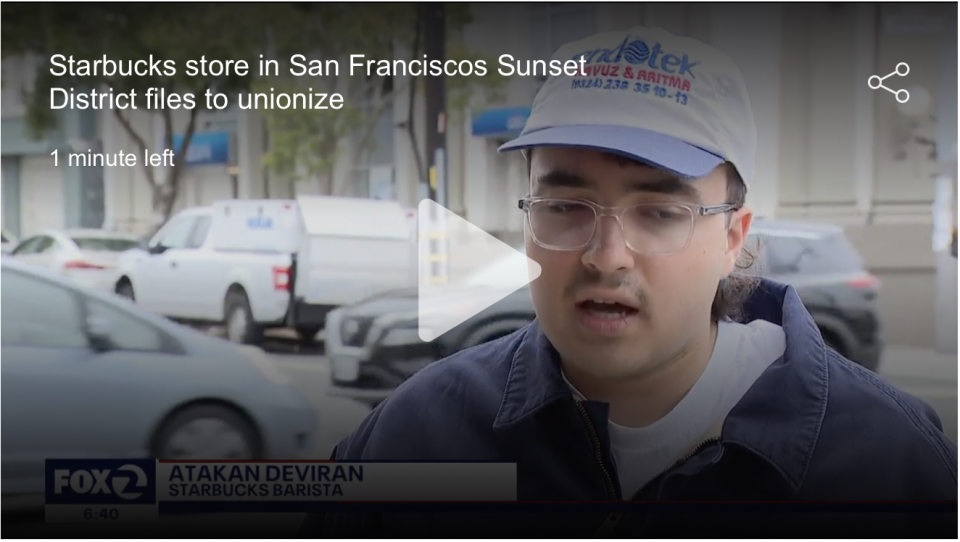 "We as workers are making all the money for these billion-dollar companies, and we're not seeing any of it. We need an end to the disrespect we get from management, and we need consistent, adequate hours and a living wage," said Atakan Deviren, a barista at the store for the past year.
Across the nation, workers at Starbucks stores are facing similar issues, with unstable, unpredictable schedules, poor pay, unsustainable workloads, and understaffing problems. These working conditions are driving a huge surge of worker organizing, with more than 330 Starbucks stores unionizing since December of 2021.
Starbucks management claims they respect workers' rights, but hundreds of union leaders have been fired so far, and the NLRB has issued more than 100 official complaints against the company.
The NLRB will schedule an election in coming weeks, and Atakan Deviren told KTVU that he's confident his co-workers will vote in favor of forming their union. In the meantime, follow @SBWU_SF on Twitter to keep up with their efforts!
Learn more: