Sacramento City Unified School District Transportation Workers Protest Unsafe Working Conditions and Short-Staffing That Endanger Health and Safety of Kids, Staff
The situation has reached a crisis point in recent weeks, with supervisors telling bus drivers who test positive to continue working and putting kids who have tested positive on school buses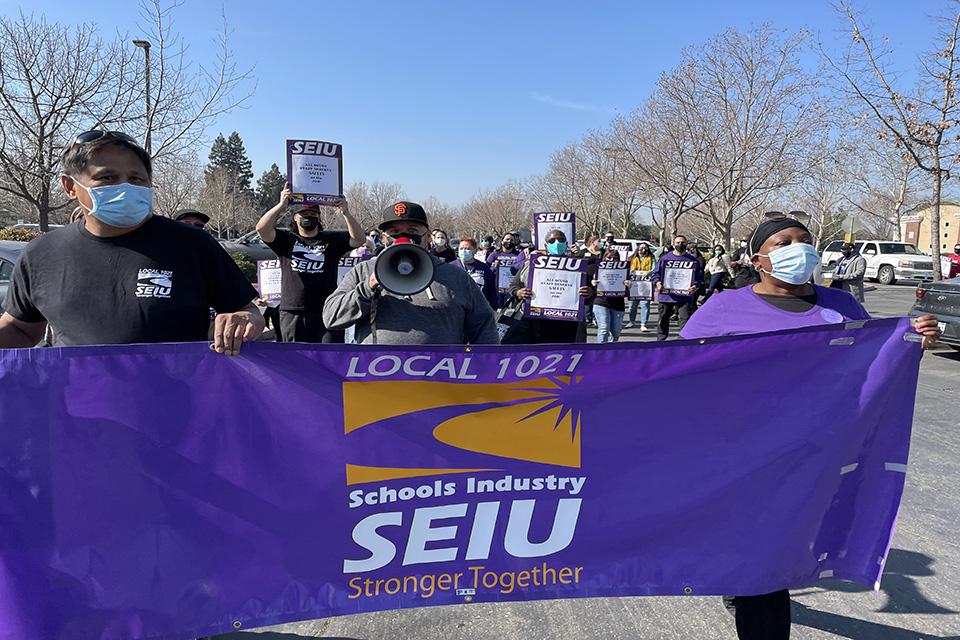 As the Omicron variant has ripped through Sacramento, schools that have long been at a tipping point are in a full-fledged crisis. Nowhere have the effects of the latest COVID surge been more acutely felt than among SCUSD transportation workers. These workers were already short-staffed before Omicron hit and now find themselves required to work in conditions that put themselves, their families, the students they transport, and entire school communities at grave risk.
The situation is untenable for many–and the wages the District pays are so low that transportation workers are flocking to better-paid jobs in surrounding school districts and in the private sector, making things worse for those who remain. In response, members staged a protest at SCUSD's Serna Center Friday, Feb. 4, to demand that Superintendent Jorge Aguilar address their concerns around health, safety, and staffing.
"The morale of classified staff is low. We're working a lot of hours in unsafe conditions and we are underpaid. If we do get exposed or test positive, the District doesn't have our backs," said Ramsey Odom, who has been a bus driver with SCUSD for 30 years. "It's not our fault we're getting sick working on the frontlines with beautiful, precious cargo. We need the District to understand that we're here, dedicating our lives to these kids, trying to get them safe and sound to and from school, and we deserve to be treated with dignity and respect. We deserve to work in safe conditions and to be able to support ourselves and our families with one job."
As Aguilar has patted himself on the back, publicly claiming that everything is under control in the District, SCUSD workers tell a different story. "Ten cases were contracted on my bus," said Gil Patterson, who has worked for the District for 40 years, 38 of them in transportation. "At that time, they did not tell me. I had to find out through teachers. It's unsafe. I'm finding out late. I asked the principal if he had a list because my supervisor asked if I could get the names of the kids for contact tracing. I asked him two weeks ago and he had no form, no idea whatsoever. We have lost a bus attendant, a driver, and a food service worker to COVID. There is a danger. Yet they want us to take a reduction in pay and benefits, while we're out there in this pandemic."
The District struggles to retain and recruit employees because of low wages, which they have incomprehensibly proposed cutting even further. Transportation workers in particular are hard-hit since most of them have split shifts that take as much as 12 hours of their day but they are only paid for eight. Many work second jobs after dropping students off at the end of the day.
Because of the short-staffing, kids have been stranded at bus stops. Special needs students are being sent home in Ubers and students are being crammed into buses without proper social distancing as drivers have to double up routes. Meanwhile, the SCUSD Board of Education in December rewarded Aguilar for the chaos with a four-year extension of his contract and huge raises that will lift his salary above that of the President of the U.S.
The irony is not lost on SCUSD staff.
"Where's the glory of calling us frontline workers when, at the end of the day, when we call on the District to help us, the doors are closed right in our faces?" said Olivia Minor, a bus dispatcher who has worked for SCUSD for 10 years. "We're being disrespected. No one is holding the Board accountable."