Sac City Schools Classified Staff Went on Strike & Won Big!
Both SEIU 1021 and SCTA reached tentative agreements Sunday evening. The strike is now over.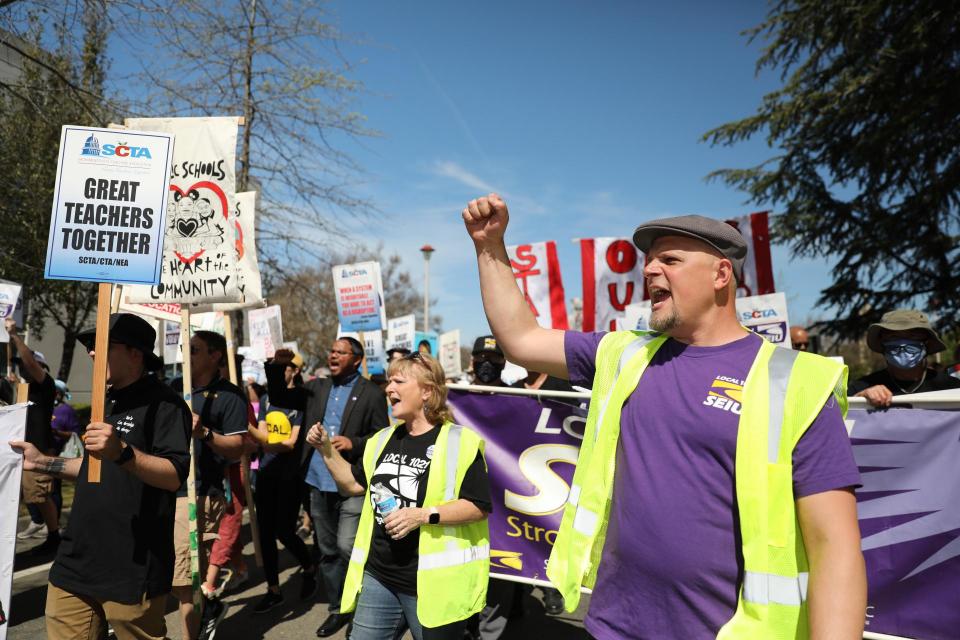 "When we fight, we win! When we fights, students win!" was the mantra for the eight workdays (and twelve calendar days) of the Sacramento City Unified School District strike. Both classified staff–including school bus drivers, nutrition service workers, custodians, instructional aides, maintenance workers, and clerical staff–and teachers represented by Sacramento City Teachers Association (SCTA) went on strike starting March 23. The strike began after the District committed numerous unfair labor practices and refused to negotiate a contract that would address the severe staffing crisis.
The strike came to an end yesterday evening, as both groups reached strong tentative agreements. SEIU 1021 members fare particularly well in their tentative agreement. In addition to an ongoing 4% cost-of-living adjustment retroactive to July 1 of last year, all SEIU 1021 members at SCUSD will be receiving at least $7,000 in one-time stipends, with some members eligible for even more. School bus drivers will be receiving an extra $2,000 in recognition of how critical their service is to the District and how deeply the department is suffering from short-staffing.
"Our bargaining team is incredibly proud of our members' determination to win a contract that will allow them to keep doing what they love: working right here in this District with Sac City students," said SEIU 1021 SCUSD Chapter President Karla Faucett. "They made huge sacrifices during the eight days of this strike. They kept showing up to the picket lines and rallies day after day, even though they were tired, even though they were worried about how they would pay the rent. They understood this was the only way to make our voices heard–the only way we'd be able to get this District back on the right track for our students and our own children. The community heard their stories, stuck with us, and kept pressuring the superintendent and school board to do the right thing by its workers."
Even though losing eight days of pay is incredibly difficult for folks already living paycheck to paycheck, SEIU 1021 members kept showing up at the picket lines and rallies day after day, loud, proud, and purpled up.
Throughout the strike, SEIU 1021 members including school bus drivers, instructional aides, and nutrition service workers also shared their stories with the media–about the critical work they do, how they've struggled to make ends meet on their low wages, and how the strike is affecting them and their families.
Hear school bus driver Casondra Wills share her story on Fox 40 here.
Hear instructional aide Jim Riffel and nutrition services worker Katie Santora share their stories on KCRA 3 here.
Their determination to keep showing up, standing in solidarity with the teachers, sharing their stories with the public through the media and on stage at rallies, and speaking truth to power finally paid off. Kids are back at school and classified staff are back at work today–but until the checks are cut, they're still
"Many of our members live right at or just above the poverty line," said SEIU 1021 SCUSD Chapter Vice President Dan Schallock, who works in the District's maintenance and facilities department. "They are working two or three jobs or more to get by. The eight days it took to get District management and the school board to take our concerns seriously and finally show classified staff some respect were filled with worry for these SCUSD workers. April will continue to be a tough month as they feel the impacts of the strike on their upcoming paycheck. We are proud and relieved to be able to let them know real help is finally on the way."
Our SCUSD members have a GoFundMe strike fund you can donate to help them get through the month.
"Considering the District had pay cuts and health care takeaways on the table when we started negotiating with them in October, this agreement shows that when school workers stand together with educators for what's right and refuse to back down, we win," said Karla Faucett. "This kind of investment in Sac City Schools staff and teachers will help retention and recruitment and end this staffing crisis–making SCUSD schools better for students, workers, teachers, and all of our families. This is a win for the entire SCUSD community."