Relationships matter: SF VP Kristin Hardy on why our union gets active in politics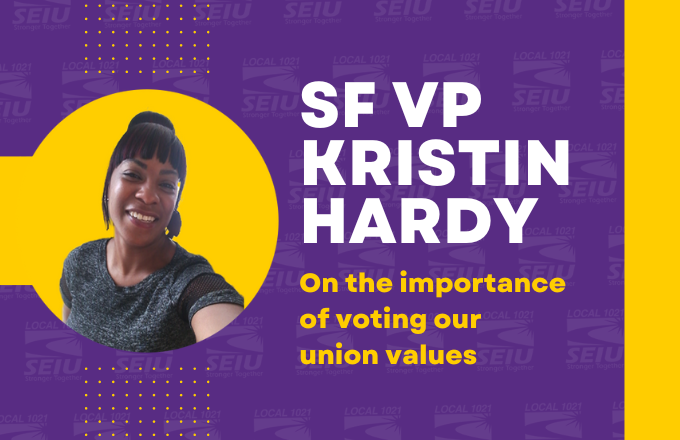 The midterm elections are right around the corner and SEIU 1021 members are fired up to talk to their friends, neighbors, and coworkers about the political candidates we are endorsing in this election. It is crucially important for our union to endorse and support candidates who are committed to the cause of working folks—it's our opportunity to elect the people who approve our contracts, make decisions about funding our services, and set policies that dictate the future of our communities.
"I became part of the union's political program because the power of our union lies within the membership. As a member, a member leader, and a native San Francisco resident, it is important to me that the elected political leaders understand the issues and priorities of our members. I want the leaders that I helped elect to know me, know my name, and know my face," says Kristin Hardy, SEIU 1021's new Vice President of San Francisco.
When our elected officials not only know our names and our faces but also understand the struggles we face at home and especially on the job, it allows us to fight for solutions to the challenge we face at work. When we need elected leaders to step in and address a situation with a bad boss in the public sector or we are fighting for increased funding for the services we provide to vulnerable community members, having allies in elected offices allows us to be strong advocates for ourselves and the people we serve. For Kristin, who recently served on a San Francisco City & County bargaining team that won a historic new agreement, it's not a hypothetical situation.
"During the endorsement process, members look for candidates whose views align with the priorities of members in that area. We want to make sure that the agendas of those candidates will address the concerns and values of labor, our community, and working-class folks more generally. I show up to support our endorsed allies running for positions like the Board of Supervisors because I have seen firsthand what having allies in those positions can do as we bargain. We must have a strong relationship with political allies who will work with labor when we have issues that we need assistance with, when we fight to protect and expand public services and funding for our services, or when we face issues within the communities we serve. Having elected officials on our side gives us additional power at the bargaining table when we go into negotiations, too," Kristin said.
All of that has led her to get out the vote in support of allies who we have endorsed in San Francisco because we know they will stand with us when we go to them for help with our issues.
"Honey Mahogany and Gordon Mar have proven that they are "Champions for labor, and are the right person to represent SF as political leaders. I am a San Francisco native, SF county worker, and SF union leader who has always loved and appreciated the diversity of this city. Honey and Mar represent the residents and workers of SF," Kristin said. "We know that in order to actively and effectively lead, candidates must be physically present and available when called on. They must listen and hear the concerns of the city residents and workers they serve. Gordon Mar, Honey Mahogany, and Shamann Walton, are leaders who aren't afraid to put their boots to the ground and march, organize, and protest alongside worker and our communities."
For Kristin, it all boils down to one thing—getting the word out to let people know who will stand with workers when we need them. "I like letting voters know how our political partners and future partners are "champions" of labor, and how they support working families and labor," she said.