As a Public Sector Worker, You May be Eligible for Student Loan Forgiveness!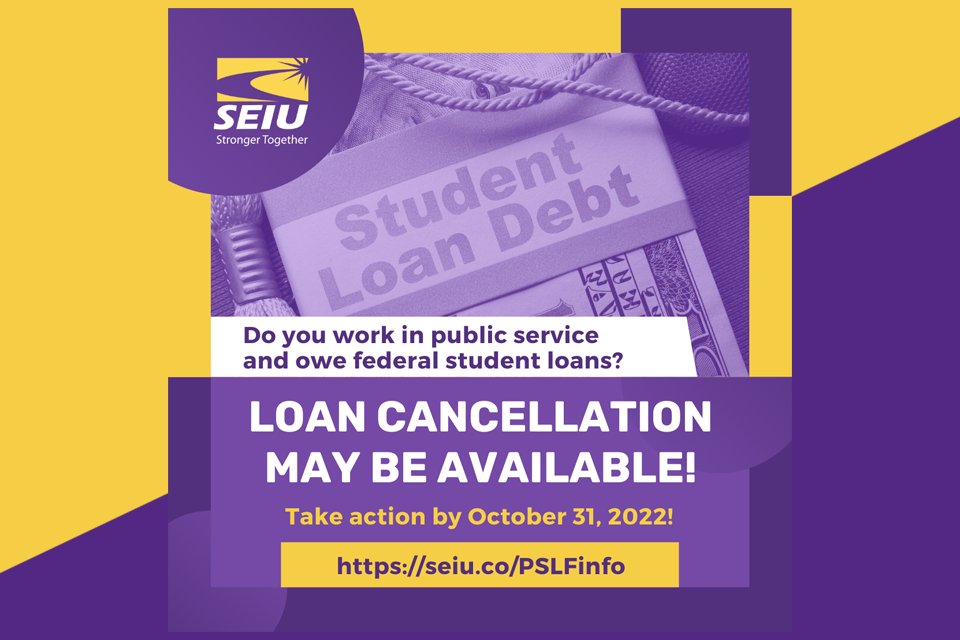 Under a new policy from the Department of Education, if you work fulltime in the public sector (for a city, county, or other governmental organization or a non-profit that provides a designated public service, including early childhood education and public health), you may be eligible to have your federal student loans canceled. However, you must take action soon: the new policy states that you must apply before October 31, 2022.
One important part of this new program is that public employees can retroactively receive credit for past years of service. As the COVID-19 pandemic continues to impact our lives and student loan repayments are scheduled to resume in May 2022 after a two-year pause, this change to the program provides a path to relief and is a huge victory for working people in the public sector.
Ammon Reagan is a Sustainability Program Coordinator with the City of Berkeley, and has been with the City for two and a half years, after another two and a half years with the City of San Francisco. Five years into his own loan forgiveness journey, he says "I see loan forgiveness like this as a perk of working in the public sector! At the beginning, ten years seemed like a long time. Now, I can hardly believe there's only five years left. There are many reasons I love working in the public sector, and this one is something everyone with loans should look into. You might be eligible in your current position, and it's good to know what other employers might make you eligible for this as well."
How do I take advantage of the Public Service Loan Forgiveness temporary waiver?
The temporary waiver of PSLF requirements is not automatic. SEIU members with federal student loans should take the following steps by October 31, 2022
STEP 1 – Confirm the type of federal student loans you have. To find out, create or log in to your account at StudentAid.gov, go to the My Aid page, or StudentAid.gov/aid-summary/, and go to the Loan Breakdown section, which provides a list of your federal student loans.
STEP 2 - If you have Federal Family Education Loans (FFEL) or Federal Perkins Loans, you should consolidate these loans into a Direct Loan and enroll in an Income Driven Repayment plan. To consolidate, you'll have to fill out and submit the Federal Direct Consolidation Loan Application and Promissory Note.
STEP 3 – Confirm that your past and present employers qualify as public service employers under PSLF. All government and 501(c)(3) non-profit organizations qualify. To check whether your employer qualifies, go to the PSLF Help Tool. There you can see which employers the Department of Education has already said are eligible for PSLF through a searchable database. Once an application is submitted, the Department will notify you of its determination.
STEP 4 – If your past or present employers qualify as public service employers, you should file a certification for each. To certify your employment for the first time or to certify portions of your employment you haven't verified already, go to the PSLF help tool, you'll be able to print a partially completed PSLF Certification and Application form for you and your employer to sign. You can also fill out the PSLF form by hand, have it signed by your employer, and mail it to the federal student loan servicer for processing.
If you have questions about whether you qualify or how to take advantage of the Public Service Loan Forgiveness temporary waiver, please visit https://seiu.com/PSFLinfo for more information.